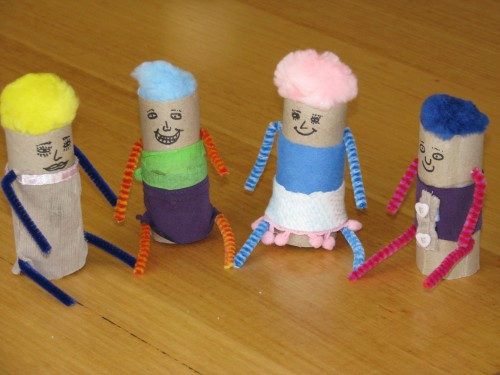 Making these little characters is so much fun as they can be brought to life in imaginative play games. They are so simple to make and are made out recycled materials that you will find around the home. Making the Little Toilet Roll People is an activity that is open to the imagination where the creative ideas are endless.
What you will need?
You will need, pipe cleaners, toilet rolls, old recycled clothing or fabrics, scissors, kids PVA glue, large pompoms and a black marker pen.
We used pipe cleaners for the arms and legs by threading them through small holes we had made in the toilet roll using scissors. Putting the holes into the cardboard is very hard to do and I would recommend an adult doing this. The pipe cleaners are bendable which makes it great for creating different movements with the arms and legs.
Let's Create
We used large pompoms for the hair and just placed them inside the tube. There was no need to use glue because the were well wedged in. You could alternatively used wrolled up balls of wool or recycled clothing for the hair.
Let's Play
My kids just loved cutting up recycled old clothing and creating little outfits for their Little Toilet Roll People. PVA craft glue is great for the adhesive of fabric to cardboard and once it is dry it is strong and unlikely to peel off. To bring the Paper Roll People to life, draw on a face with a black pen.
Let's Learn
The Little Toilet Roll People are so much fun for imaginative play. They become an important prop as children explore different characters they create for their toilet roll people. You may like to create a little toilet roll fireman or a mother and baby toilet roll person and develop pretend stories using these characters through imaginative play.
Learning Opportunities
Self-esteem: the pride of creating something and sense of achievement.  The joy of being able to play with something they made.
Fine motor skills: practicing and developing little muscles through cutting, gluing, threading and drawing.
Eye-hand coordination and concentration.
It provides opportunities for children to identify with the adult world.
Develop social skills: practicing negotiation skills, turn taking and sharing. Provides opportunities for working out problems and experimenting with solutions.
Encourages imagination: Children can be anyone and do anything in the pretend world.
Develop language skills: practicing listening, looking and talking.  Being spoken to and talking with other people, also developing an understanding of what is being communicated through body language such as smiles and nodding.