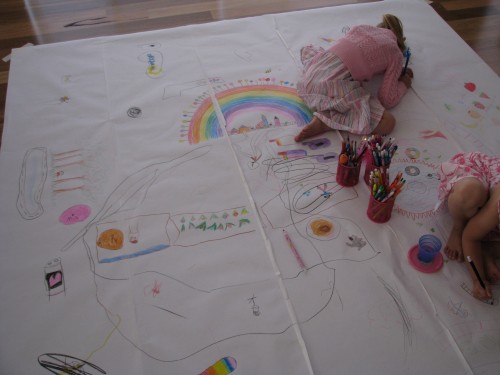 An fun activity that can last for days and all members in the family can contribute to – a giant drawing!
A giant drawing is an oversized piece of paper that is stuck down using sticky tape. Over a period of days the drawing grows and develops, sometimes a bit of a theme or story grows with it.
It is a marvellous entertainer for the kids on school holidays or is stuck indoors due to weather or illness.
The giant drawing is also a wonderful social activity that involves the whole family to complete together.
What you will need? 
To create the oversized canvas for our giant drawing we taped together numerous small sheets of paper together. This is the before photo, before every one made their mark on the giant drawing.
Let's Play 
The giant drawing became a great social activity, as the day went on and circumstances changed in the house, sometimes we drew altogether, sometimes on our own and in pairs. It was wonderful for starting conversations and discussions between members in our family and building relationships. It was a family achievement completed together and something we all can be proud of.
Let's Learn 
We looked for inspiration and ideas of what to draw in books. Miss 4 and 5 are drawing a rainbow with balloons attached all around it. They both came to an agreement as to who was going to do what. We also drew things that was currently happening in our lives, such as swimming lessons and playing a sand pit.
Learning Opportunities 
Develop social skills: practicing negotiation skills, turn taking and sharing. Provides opportunities for working out problems and experimenting with solutions.
Encourages imagination: Children can be anyone and do anything in the pretend world.
Develop language skills: practicing listening, looking and talking. Being spoken to and talking with other people, also developing an understanding of what is being communicated through body language such as smiles and nodding.
Self-expression, pride and sense of achievement.