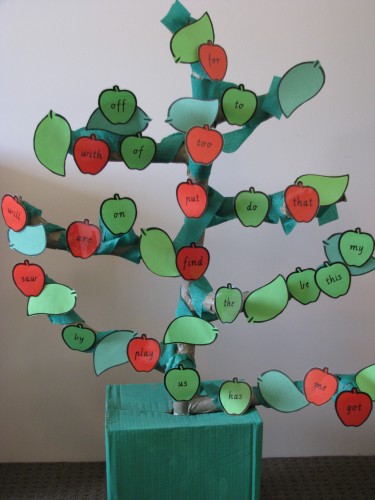 We have found a new and fun way to use our paper mache tree – to help learn our sight words!
It is such a motivating and interactive way to play and learn with sight words.
The paper mache tree then acts as a display and reference for kids to utilise for weeks to come. Miss 4 and 5 would choose a word off the tree such as 'the' or 'and' and search for it in books. Great fun and learning too!
What you will need?
You will need printable Apple Sight Words and we have used our Paper Mache Tree . You could alternatively use a large branch that has fallen from a tree in the garden or make a giant drawing of a tree. Both would achieve the same outcome.
We turned all the apple sight word cards face down and placed a small amount of BluTac or sticky tac on the back to stick onto the tree. Miss 4 and 5 took it in turns to pick an apple sight word card to place on the tree.
Let's Play
Before placing the apple sight word card onto the tree they would read it out to me and assisted them when needed, teaching them some strategies to help recall them.
Look for smaller words within the sight word.
Look at the first sound and last sound in the word.
Look for smaller words within the sight word, such as 'that' also has 'hat' in it.
Look letter patterns such as 'th' in the sight word 'the'.
Is there something interesting about the word, such as 'was' sounds like it has a 'o' and a 'z' in it but it doesn't and it also make the word 'saw' when written backwards.
Let's Learn 
Placing the apple sight words onto the paper mache tree is a fun, interactive and visual activity to assist kids with learning their sight words. The tree acted as a reference for weeks to come with reading and writing activities. Sometimes I would ask Miss 4 and 5 to find me the word 'the' for example and they both would run off to the tree and search for the word, then bring it to me.
Learning Opportunities
Interactive and hands on learning; picking up the words, looking at them and placing them on the tree.
Problem solving – using strategies to decode the sight word. Such as looking for letter patterns or smaller words within the sight word.
Memory – Recall, recognise and become familiar with some sight words.