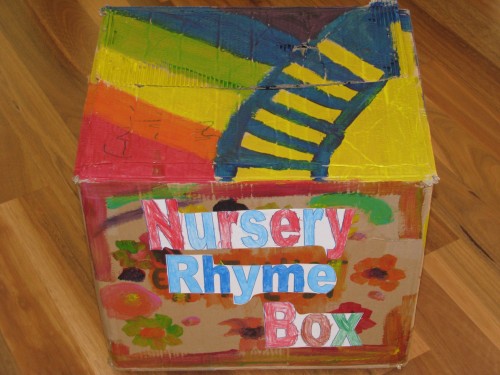 I love nursery rhymes and there isn't a day that goes past where we do not sing one. Sometimes we will change the words around in a nursery rhyme to fit in with what we may be doing during the day such as putting our shoes on.
The Nursery Rhymes Box is an activity developed to encourage and promote oral language development in young children. It is essentially a box filled with a number of props that will trigger a nursery rhyme song, such as a stuffed toy cow may trigger the nursery rhyme 'Hey Diddle Diddle' or 'Old Mac Donald had a Farm' because these nursery rhymes have a cow in their lyrics.
What you will need?
You will need a large box and number of props or characters that are found in nursery rhymes. We painted our nursery rhyme box and printed off the words to stick on the side.
Our nursery rhyme box had 12 items in it:
Star

(from our Christmas ornaments) –Twinkle Twinkle Little Star

Spider

(Homemade from toilet roll) – Little Miss Muffet

Tea Pot

– I'm a little tea pot

Teddy Bear

– Teddy bear turn around or Rock a Bye Your Bear

Doll

– Miss Polly had a Dolly

Stuffed Toy Cow

– Hey Diddle or Old Mac Donald

Owl

– The Owl and the Pussy Cat

Stuffed Toy Dog

– Old Mother Hubbarb or How Much is that Doggie

Puppet Mouse

– Hickory Dickory

Puppet Frog

– 5 Little Speckled Frogs

Monkey

– Monkey Up a Tree

Toy Car

– Let's go Driving
Let's Play
The idea behind the nursery rhyme box is to pick one item out of the box at a time and think of a nursery rhyme (or song) that has that character or object in it. Then you sing the nursery rhyme together with all the actions included.
Miss 4 singing Twinkle Twinkle Little Star after picking out a star from the nursery rhyme box and Miss 19 Months role playing and practising her sounds/words singing – How much is that Doggie in the Window?
Let's Learn 
Once the box is empty- it is a great place to play and special hugs!
Benefits of singing nursery rhymes:
Develop and extend vocabulary.
Rhyme – understanding rhyme in our spoken language helps children learn to read.
Rhythm- helps children to remember words and develop auditory memory skills.
Phonemic awareness – hearing and understanding that words are made up of individual sounds and other word patterns.
Fine motor skills and coordination – Encourages actions and movement.
This activity is also great for teaching social skills – taking turns.