We have found a new and fun way to re-use and recycle our toilet rolls and bottle tops and create them into a wonderful toy to help promote learning about alphabet letters, CVC words and sight words. We are always discovering new ways to use our Toilet Roll Alphabet.
What you will need?
You will need 26 bottle tops, 26 toilet rolls (we've been collecting for while), paint, scissors, paint brushes, sticky tape and a copy of the alphabet letters and pictures. You can download and print this here: Printable Toilet Roll Alphabet Letters
Tip: to fit the toilet roll into the bottle top, I made a small snip with the scissors at the bottle of the roll and folded it slightly to slide into the bottle tops.
Let's Paint 
To make our toilet rolls a little bit more fun and colourful, we painted them. Any excuse to get the paints out!
Let's Play 
Once the toilet rolls were dry we cut out the printable alphabet letters and pictures and sticky tape them onto the roll. We have laminated our printable letters and pictures but you could alternatively contact them to help make them last longer.
Activities for Our Toilet Roll Alphabet 
Sequencing the alphabet letters into correct order and using the song to assist them. This is great for becoming familiar with alphabet letters, knowing what they look like and their shape, the name of the letter and what sound it makes. It is important for kids to understand and know what sound a letter makes for successful reading and writing. Teaching your child the letter sound first then the letter name is a great place to start. Use the pictures as a cue to help develop an understanding and memory for these sounds, 'a' is for apple and 'b' is for banana. You can also do this during every day activities around the home such as taking a bath and brushing your teeth, 'b' is for bath and 't' is for teeth.
Let's Learn 
The toilet roll alphabet can be used to make CVC words, words that can be sounded out and contain a consonant, vowel and then a consonant. This is great for beginning readers and writers as it provides an opportunity for kids to confidently practise the skill of sounding out without any tricky letter blends or diagraphs.
Let's Learn 
Great for learning sight words or also known as high frequency words. Miss 5 has been learning her sight words at school and has a small amount of homework to help support this learning. The toilet roll alphabet makes learning these sight words and homework more fun!
We have put our Toilet Roll Alphabet in our playroom on a low shelf for my kids to play with them and it also acts as banner or a wall freeze display. The bottle tops help make the toilet roll more sturdy to stay standing up right on hard surfaces.
More Alphabet Activities <click here>
Available in our online shop:
<click on image>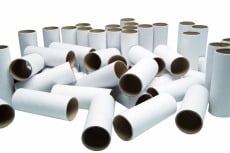 I would love to extend this activity with my kids and use pegs to clip the toilet roll alphabet onto a length of string to display the correct sequence of alphabet letters.