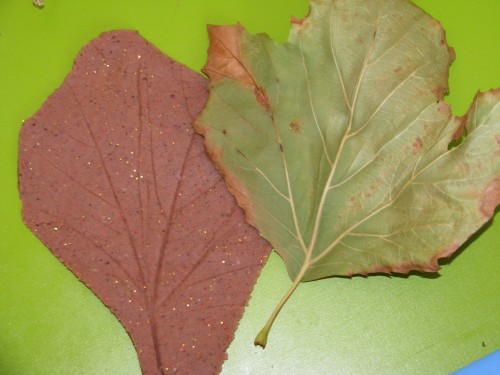 Autumn Play Dough Leaf Prints are a great activity to start off the new autumn season.
We have been celebrating the new season and the changes in the colours of leaves with making leaf prints and patterns using real leaves in a Nutmeg Scented Autumn Play Dough.
The play dough is lightly scented with spicy nutmeg and cinnamon, with brown colouring and red and gold glitter bringing together all the wonderful elements of autumn.
What you will need?
You will need Nutmeg Scented Autumn Play Dough Recipe, plastic knives, rolling pin and leaves.
Let's Play
To make the leaf prints, using the rolling pin you roll out the play dough flat, then place the leaf rough side down onto the play dough and gently roll the pin over. Lift the leaf to discover the pattern of the leaf remaining.
Let's Create
Miss 5 created a tree from her leaf print using a plastic knife to add leaves to the branches. Miss 4 cut out leaf shapes after making her leaf prints in the play dough.
Let's Learn
Learning Opportunities:
Spatial awareness – experimenting with shape and space
Creative Thinking and concentration skills
Oral language development – practicing and experimenting with new words
Building up their fine motor skills and  coordination
Encourages imagination and creativity