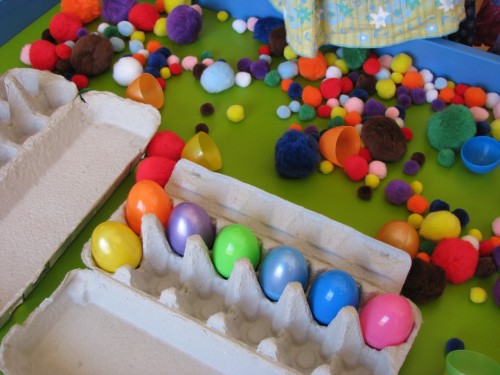 My three little chickies played with our Easter Sensory Play Table for hours!! It is amazing how giving kids the most simplest of props/items can inspire and encourage their imagination and creativity. There are no rules, no right or wrong……just fun, with a whole lot of learning happening.
What you will need? 
You will need empty egg cartons, tongs or tweezers, a range of coloured pompoms in all different shapes and sizes and plastic eggs which I picked up super cheap at our local craft store.
Let's Play
The sensory table became a bit of a factory with sorting, making, moving, creating, role playing, pretending and games.
Using the tweezers, Miss 4 and 5 put pompoms into the plastic eggs and placed them into egg cartons. They made a game where they had to guess what colour pompom was inside the plastic egg.
Miss 4 and 5 made an egg carton full of plastic eggs that had been matched with the same colour pompom inside it.
Let's Create 
Using the tweezers to sort the pompoms into colour groups in the separate sections of the egg cartons. They also made a rainbow pattern by sorting the coloured pompoms into the colour order of a rainbow.
Let's Learn
Imaginative play: Pretending to be baking by tapping the plastic egg on the side of the table and breaking the egg open from the centre join.
Having fun sweeping up the scattered pompoms all over the floor – Kids just love to role play and pretend!
Playing with a sensory play table encourages many great learning experiences:
Promotes imaginative play – provides opportunities for children to identify with the adult world. Practise and role play their understanding and interpretation.
Strengthening fine motor – exercising fine motor muscles through manipulation of props.
Hand and eye coordination – trial and error, repeating actions to achieve an outcome.
Spatial perception and exploration
Problem solving – provides an opportunity to practise working out problems and strategies to overcome challenges.
Self Esteem: Overcoming the challenges promotes a sense of pride and achievement.
Visit our Learning 4 Kids online shop: 
Please click on the pictures.