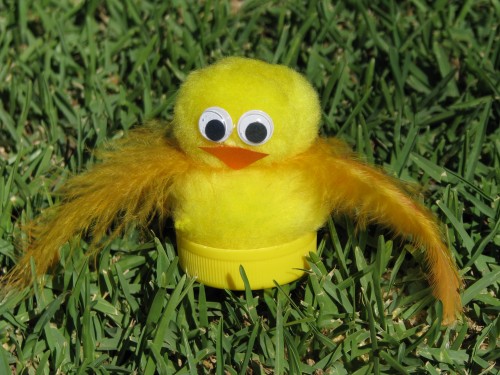 These Pompom Easter Chicks are a simple craft activity for kids to do this Easter! They are super cute and a fun prop to encourage imaginative play.
What you will need?
You will need medium and large pompoms, bottle tops, feathers, glue, wiggly eyes, scissors, glue and orange coloured card/paper.
Let's Create 
Place a small amount of glue into a bottle top and place a large pompom on top. Add some more glue to the pompom and place 2 feathers overlapping on top.
Let's Play 
Place a little more glue onto the feathers and add another pompom on top. Gently lay the Easter chick onto its side and glue on the eyes and cut out paper for a beak. Allow the Easter chicks to dry before playing with them.
Using our Pompom Easter Chicks for Imaginative Play
My girls set up a play scene for their Pompom Easter Chicks for some imaginative play. You can be as creative as you like with what you can use. Here are couple of suggestions and ideas of what you could for the play scene:
Blue fabric for water (felt, towel or blanket)
Green fabric for a field
Any farm props or toys you may have such as a tractor or trees
Shredded yellow paper for hay
Containers for chicken pens
Blocks
Lids off containers
Recycled boxes
Other farm animals
Toilet rolls stuffed full with leaves to create trees