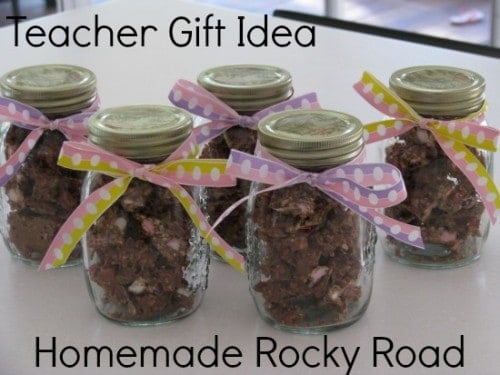 All my kids have been blessed this year with the most beautiful teachers; even my little Miss 20 months has a music teacher and she absolutely adores her. This Easter we have been making Rocky Road as a thank you and happy holidays gift for them. I feel it is important to involve my kids in making gifts for their teachers as it teaches them so many wonderful values but particularly the joy of giving! Plus, so much learning happens when we are cooking with kids!
What you will need?
1 cup of pink and white mini marshmallows
1 cup crushed nuts (optional)
1 cup shredded coconut
½ cup chopped raspberry lollies (chopped into quarters)
350g chopped chocolate
You will also need a clear glass jar and Easter themed ribbon.
You can print the full recipe here: Homemade Rocky Road Recipe
Let's make it!
I showed my girls the correct and safe way to use and hold a knife and they had a great time. Slowly they found their own way to cutting up the raspberry lollies.
Chop the raspberry lollies into quarter parts and line a tray with foil – approx. 8 x 26cm
In a large bowl mix together the marshmallows, raspberry lollies, coconut and nuts.
Next we melted the chocolate in microwave for about 1 – 2 mins, added the chocolate to the marshmallow mixture and then stirred the mixture well.
Press the mixture firmly and evenly onto the tin and refrigerate until set. When the Rocky Road is ready cut it into thin slices.
The best part of cooking – licking the spoons and bowls while we wait for the Rocky road to set! Yum!
To personalise the rocky road gift, the kids each made an egg shaped Easter card and we threaded it through the ribbon when we tied it up.
Cooking with kids has so many learning benefits, the social interactions, processing information, mathematics, following directions, problem solving, coordination and most importantly it is so much fun!
Other great Rocky Road Recipes to check out! I just LOVE these blogs!!
The gorgeous Deb over at Aspiring Mum (thanks for the jar idea!)– Easter Treats
And the gorgeous Katy over at The Imperfect Housewife – 3 Ingredients Rocky Road