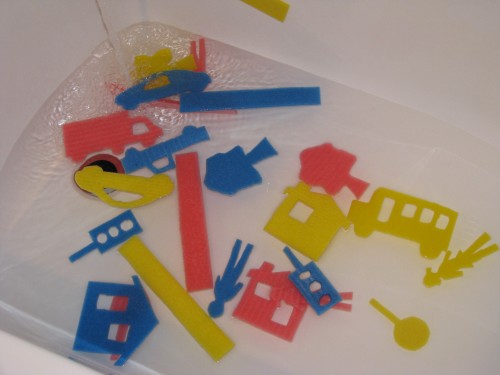 This will keep the kids busy while having a bath as well as stimulating their imaginations and developing their storytelling skills.
Cars, buses, trucks, houses, people, trees and street signs make up this fun homemade bath toy using kitchen cloth sponges.
It is a great hands-on sensory play activity that promotes creativity, storytelling and the imagination. The bath tub is a great canvas for creating stories!
What you will need?
You will need sharp scissors and sponge cloths; the sponges I have used are very thin and flat and came in a pack of 3. You will also need to download and print off the Printable Bath Street Traffic Sponge Template.
To make the Street Traffic Theme Sponges I cut out all the pictures from the template and used them a guide for making these shapes in the sponges. You can cut out as many of the pictures as you like from the template, I chose to cut out three of everything and more people.
Let's Play 
When wet, the sponges stick or suction slightly to the sides of the bath and tiles, making it a great canvas for creating endless ideas.
These sponge pictures make a great tool for story telling – here is a school bus picking up someone up from their house and waving goodbye their mum.
Let's Learn 
Opening opportunities for learning: I had never thought of this but my clever littlies did; separating the coloured sponges and creating pictures with them. Great for reinforcing and learning about colours!
Street Traffic Theme Bath Sponges are great for:
Fine motor skills development and hand-eye coordination.
Encourages creative thinking and the imagination.
Promotes storytelling and language development.
Most importantly FUN!