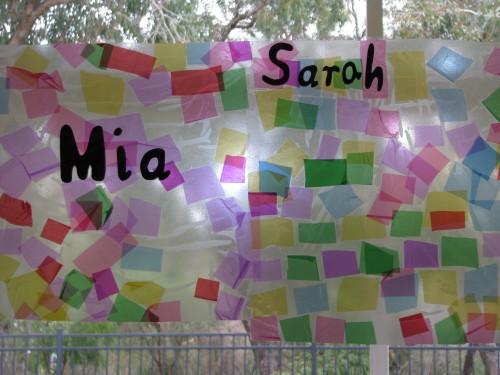 Cellophane Sticky Art is a great activity to introduce kids to colours. I believe it is never too early to start learning about concepts such as colour and that through setting up opportunities to play and learn will begin the journey of developing an understanding.
You will be seeing more activities to promote the learning of colours here on learning4kids as I will be introducing Miss 22 months to magical world of colours.
The Cellophane Sticky Art is a fun activity that involves placing cut up coloured cellophane squares onto a sticky contact canvas which is held up onto a window, creating a colourful sun catcher of colours. I have also placed my girl's names onto the sticky art to help Miss 22 months start recognising her name and what it looks like. By doing small things like this will start the path towards reading and learning to write her name.
What you will need?
You will need a mixture of coloured cellophane cut up into small squares, a tray or container, clear contact, scissors and sticky tape.
I used a small amount of sticky tape to hold the clear contact up onto the window with the sticky side of the contact facing outwards.
Placing your child's name onto the sticky art is optional but I find this is a great way to help Miss 22 months start recognising her name. I simply wrote her name in bubble letters on black card and cut it out, then placed it into the centre of the contact sticky canvas.
Tip: Make sure you have enough contact left on the roll to put over the top of the Cellophane Sticky Art when it is finished. Also place the sticky contact on the window at your child's height so they can stand or sit to reach comfortably for this activity.
Let's Play 
This was such a fun activity as Miss 22 months was completely engrossed with the texture of the cellophane and the sticky window canvas. There were times when she would sit and try and straighten the cellophane with her fingers before placing it onto the contact.
Let's Learn 
I sat with Miss 22 months during this activity and talked about the colours and labelling them as she picked them up, touched them and placed them onto the sticky contact. I also pointed at the colours she had already placed up on the sticky contact and named them. Miss 22 months would copy and imitate me not really pronouncing the name of the colours clearly but she did say red, then all the colours were red! After this activity was finished, she would point at any object such as a book and say red, so I will continue this learning of the colour red and focus on this one first.
Miss 4 also had some fun with the cellophane and sticky contact as she created her own colour patterns and experimented in making new colours by overlapping the different coloured cellophane.
Let's Enjoy 
Once the Cellophane Sticky Art is finished, place another sheet of contact over the top and smooth over with your hands. I carefully cut around the edges to neaten up any overhang cellophane or sticky contact. My girls used their Cellophane Art as a placemat for their lunch that day!
Learning Opportunities 
Promotes and encourages self-expression and creativity
Develop self-esteem: sense of pride and achievement of the final product
Exercising fine motor, eye and hand coordination through manipulating materials
Provides an opportunity to introduce and explore the concept of colours.
More Name Activities <CLICK HERE>