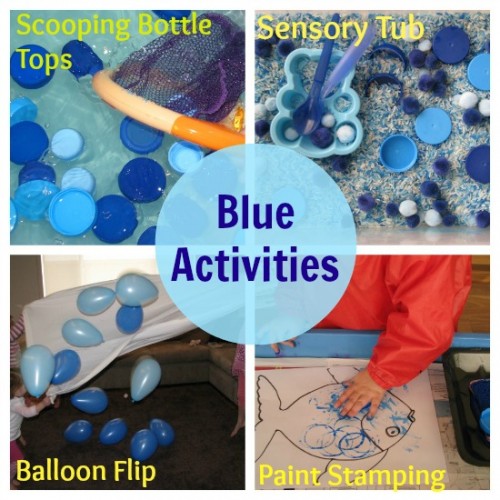 Come play and learn with the colour BLUE, we have lots of activities!
As part of our Learning Colours Series here on learning4kids, this week we have been exploring and playing with the colour blue with bubbles, bottle tops, paint, rice and balloons!
If you have only just joined our Learning Colours Series here on learning4kids and would like to find out more,
BLUE SENSORY TUB
Having some fun in a sensory tub filled with blue rice and blue pompoms! Miss 22months loves sensory tubs and loves to run her fingers through the rice and pompoms and sprinkling them like it is rain, so we sang "rain is falling down" song. I also added a few little props to our sensory tub, basically anything I could find blue such as blue plastic spoons, bottle tops and a blue silicon teddy bear cake mould. Miss 22months would use to spoons to scoop up the rice and pompoms and fill the bottle tops and teddy bear mould.
Too colour the rice: I poured a 500g bag of rice into a container and added a few drops of blue food colouring. I mixed the colouring through with a metal spoon, adding any extra colouring as needed and then sat the container in the sun to dry out a little before playing.
BLUE BATH GAME 
Bringing the fun of learning the colour blue into the bath with a fun catching game!! I scattered the bath water with blue bottle tops and a small amount of bubbles and food colouring. You do not need a lot of food colour, I basically just ran the lid from the food colouring bottle under the running tap and this seems to be enough to give the water a pale colour of blue.
The game involves catching and scooping up as many blue bottle tops as you can with a small net. We called the bottle tops Blue Bottle Fish and sang "Under the Sea, where the Blue Bottle Fish swim" which added to the fun of the game.
PAINTING BLUE FISH WITH STAMPS
Making something crafty – A Blue Fish using bottle tops as stamps to create and imitate the scales of a fish.
I placed a kitchen sponge onto a clean meat tray and poured some blue paint onto it until it was well soaked in. Then Miss 22 months happily got stamping away with the bottle tops by pressing the open side of the bottle top (flat side up) into the paint soaked sponge and then onto the fish creating a circle shape.
I plan to cut these fish out and glue them onto blue paper and add them to our Crafty Colour Collage that we have been making. For each colour we explore we will be adding something Miss 22 months has made to the collage. So far we have a Red Lady Bug and the Blue Fish
Download and print your own fish for this activity here:BLUE Fish Template
BALLOON GAMES
Nothing says fun more than balloons! We had so much fun playing with our 'BLUE' balloons and creating our very own games as we went along. We blew up about 12 light blue and dark blue balloons for these games.
BALLOON FLIP
Balloon Flip is a game where you lay a single sheet on the ground and pile the balloons on top. Then each person playing takes a corner in anticipation to 'flip' the sheet up into the air. We counted 1 blue balloon, 2 blue balloons, 3 blue balloons and 'flip', throwing all the balloons into the air. My girls were giggling hysterically as they tried to roll and lay under the sheet and flying balloons as they landed around them. Such a fun game!
BOX OF BALLOONS
Box of Balloons involves covering your child over with all the balloons as they lay very still inside a box. It is so funny to watch them as they anticipate for you to say 'pop' so they can wriggle and wriggle until all the balloons have jumped out of the box.
SORTING BLUE BLOCKS
Empty a box of coloured blocks all over the floor and together separate all the blue ones. When a different colour it picked up, say "this is a green block, let's find more blue ones." Hold up a BLUE one to show and encourage. We laid out our coloured mats which was perfect to help Miss 22months sort the blocks into groups.
OTHER BLUE ACTIVITY IDEAS TO TRY:
Wear BLUE for a day

: Dress your child (and yourself) wearing the colour blue for the day. I have a blue scarf that I wore all day and referred to it during the day when comparing it to something else that was blue.

Blue sky

: Lie out on the lawn and look up at the blue sky (not the sun) and talk about the clouds and what shapes they make.

BLUE Discovery Box

: Go on a 'blue treasure hunt' around the house with a box and fill it with as many blue things as you can find. A box filled with so many 'blue' treasures to pull out to touch and feel, smell, listen to, look at and explore.

Make cupcakes or cookies

: Cook cupcakes together and decorate them with BLUE smarties only. The fun part is separating the BLUE ones to the other colours!

Read books

: Choose books that have BLUE pictures in them and point them out but also mentioning the other colours too. A great blue book that ties in well with the fish stamping activity is Rainbow Fish by Marcus PFister

Sing Songs about the colour blue:

You can basically take any song and replace some words with the colour blue. Why not make up your own song or chant with the word blue?
More Colour Activities <CLICK HERE>