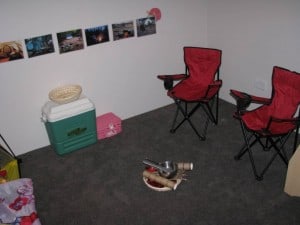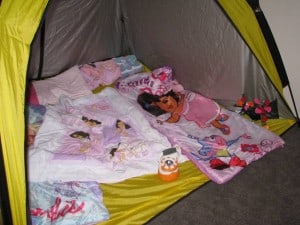 It's raining, it's pouring…..and we have been stuck inside a fair bit lately with the weather.
To entertain the kids and give them something to do we set up an indoor camping trip to beat the boredom and promote imaginative play.
Here are a few ideas for setting up your own Indoor Campsite.
What you will need? 
Firstly we set up a tent with sleeping bags, pillows and a torch. Then we set out some camping chairs, esky filled with pretend food, cooking utensils and crockery such as tongs and cooking pots and pans. On the wall we placed some photos of other camp sites that we printed off the internet, this was great to give my kids some ideas on setting up their own campsite.
Let's Play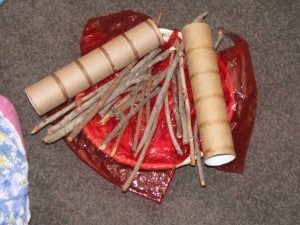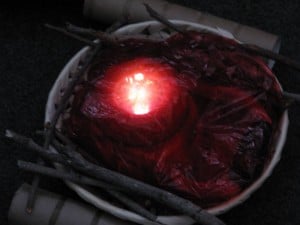 Every indoor camp site needs a pretend fire and we made ours using a small cane basket filled with red cellophane, paper towel rolls and twigs. My kids placed their camp torch underneath the red cellophane to make it look like red flames were glowing.
Let's Pretend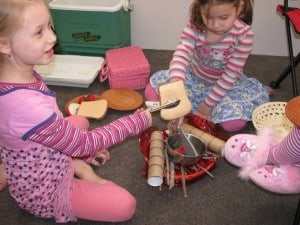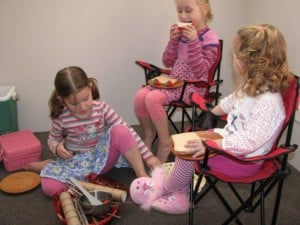 Cooking on our pretend campfire: I love how Miss 6 is making toast using tongs over the pretend fire. Check out Miss 23 months camping in luxury with her fluffy slippers, haha!
Let's Learn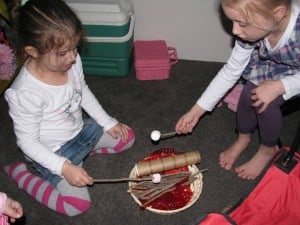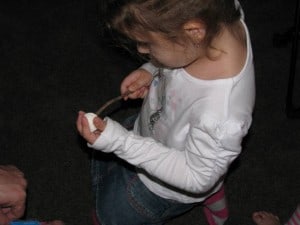 Whenever we go camping the marshmallows are always on top of our list of things to bring, so we had to have them a part of our indoor camping experience. Adding to the fun of play, we put marshmallows onto the end of some twigs and my girls pretended to cook them over the campfire. We later cooked them on the gas stove – yummo!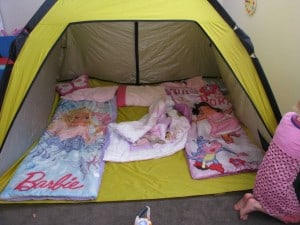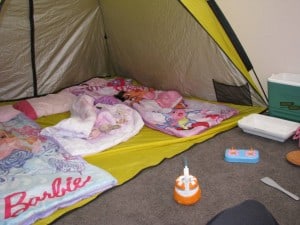 Learning benefits of imaginative play – Indoor Camping Trip
It provides opportunities for children to identify with the adult world. Practise and role play their understanding and interpretation.
Develop social skills: practising negotiation skills, turn taking and sharing. Provides opportunities for working out problems and experimenting with solutions.
Emotional development: Understanding and expressing their feelings through the re-enactment of certain experiences. Taking on roles that encourage discipline and empathy.
Encourages imagination: Children can be anyone and do anything in the pretend world.
Develop language skills: practising listening, looking and talking. Being spoken to and talking with other people, also developing an understanding of what is being communicated through body language such as smiles and nodding.
I also believe that imaginative play is a great way for children to escape, relax and unwind from their busy lives.
What would you include in your Indoor Campsite?