Milk Numbers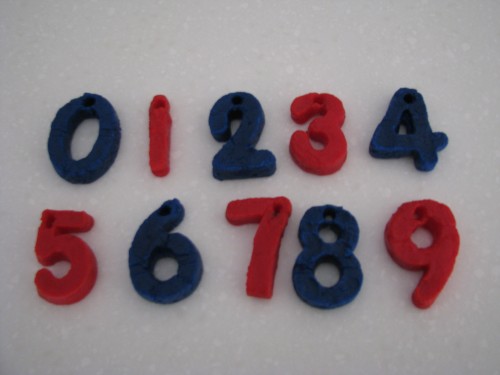 These milk numbers shown in the photo are made using milk and vinegar.   Mixing milk and vinegar together is an interesting science experiment to try with the kids with some very surprising results – read below to find out how…….it is so cool!
Not only is this activity a great science experiment, it is also a fun sensory experience for the kids!
Please note:
This activity requires parent supervision, particularly when cooking on the stove.
The number shapes require about 2 days to completely dry and harden.  The
Number shapes are not edible!
[h2 style1] What you will need?[/h2 style1]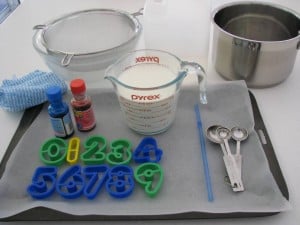 You will need 2 cups of milk (due to expire soon), small bowl, strainer, chux dish cloth, small saucepan, measuring spoons, tray lined with baking paper, food colouring, 4 tablespoons of vinegar, straw and cookie cutters, we have used numbers cutters.  You will also need a medium size container for the kids to play with the mixture.
We split the milk and vinegar into two saucepans, 1 cup per child and also to make 2 different colours.
[h2 border style2]Let's Make [/h2 border style2]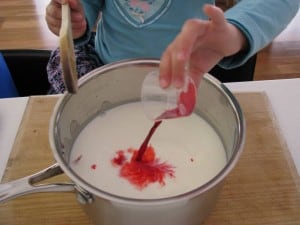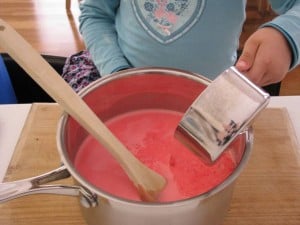 Pour one cup of milk into a saucepan and gently warm the milk on the stove but do not let it boil.  Turn off the heat; add a drop of food colouring and two tablespoons of vinegar.  Stir the milk and watch as the mixture changes!
[h2 border style3]Let's Mix [/h2 border style3]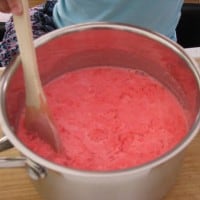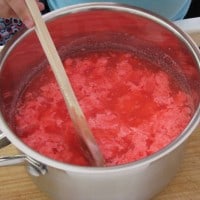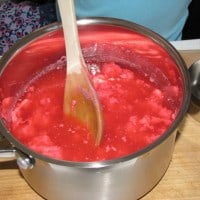 Continue to stir (pan will be hot) the milk until lumps form.  Kids will be amazed as they watch two different things happen, a thick, lumpy and a watery liquid begin to appear, it is no longer a smooth consistent mixture.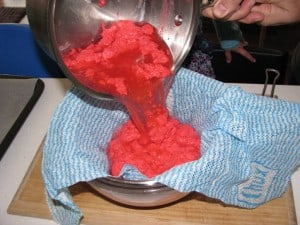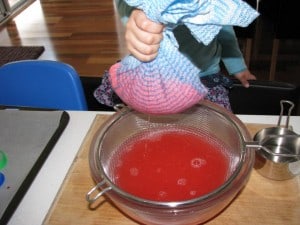 Place the strainer over the bowl and the chux cloth over the strainer.  Pour the milk into the strainer and leave it for a few minutes to drip out.  Squeeze out the rest of the milk into the bowl.  It is important to try and get out as much liquid as possible as this will help speed up the length of time it takes for the number shapes to dry out.
[h2 border style2]Let's Play [/h2 border style2]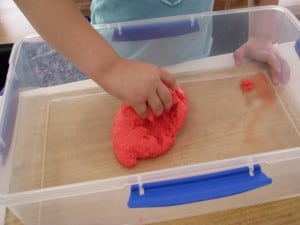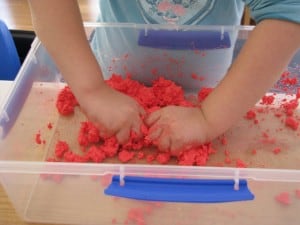 Place the lumpy part of the milk into a plastic container.  You do not have to do this part of the science experiment but I wanted my girls to explore the product that was made from the vinegar and milk.  With their hands, my girls squished, squashed, rubbed, flattened and played with the lumpy mixture, a great sensory experience.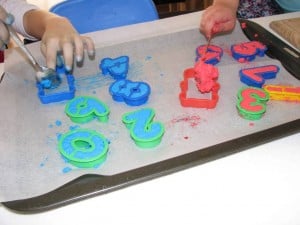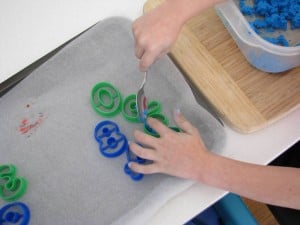 With a spoon and using the tips of your fingers, scoop the lumps into the number cookie cutters.
[h2 border style3]Let's Learn [/h2 border style3]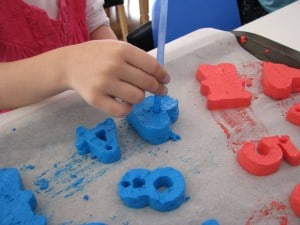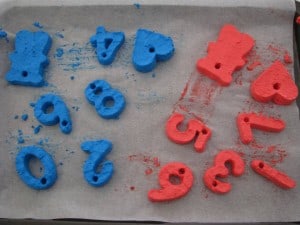 Remove the cutter and with a straw carefully make a small hole at the top of the number shape.   This is completely optional; we planned to use the holes to later thread some string through the number shapes.  Leave the number shapes on the tray to dry and as they dry they will shrink a little.  It takes a couple of days for the number shapes to dry completely.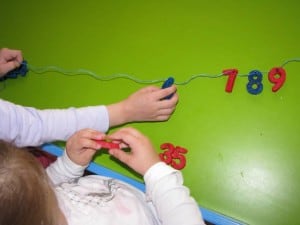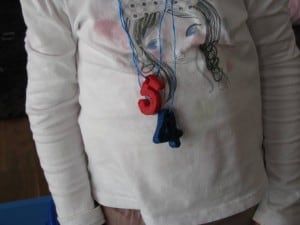 With our Milk Numbers we made necklaces and a chain with all the numbers laid out in order.  They can also be used as a concrete tool for kids to learn and recognise numbers.
Who would have thought that vinegar and milk would make these hard milk numbers?
[h2 style1] What is happening?[/h2 style1]
Milk contains chains of molecules known as casein, which are normally curled up and dissolved, when you add vinegar, the molecules curl into different shapes and form sold plastic lumps instead.
LIKE THIS POST
Come join the many playtimes here on Learning4kids, please enter your email address in the subscription box to receive updates right to your inbox!
12 responses to "Milk Numbers"