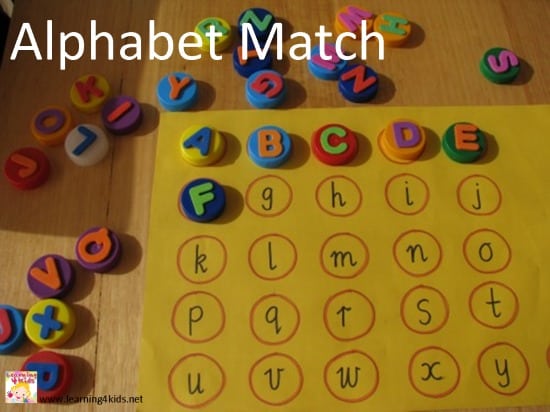 Alphabet match is a fun hands-on activity for kids to help recognise and learn their alphabet letters. It is also a great opportunity to introduce upper case and lower case letters and match them in a fun puzzle like activity.
What you will need?
You will need 26 bottle tops, a large sheet of paper, coloured makers and foam letters. These foam letters I picked up at our local craft shop and they have a sticky back which is great for sticking onto the bottle tops. If you do not have the option of using the foam letters, you could alternatively write the alphabet letters onto the bottle tops instead.
I traced around the bottle tops onto the paper and wrote the lower case alphabet letters inside the circles.
The foam letters are upper case (or capital letters) and the letters written on the paper are lowers case, the aim of the activity is to match the two letters together, Aa, Bb, Cc, etc.
Let's Play
I love the chunkiness of the bottle tops; they are the perfect size for little fingers and hands to grip. The bright colours are inviting and fun for kids to learn their alphabet letters and match the lower case and upper case letters together.
Let's Learn
Other ideas to use the Alphabet Bottle Tops:
Cover only the letters that are written on a blue bottle top.
Cover only the letters that have a tail, such as a g, j, p, q and y.
Cover only the letters that make a round shape, such as a, b, d, g, o, p, and q.
Cover the letters that are in your name.
Make a pattern and cover every second or third letter.
Can you make a word, such as dog, man, car or cat.
Lay all the bottle tops out in order of the alphabet. Sing the song to help you!