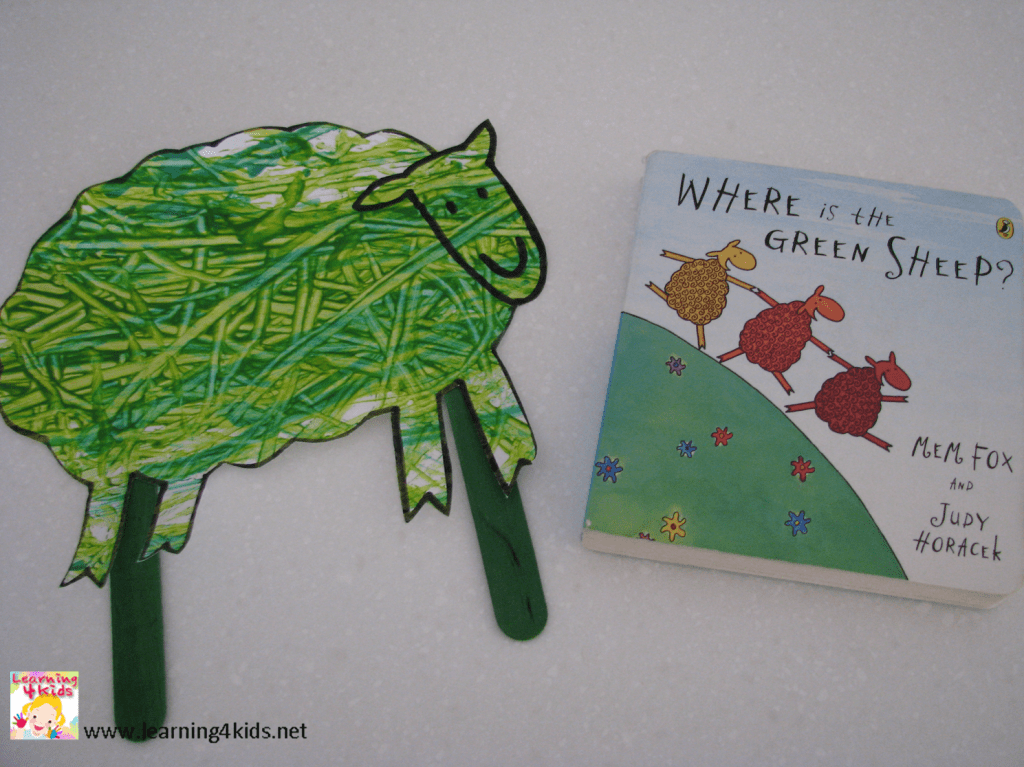 We have a long list of favourite children and toddler books in our collection and one of them that we never get bored with is Where is the Green Sheep? by Mem Fox and Judy Horacek.
My two older kids have grown up reading and listening to this story over and over many, many times. Without a doubt, I feel it has assisted in their development into confident early readers as this book has repetitive and predictable text with supporting pictures and most importantly it is also so much fun to read!
To continue the learning for this much loved book onto my Miss 2 and at the same time incorporate the learning of the colour green, we have been making our very own Green Sheep Puppet!!
What you will need?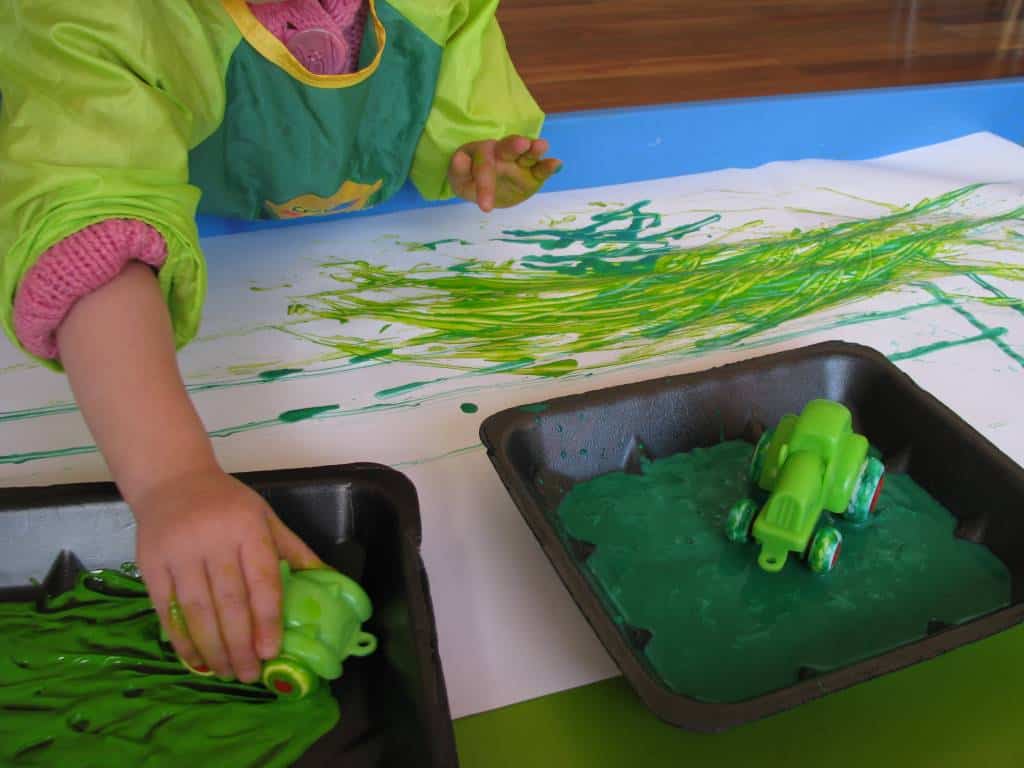 An invitation to play – Here I have set up our activity table with paper fastened down with sticky tape (to stop it from moving), two clean meat trays with light and dark green paint and two toy cars, they just happen to be green for our "green theme". You will also need two pop sticks that will be used as the handle for holding up the Green Sheep Puppet.
You will also need Where is the Green Sheep? by Mem Fox and Judy Horacek.
Let's PLay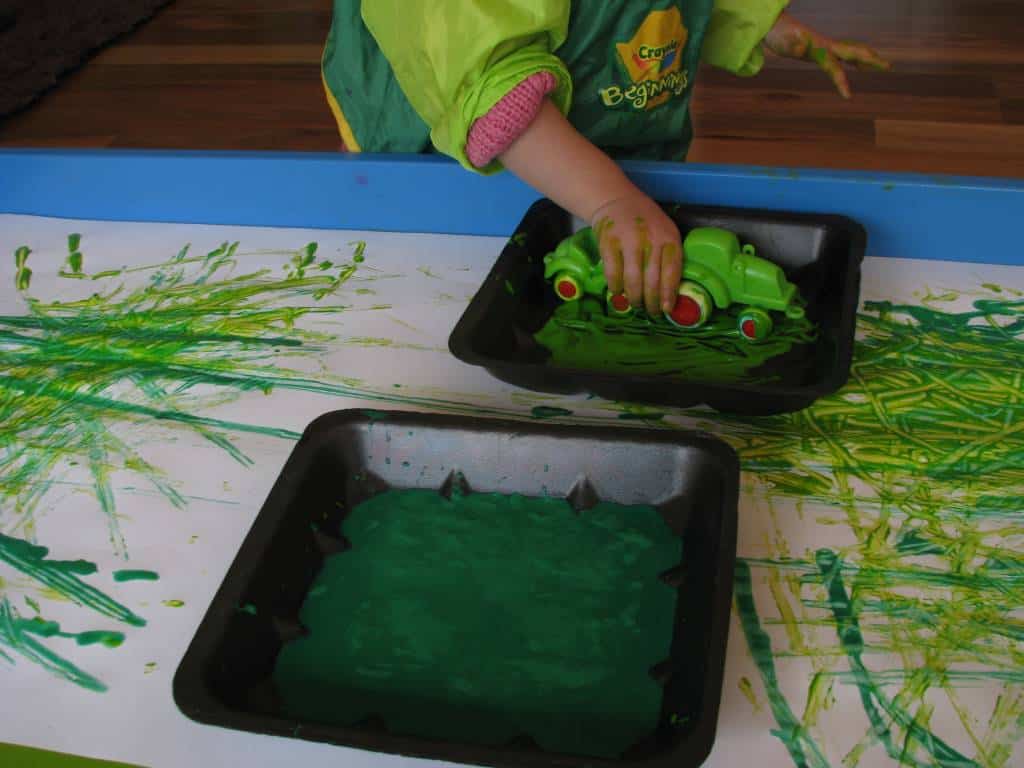 To create our Green Sheep Puppet, we first made some paper by rolling toy cars into light and dark green paint.  This was really effective creating a contrast of two shades of green.  It is also a wonderful opportunity for Miss 2 to play with the paint and watch as patterns were transferred onto the paper from the paint covered wheels on the toy cars.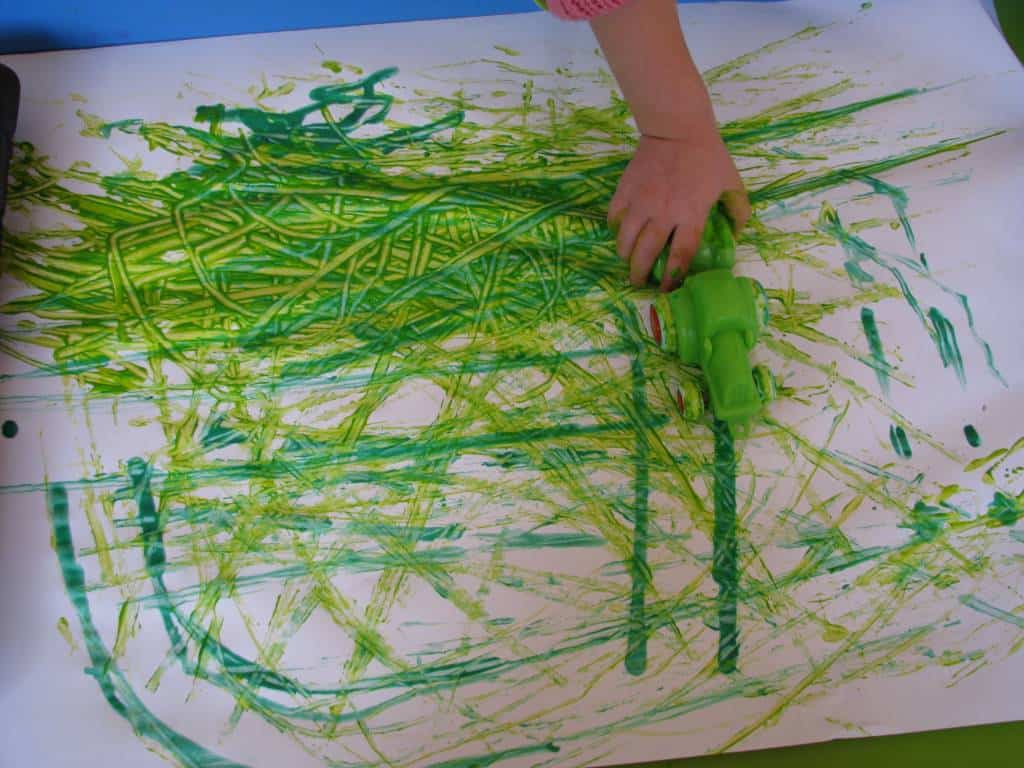 When the paper was dry I printed off the Green Sheep outline and used it as a stencil and a guide to create the shape of the green sheep on the paper.  We then cut it out and attached two pop sticks using sticky tape.
Click here to download and print: Printable The Green Sheep Outline
Let's Learn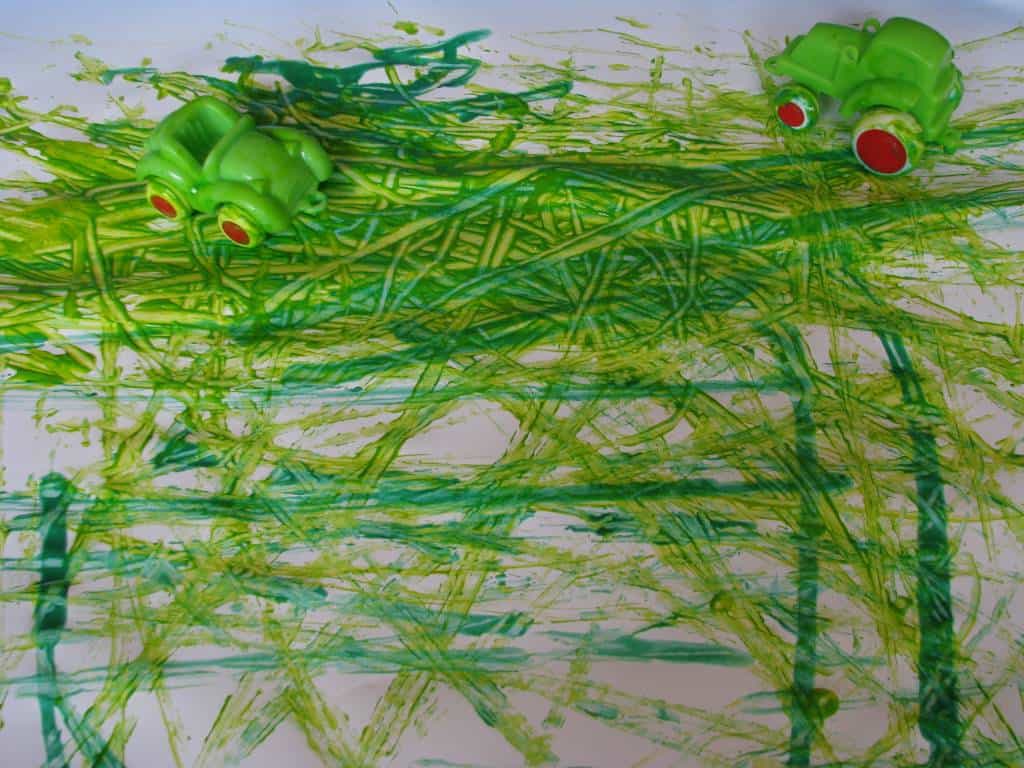 We played many fun games with the Green Sheep Puppet:
Hide and Seek Green Sheep

– Hide the Green Sheep Puppet around the house in obvious places that your child will see instantly and won't have to search for too hard, such as standing up or leaning on the couch.  Ask your child, where is the green sheep? just like in the book.

Role Play the Story

– Using the Green Sheep Puppet, retell and re-create the different types of sheep in the book such as 'Here is the wind sheep.'  Slowly move the Green Sheep Puppet through the air making whooshing sounds.
Learning Benefits
Cause and effect
Self-expression
Imagination and creativity through roll playing with the Green Sheep Puppet
Building and strengthening fine motor skills
Concentration
Eye and hand coordination
Language development