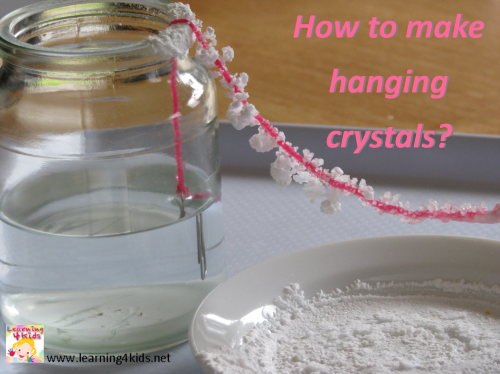 Growing Hanging Salt Crystals is a great science activity for kids to explore!
During the school holidays we took our girls to see a cave. It was an amazing experience for them and aroused so much curiosity and questions.
I believe in embracing their interests and curiosity and exploring them further.
The stalactites, stalagmites and crystals (calcium sculptures) inside the cave were amazing and the girls were completely in ore of this. These stalactites and stalagmites are formed by water dripping or flowing from fractures on the roof of the cave. To try and imitate this we set up an experiment to grow salt crystals hanging from a string of wool.
What you will need?
You will need two jars, a string of wool, water, two paper clips, small plate and bi-carbonate soda. We also set up a table to write our observations down each day for 1 week.
Fill two jars with hot water. Stir in about six teaspoons of bicarbonate soda, until no more will dissolve. When a layer forms at the bottom of the jars, this means no more will dissolve. This was fun to watch as the water fizzed and bubbles formed in the jar, a bit like opening a bottle of soft drink.
Tie a paper clip to each end of the piece of wool and place each end in each jar.
Leave the jars for a week. Crystals will grow along the wool and hang down over the place.
What is Happening?
The wool soaks up the mixture. When the water evaporates, all that is left are the bicarbonate soda crystals (Salt). The hanging crystals are formed when the mixture starts to drip from the wool and evaporate. If you're lucky, you might even get crystals that drip onto the plate and form columns…..like in caves.
Let's Learn
Learning Experience from this activity:
Using descriptive words to express ideas and opinions.
Make connections with real life experiences.
Promote scientific thinking – predictions, observations, comparison, reasoning, data gathering, experimentation and evaluation.