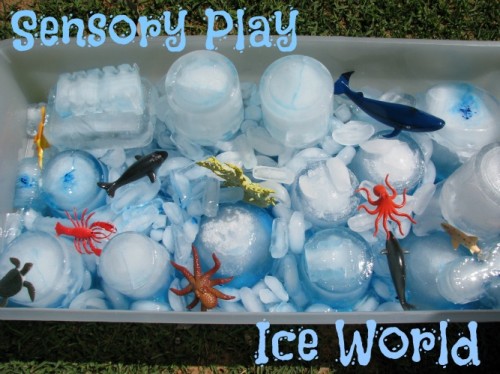 Ice World is a sensory activity for toddlers and pre-school children that involves playing with ice, water and sea theme props. Older children will still have a lot of fun and benefit from playing with this sensory ice tub. The amazing thing about sensory play is that it opens the door to so many wonderful learning opportunities such as imaginative play, language exploration, fine motor development for pre-writing skills, coordination, social interactions and so much more.
Sensory play allows for many unstructured learning experiences for, the freedom to explore and discover the world around them.
What you will need?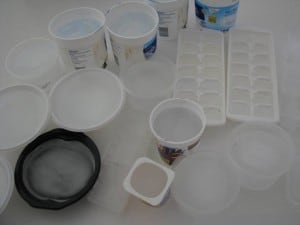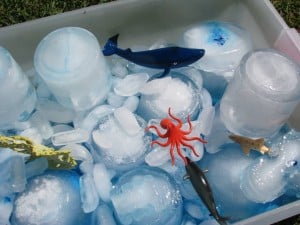 You will need containers, sea theme plastic animals, a large tub, food colouring and water.
Over a period of a few weeks I recycled a number of empty containers, filled them with water and put them into the freezer. We tried to utilise containers that had different shapes, patterns and sizes to help make ice world more interesting. We used yoghurt containers, empty biscuit trays which made great patterned ice shapes, large and small bowls, tall and short containers and ice cube trays.
When we were ready to use the frozen ice, I set them out onto the bench for about 5-10 minutes to allow the ice to melt a little which made it much easier to remove.
We also placed a few drops of blue food colouring into a small jug of water and poured it over the ice to create the blue ice affect that you see in Antarctica and the Artic.
Let's Play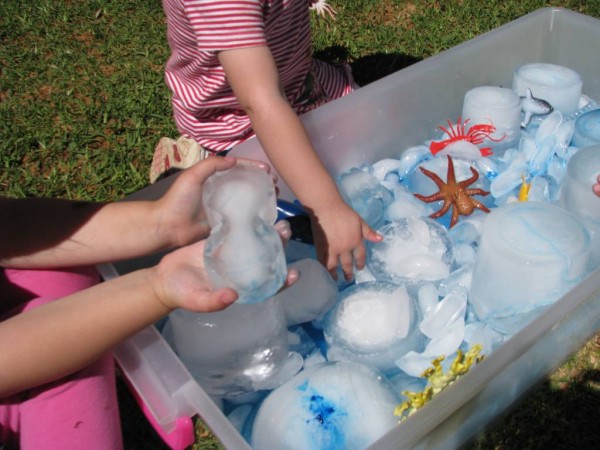 Sensory play opens the opportunity to talk about and use describing words to communicate what is being experienced. How the ice felt on our hands, cold, freezing cold, if we leave our hands on it for too long it hurts because it is too cold. The ice also felt slippery, smooth and looked clear and see-through. We joked about how it would feel if we were to have a bath in it.
Let's Play Some More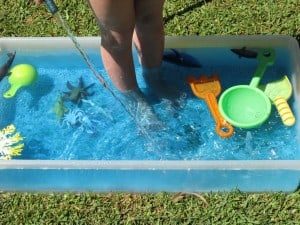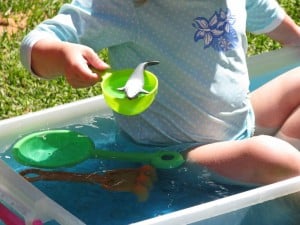 The wonderful thing about open-end play opportunities is that they can grow and take a whole new direction. Our ice world was left over night to melt and the sprinklers filled the tub even further. So as the next day warmed up it became a whole other play opportunity where Miss 4 enjoyed sitting in the tub catching and scooping all the sea creatures out of the tub with a cup.
Let's Learn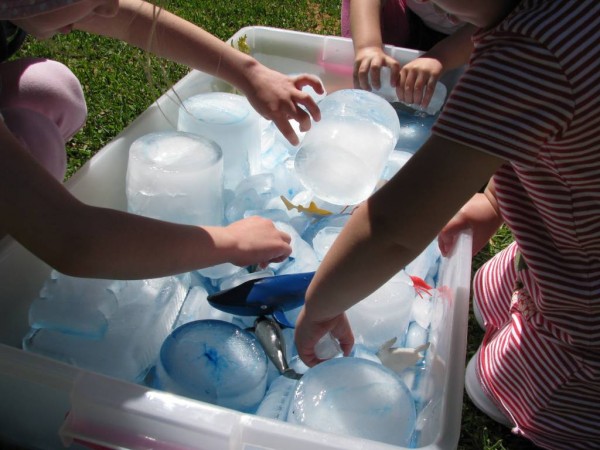 Sensory play promotes many learning experiences:
Sensory play encourages children to manipulate and mould materials, building up their fine motor skills and coordination.
Sensory play uses all 5 senses, but the sense of touch is often the most frequent. Toddlers and children process information through their senses. They learn through exploring these.
Sensory play is unstructured, open-ended, not product-oriented; it is the purest sense of exploratory learning
Self-esteem: sensory play offers kids the opportunity for self-expression because there is no right answer and children feel safe to change or experiment with what they are doing.
Language development- experimenting with language and descriptive words.
Develop social skills: practising negotiation skills, turn taking and sharing. Provides opportunities for working out problems and experimenting with solutions.
Encourages Imagination and creative play.