Today I am very excited to share a guest post with you, Ali from At Home with Ali. Be sure to visit her fabulous blog for more great ideas and activities for kids!
Hi, I'm Ali and I am thrilled to be guest posting at Learning 4 kids today. My daughters and I play with play dough regularly but sometimes we need a change. So from time to time, I like to make a batch of salt dough. The recipe I use is from Nurturestore .
Salt Dough Recipe
2 cups of plain flour
2 cups of salt
1 cup of warm water
Mix together and knead to form a dough
Bake in oven for approximately 3 hours at 120 degrees C
(Note: Cooking time depends on the thickness of the salt dough)
Let's Read
For this particular salt dough play session we were inspired by boats. My 2 year old is in love with her book Thomas' Really Useful Word Book. One of the scenes in the book depicts Thomas chugging past a river chock-a-block full of boats. The girls love all the different sorts of boats. We spend a lot of time talking about each boat, their size and their purpose. I thought it would be good fun to make some with salt dough.
Let's Play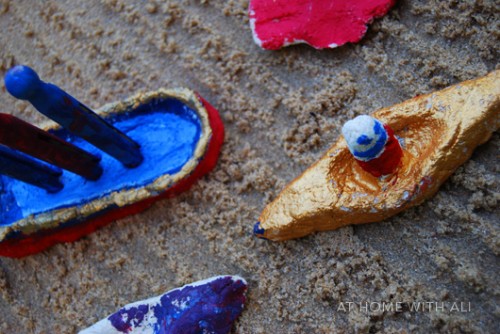 The girls helped measure out the ingredients for the dough and gave me a hand mixing and kneading. When the dough was ready we sat outside (it can get a little messy) and made canoes, a barge, a row boat and a police boat. We moulded salt dough people for the canoes. For the other boats, we pushed some wooden cloths pegs deep into the salt dough to make indents. Once cooked, these deep indents enabled the peg dolls to ride in the boats. (Warning: Don't cook the wooden pegs (janice, I don't know whether you need this warning or not)).
Let's Paint 
When the boats were finished we placed them on a lined baking tray and popped them into the oven to cook. After cooking and cooling, the girls painted their salt dough boats and peg people in bright colours.
After a few weeks I sometimes find salt dough starts to absorb moisture and go soft…. which generally means it is time for a new batch. I hope you enjoy salt dough. It is also great to use with rolling pins and cookie cutters.
ABOUT AT HOME WITH ALI:
Ali is a mum to two young daughters (2 and 4) and a graphic designer. Her blog At home with Ali is devoted to arts and crafts activities for young kids, gardening and little world play.
To visit Ali's gorgeous blog click here: At Home with Ali