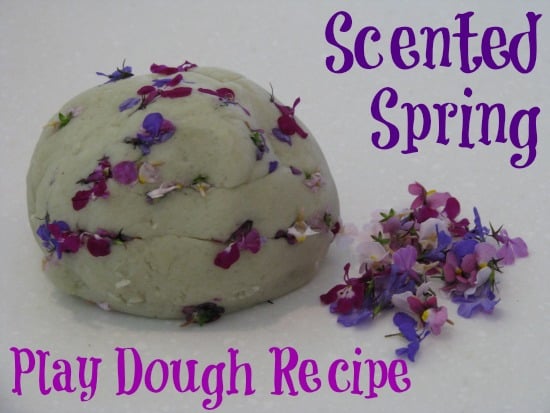 Scented Spring Play Dough has a beautiful smelling fragrance of flowers and flecks of coloured flower petals to bring together some of the wonderful elements of spring time.
The play dough has been scented with shampoo that has a hint of flowers essence which also gives the play dough a soft and smooth texture. The coloured flower petals create a wonderful texture to heighten the sensory element of playing with play dough.
*Please note that this play dough cannot be eaten as it contains soap*
What you will Need?
1 cup plain flour
2 Tablespoons oil
200ml Water
50ml Shampoo (we used Herbal Essence for the scent of flowers)
½ cup salt
2 Teaspoons cream of tartar
¼ cup Flowers Petals
How to Make It?
Pour all dry ingredients, flour, salt and cream of tartar together in a saucepan.
Add oil, shampoo and water to dry ingredients.
I use a whisk before heating as I find this helps remove lumps and blends the ingredients well.
Cook over medium heat constantly stirring until it becomes a thick blob.
Then turn out onto a clean surface and knead into a smooth ball. Be careful the play dough will be very hot!
Allow the play dough to cool before playing kneading in the flower petals.
Store in a plastic zip lock bag or air tight container.
To download and print this recipe click here: Printable Scented Spring Play Dough Recipe
Play ideas using the Scented Spring Play Dough: Create a Spring Play Dough Garden