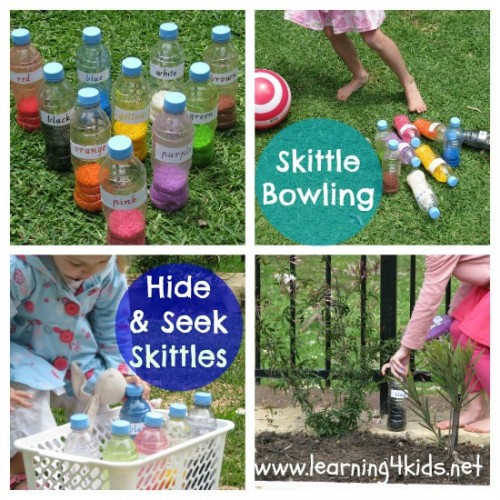 Our Homemade DIY Skittles & Games would have to be one of the most played with toys in our house. My girls are continuously finding new and fun things to do with them. I have seen them become pretend food and drink in imaginative play games, used to create barriers or goals in ball games and they have also become music shakers. With these in mind there are two main games we love to play with our Homemade Skittles, Skittles Bowling and Hide & Seek Skittles.
What you will need?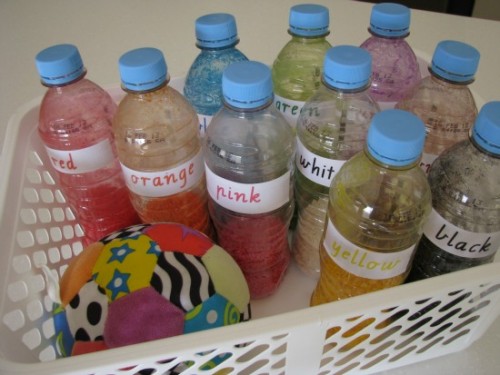 You will need 10 clear empty plastic bottles, rice, colour labels (optional), food colouring and a ball.
We placed half a cup of rice into each plastic bottle and added a few drops of food colouring, placed on the lid and gave the bottle a good shake until all the rice was covered.
We also placed colour labels on each of the bottles as a way to encourage reading and visual awareness of these words. I wanted my kids to label and name the bottles by colour and be repetitively exposed to the written word.
SKITTLE BOWLING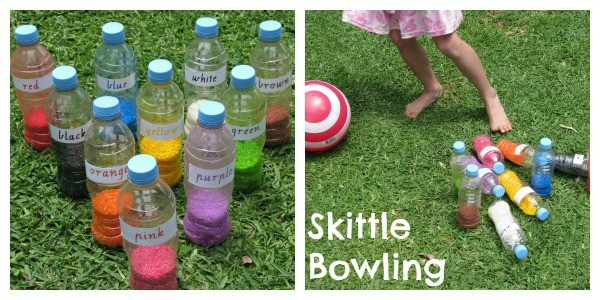 Skittle Bowling is much like a game of 10 Pin Bowling but using our own homemade bottles.
Arrange the bottles into a triangular shape and mark a line from where kids are to roll the ball. The aim is to knock over as many skittle bottles as possible. It is up to you if you would like to keep score but this did not seem important to my kids as their total aim was to knock over as many as possible and beat their own personal best.
HIDE & SEEK SKITTLES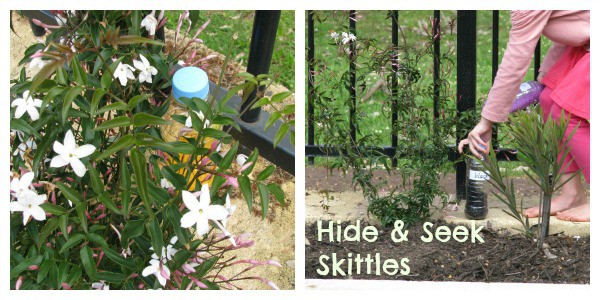 Hide & Seek Skittles is a great game that can be played both indoors and outdoors depending on the weather. It involves one person hiding all 10 Coloured Skittles and another person finding them. You will often hear conversations between my kids, "I have only found 8 which means there are 2 more hiding" or "the red and green ones are not found yet".
GAMES ARE IMPORTANT FOR KIDS:
Games are so important for kids to play as they learn so many important skills by playing them.
Turn taking and sharing
Getting along skills and problem solving
Negotiation and language skills
Team player and sportsmanship
Mathematics through score counting
Self-esteem
Physical and emotion development
Gross motor, fine motor, coordination and balance
For more Colour Activities click here: EXPLORING COLOURS
For more Active Play Activities click here: ACTIVE PLAY