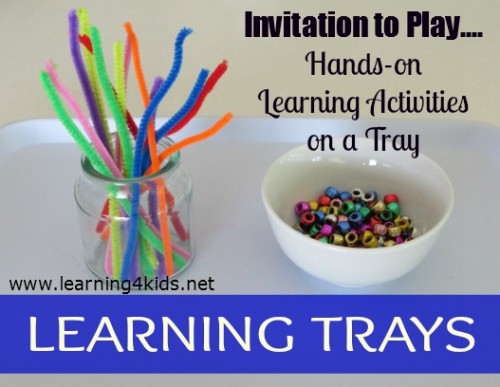 Information about Learning Trays
LEARNING TRAYS SERIES – HOW IT WORKS?
My aim of the Learning Trays Series is to provide simple, easy to set up activities that are presented on a tray to invite the natural wonder and curiosity of kids and toddlers to play and learn with.
The series will include some fine motor a skills, sensory play, literacy, numeracy, shapes, space, science, art and so much more.
Set up a tray(s) with a range of play opportunities (List of Ideas Here)
Have the tray(s) available and accessible for toddlers and kids to play with over a period of time. Our trays are changed with new or previously done activities every 7 to 10 days.

WHAT IS A LEARNING TRAY?
There are numerous ideas and viewpoints out there of what a learning tray is and how they should be used in a learning environment. This is my perspective and my way of adapting and utilising this fabulous learning tool into our learning activities.
Learning Trays are a teaching or learning method that was developed based on the Montessori belief and idea of a child-centred approach to education. Montessori is a method of education for young children that seeks to develop natural interests and activities rather than use formal teaching methods. Learning Trays one of the many forms of learning tools that are used to encourage and promote this approach to education.
A Learning Tray is set up with an activity that is displayed or set out on a tray that invites different kinds of play opportunities that expose early learning skills and engage toddlers and kids curiosity.

Why Learning Trays?
Overall I think Learning Trays have a great place in any early learning environment and are a fabulous way of incorporating different themes that are being learned. They provide for different situations and outcomes and can be utilised for specific needs or requirements for individual children and classrooms.
Trays can provide children with their own work space, although it is okay to move freely around the area of the learning tray.
Trays can provide a neater and more orderly environment for a toddler or child. It is easy where the materials are, what the activity involves and a place to return all the materials when it is time to pack away.
Learning Trays and the types of activities involved generally promote a quieter environment as many of the activities require much focus and concentration from the child. Although I think it is because the child is eagerly engaged and interested in the task at hand. Also I think there is a place for quieter and less noisy activities.
Learning Trays generally are easy to set up and require minimal materials.
They provide simple, yet engaging activities that sometimes promote a skills development such as fine motor and hand-eye coordination.
Self-esteem building – some activities require concentration, determination, problem solving, perseverance to accomplish tasks building self-esteem through sense of achievement.
Trays provide for a range of learning opportunities and can be set up to invite different kinds of play, exploration, or creativity.
Learning Trays are a great way to keep messier activities contained – making easier for cleaning up.
They are always set up which provides for a quick and easy activity that does not require a lot of work to set up.
CLICK HERE TO VIEW A RANGE OF LEARNING TRAY ACTIVITIES AND IDEAS