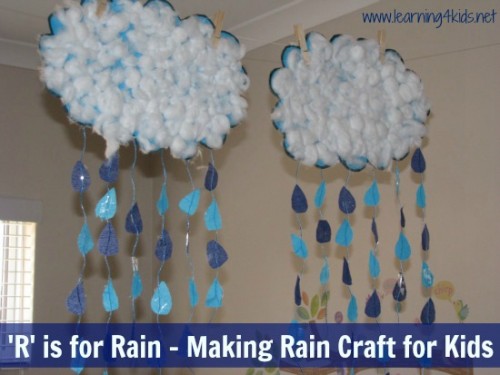 'R' is for Rain & Making a Rain Craft
Making our rain craft was so much fun and a great way to encourage language development!
The idea started with Miss 2, who absolutely loves to sing a rain song at the moment, which I think is called "Rain is Falling Down….Pitter Patter". I wanted to encourage and support her learning and development by utilising her interests, so I thought we would create our very own rain to play and sing-a-long with.
The rain and cloud also turned out to be a wonderful piece of artwork now in our play room which I bring down once in a while for Miss 2 to sing and play with.
What you will need?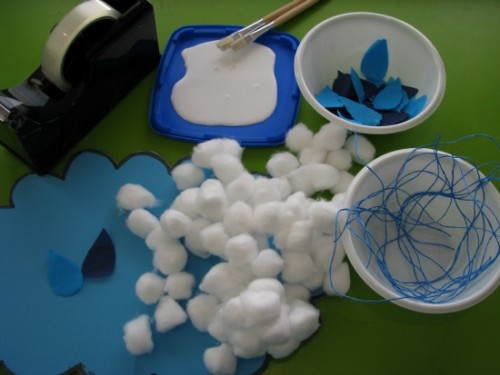 You will need blue paper, cotton wool balls, string, PVA craft glue, paint brushes (for applying glue), sticky tape and dark blue and light blue crepe paper.
I cut our blue sheet of paper into the shape of a cloud and glued it onto an empty cereal box to make it stronger and less flimsy.
To create the rain drop shapes, I folded the crepe paper over in layers and with a pen drew a small tear drop shape, then cut it out. Folding the crepe paper over several times created a number of rain drops, saving time with cutting.
Making the Rain Craft: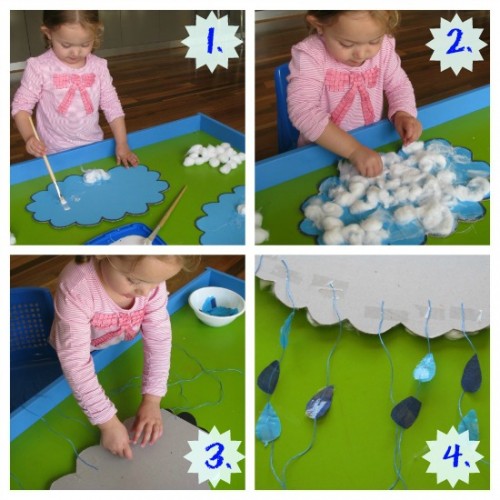 Some of this activity was completed by Miss 2 independently with some guidance and other parts were completed with more support and guidance from me. Every child is different and at various stages of development. Either way I truly believe that sitting and being with your child to share creating something together is so important and beneficial, not the fact that they completed it all by themselves. Children benefit so much from our guidance and presence; we are their first teacher and role model.
We also broke the activity up into parts as it can be time consuming and little attention spans may lose interest.
Apply the PVA glue to the cloud with a paint brush.
Stick the cotton wool balls onto the glue by carefully and gently pulling the fibres apart to spread the cotton wool more thinly. Allow the glue to dry.
When the glue has dried, turn the cloud over and sticky tape the string on the back to dangle down at different lengths.
Sticky tape the rain drops to the string. Some assistance may be required with this part.
Let's Learn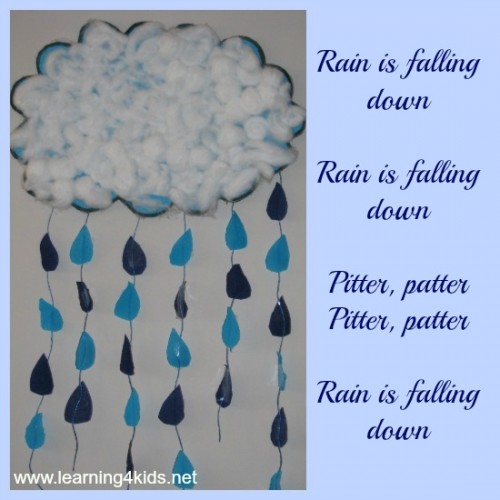 Time to play with our Raining Cloud: Miss 2 happily sang her favourite rain song as she dangled and swished the rain drops to and fro.
Learning Benefits:
Encourages and promotes imaginative play and creativity.
Develop and extend vocabulary.
Rhyme – understanding rhyme in our spoken language helps children learn to read.
Rhythm- helps children to remember words and develop auditory memory skills.
Phonemic awareness – hearing and understanding that words are made up of individual sounds and other word patterns.
For more alphabet activities <CLICK HERE>