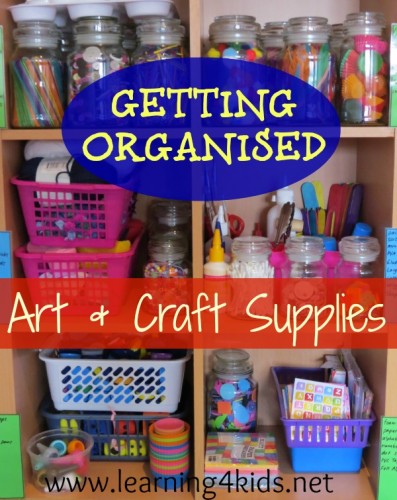 Over the years I have stored our art and craft supplies in many different ways. We have progressed from having everything squashed into a large box, then onto sorting items into smaller boxes, jars and organising them onto shelving. I much prefer to have everything on shelves as it is easier to see what we have and am more likely to use them. It also makes it so much easier to set up and pack away activities.
When organising our art and craft supplies, I wanted to keep it simple and inexpensive. I have recycled and reused baskets, containers, boxes and jars I have found from around the house. When you start looking, it is amazing the things you will find that can be very useful to organise, store and tidy up art and craft supplies.
This book shelf is only part of what we have in our collection of art and craft supplies, we also have a play dough toolbox, paint box and recycled household items stored in our study which are used for activities.
HOW WE DO IT?
To save space I have set up our craft shelf behind the kids play room door. It is out of the way and leaves more room for playing.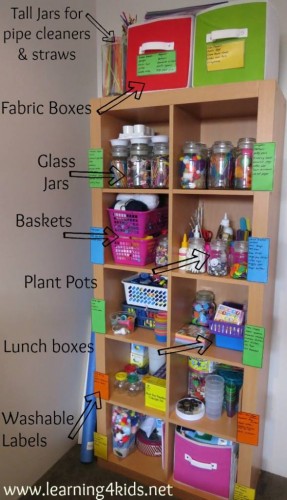 Tall Jars: I store our pipe cleaners and straws in tall jars which are originally meant for spaghetti pasta. I find this way of storing them takes up the less space than having them in another container or box.
Fabric Boxes: Our fabric boxes are really handy because they can be folded flat when not needed and stored in small spaces. Boxes are great to keep things tidy. We store all our loose craft items such as balloons, paper plates, cellophane and tissue paper in these boxes.
Glass Jars: These jars are recycled empty coffee jars that I have collected slowly over the years. What I really like about these jars is that they are transparent and you can automatically see what is in them.
Baskets: Baskets come in different sizes, shapes and heights and are always a great way for storing craft items and keeping them neatly together in one place. Baskets do not have a lid so this also allows for extra room for items without the issue on trying to compress a lid on top.
Plant Pots: These are great for storing some items standing up, such as glue sticks, rulers, scissors, pencils, crayons etc. They are also easily accessible and kept neat and tidy this way.
Lunch boxes: Containers with lids or unused lunch boxes are perfect for keeping craft items neatly stored altogether.
Washable Labels: These labels are made from laminated coloured paper which I write on with a white board marker. I list all our art and craft supplies on these labels that are stored on each shelf and what are inside the boxes. This helps me to keep a record of what I have, anything new I have added or what I need to replace. As things change I can easily wipe away the labels and re-write on them with a white board marker.
MUST HAVES!!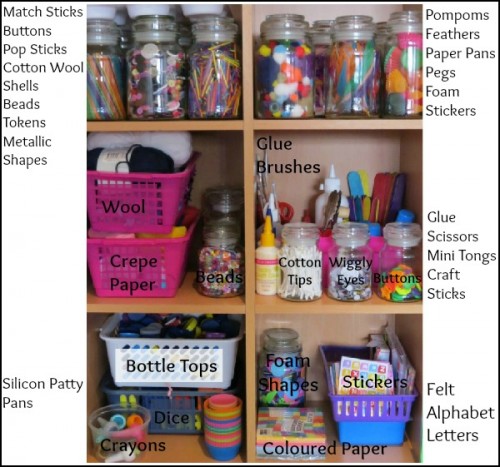 This photo is just a snippet of some of the art and craft supplies we have stored on our book shelf. On the very bottom shelf we store some kid's games and toys such at the Wooden Hammer and Tac Set, puzzles, sight word cards, base ten blocks and dominoes.
Some craft supplies I absolutely love to have that are not listed in the picture are alphabet foam stickers, shape cookie cutters, paint containers, felt, dot stickers, alphabet and number stickers, coloured paper and card, PVC tape, threading beads, mosaic paper squares, large pop sticks, poly string, empty jars, magazines, balloons, hot glue gun, small and large paper plates, envelopes, glitter, crepe paper, cellophane, activity trays, fake flowers, bubble wrap, sponges, rubber bands, plastic cups and spoons, magnets and decorative cutting scissors.
Visit our Online Shop for Lots of Art and Craft Supplies
<CLICK HERE>