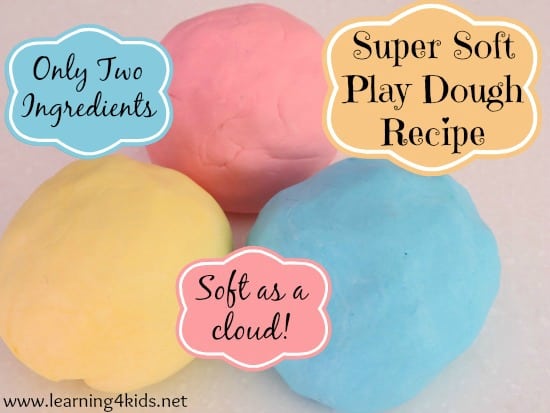 Super Soft Play Dough is a quick and easy, no cook recipe. The play dough is incredibly soft and silky smooth and the conditioner adds a delightful smell to the sensory experience. Toddlers and children will have hours of fun with this play dough creating soft fluffy cloud creatures or using cookie cutters to make prints.
What you will need?
2 Cups Cornflour (corn starch)
1 Cup Hair Conditioner
Food Colouring
*Extra Cornflour to add if mixture is still a little sticky*
How to make it?
Place hair conditioner into a medium bowl and add a few drops of food colouring.
With a spoon, mix the colouring through the conditioner.
Add 1 cup of cornflour and stir. Then add the last cup of cornflour to the mixture.
Constantly stir the mixture until it begins to form a thick blob.
Turn the play dough out onto a clean surface and knead into a smooth ball with your hands. Add more cornflour if the play dough is sticky.
Store in a plastic zip lock bag or air tight container.
PLEASE NOTE:
This play dough recipe is not like other
traditional play dough recipes
and has no preservative in it, therefore it will not last as long as
salt based play dough recipes
. Super Soft Play Dough is designed for a sensory experience, an alternative to other play dough and will become flaky and dry with continued play. I believe this is part of the experience of playing and experimenting with texture.
Click here to download and print this recipe –> Super Soft Play Dough Recipe
For more play dough recipes and ideas <CLICK HERE>