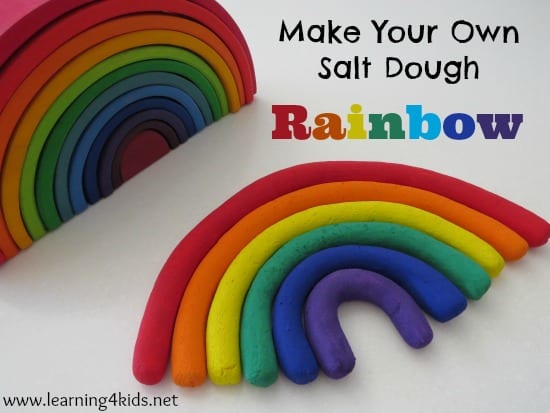 Making your own Salt Dough Rainbow is a great way of creating a homemade toy for your child to play with.
Shaping the salt dough into a rainbow and cooking it hardens the dough, which then can be painted and used as a toy. The salt dough rainbow acts a bit like a puzzle where children are required to reconstruct and put the rainbow back together by looking at the shape and size of the coloured arches.
Children will not only learn and develop through making their very own Salt Dough Rainbow but also through the joy of playing with a toy that they created. As part of this activity you can read books and sing songs about rainbows.
What you will need? 

To make your own Salt Dough Rainbow you will need to double the quantities in our salt dough recipe, a baking tray, coloured paint (red, orange, yellow, green, blue and purple) and paint brushes.
When all the ingredients are mixed together, we devided the salt dough into 6 balls, one for each colour of the rainbow and differing in size from larger to smaller.
One at a time roll each of the balls into long sausages of a similar thickness and begin moulding them into arch shapes. We started with the smallest ball first and used this as a guide for the rest of the rainbow arches.
How to Make Salt Dough Recipe
<RECIPE HERE> (we doubled the recipe for this activity)

Rolling the salt dough balls and trying to get all the arches a similar thickness and the right length to form each arch of the rainbow can be a bit fiddly. If you find your salt dough is breaking, try to make the width of the arch a little thicker and knead out any air bubbles in the dough before rolling.
Place the salt dough rainbow onto baking paper and baking tray. Be sure to leave a gap between each arch so they will not stick together in the oven as they cook.
Place the salt dough rainbow into the oven for approximately 30 minutes (this may vary according to different ovens) at about 180c. While the salt dough rainbow is cooking, be sure to check that it is not over cooking. It will be ready when it has slightly browned and is hard.
Once cooked leave the salt dough rainbow to cool on the tray and then paint!
Let's Learn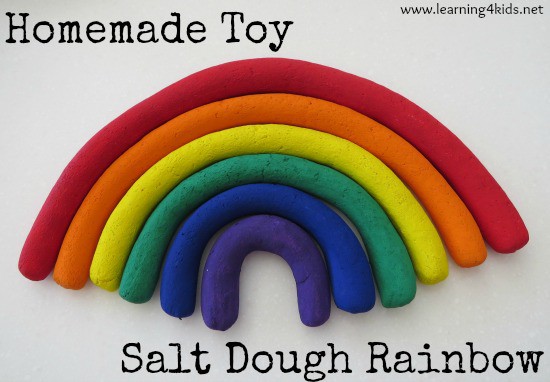 Learning Opportunities
Creativity
Fine Motor Development
Hand-Eye Coordination and Control
Concentration
Spatial awareness – experimenting with shape and space
Language development
Mathematics – measuring quantities and counting
Problem solving