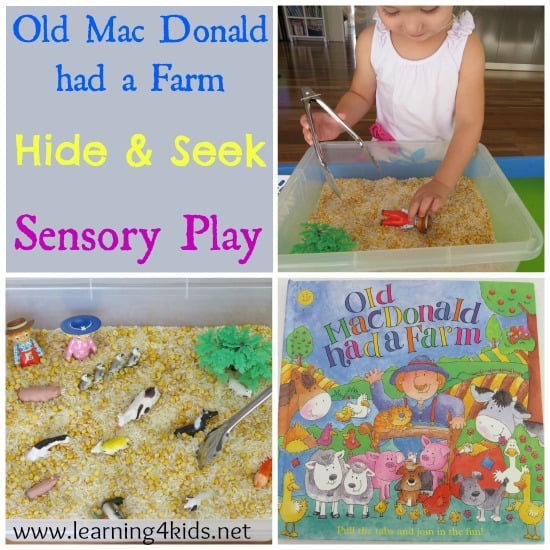 Old Mac Donald had a Farm is a favourite nursery rhyme in our house at the moment and we have read (and sang) the book many times over.
To continue the learning and love of this nursery rhyme, I thought I would set up a fun Sensory Hide and Seek activity. This activity is also provides a learning opportunity that encourages oral language and fine motor development.
Old Mac Donald had a Farm Hide & Seek Sensory Tub involves hiding all the plastic farm animals and characters in the rice and split peas mixture. Then using the mini tongs, searching through the mixture to find and catch each of the farm animals. This is all done while singing Old Mac Donald had a farm.
What you will need?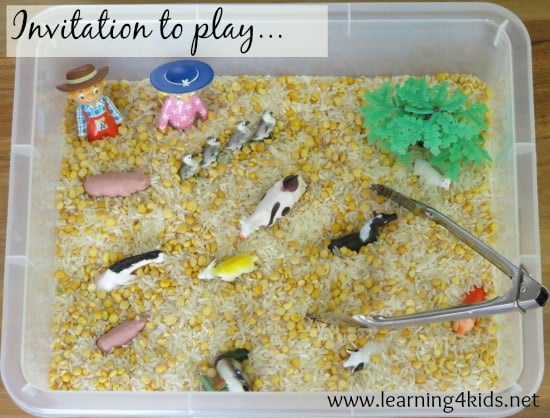 You will need a large plastic tub, mini tongs, farm animals and characters, rice and yellow split peas.
I have used the rice and split peas for many activities and store them in this container with an air tight lid. This tub of rice and split peas has lasted for over a year and is showing no signs of needing to be thrown out. The life expectancy of the sensory tub will depend on how many children use the tub and the items that added to the tub.
Let's Play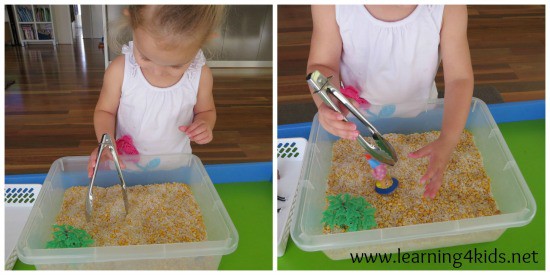 Some Ideas:
Hide all the farm animals in the rice and split peas mixture. Using the tongs to find and catch them. The first animal to be found, add them into the song Old Mac Donald. For example, when we found a horse, we sang; "…and on that farm he had a horse".
Use your hands, instead of using the tongs to find and catch the farm animals in the rice and split peas.
Read a nursery rhyme book and sing Old Mac Donald had a Farm.
Talk about what sounds each animal makes.
Let's Learn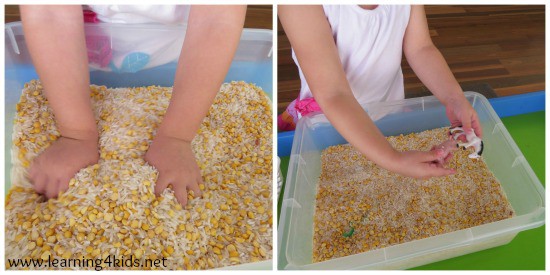 Sensory play promotes many learning experiences:
Sensory play encourages children to manipulate and mold materials, building up their fine motor skills and coordination.
Sensory play uses all 5 senses, but the sense of touch is often the most frequent. Toddlers and children process information through their senses. They learn through exploring these.
Benefits of singing nursery rhymes:
Develop and extend vocabulary.
Rhyme – understanding rhyme in our spoken language helps children learn to read.
Rhythm- helps children to remember words and develop auditory memory skills.
Phonemic awareness – hearing and understanding that words are made up of individual sounds and other word patterns.
Find more Sensory Activities <HERE>