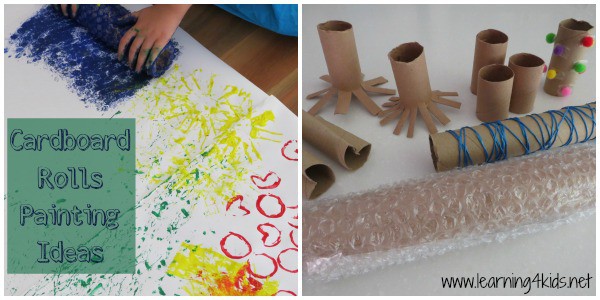 Cardboard rolls are great for activities and crafts.
Since Christmas I have collected a number of cardboard rolls left over from wrapping paper.
It has also been a long since my kids had a chance to get messy and play with paint so I thought that using the cardboard rolls would be a great way to mix the two together.
Painting with Cardboard Rolls is a great opportunity to explore textures, printing and patterns with paint. It is also provides as a sensory, creative and a self-expression experience.
What you will need?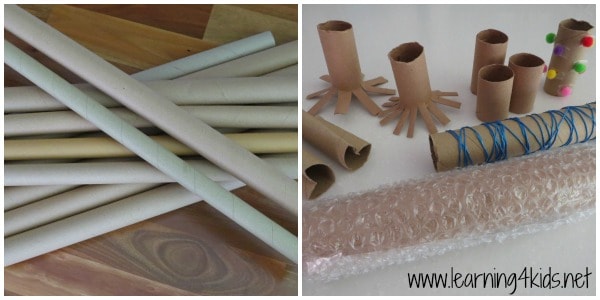 You will beed cardboard rolls, scissors, sticky tape, string, pompoms, paint trays (we used cleaned meat trays) and bubble wrap. You will also need a large sheet of paper. I sticky taped a large area of paper together and fastened it to the floor with masking tape. I find masking tape so much easier to remove than ordinary sticy tape.
Let's Play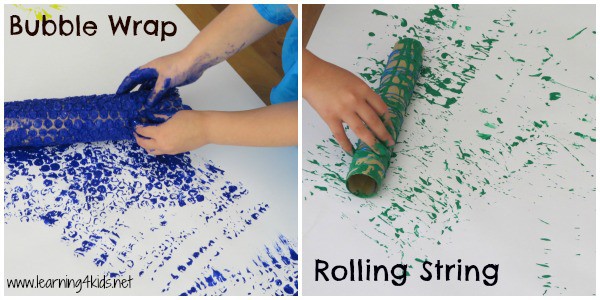 Some ideas:
Bubble Wrap:

Wrap a cardboard roll with bubble wrap to create a dotty imprint when rolled into paint.

String:

Fasten one end of a piece of string with sticky tape to one end of a cardboard roll and continue to wrap the string around until it is sparsely covered.

Star Shape:

With a pair of scissors snip equal widths apart on one end of a cardboard roll. Push the cut end outwards to form a star shape.

Shapes:

Press, push and manipulate one end of a cardboard roll to form a heart shape and square. Use an unshaped cardboard roll to create a circle shape.
Let's Learn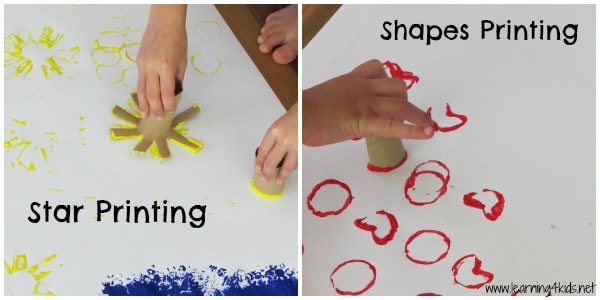 Learning Opportunities
Self-expression with paint
Eye and hand coordination
Fine motor development
Experimenting and exploring with a new paint tool
Sense of achievement and pride
Colour recognition
Sensory experience of exploring paint, textures and prints.
For more Painting Activities <CLICK HERE>