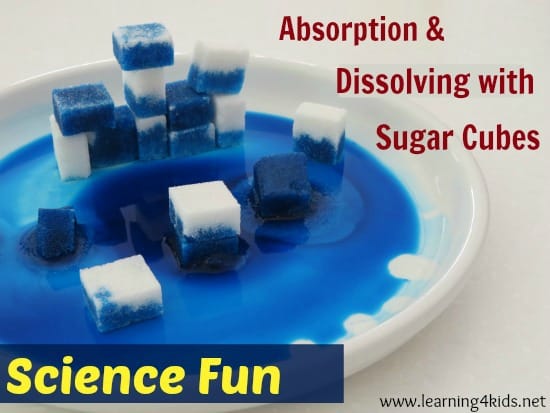 Sugars Cubes are great for exploring science concepts Absorption and Dissolving using coloured water. Children will have fun playing and experimenting with the coloured water and the effects this has on sugar cubes.
This is a super simple science experiment for kids that is easy to set up and requires easy accessible items.
What you will need?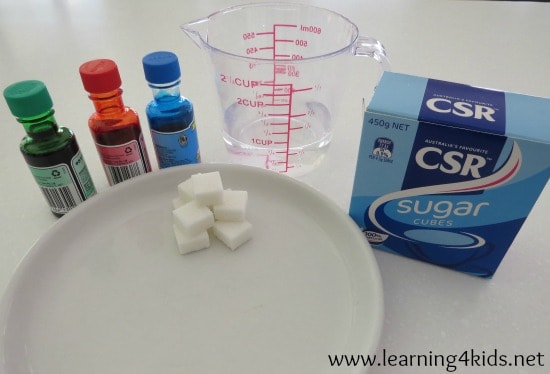 You will need sugar cubes, food colouring, water and a shallow plate.
For this activity, I provided the plate with a small amount of coloured water and a large handful of sugars cubes for my children to explore and experiment freely.
Please note: you do not need a lot of water and food colouring for this activity, just a thin layer on the plate will be enough for absorption to happen. Too much liquid on the plate causes the sugar cubes to dissolve much quicker. Experiment with your child the amount of water that best suits the type of sugar cubes you are using for this science activity.
Let's Play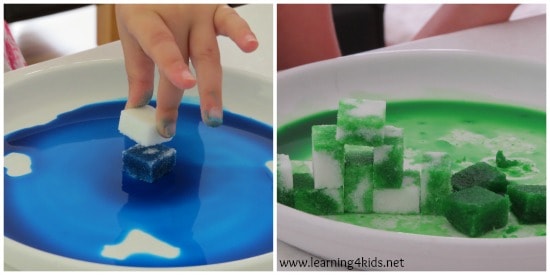 Some Ideas:
Discuss with your child how the water is absorbed by the sugar cubes as you can see by the colour rising up through the cubes.
Talk about why the sugar cubes start to crumble and dissolve.
Build and stack with the sugar cubes. How many sugar cubes high will the coloured water absorb through?
Make a bridge: does this affect absorption?
Explore what happens when you mix different coloured water.
Dip one end of a sugar cube into one colour and dip the other end in a different colour. What happens?
Let's Learn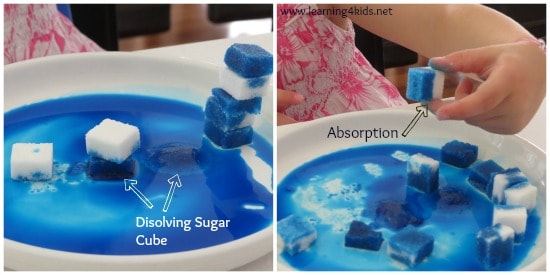 Learning Opportunities
Language development: Using descriptive words to express ideas and opinions.
Make connections with real life experiences.
Promote scientific thinking: predictions, observations, comparison, reasoning, data gathering, experimentation and evaluation
Hand-Eye Coordination and Control
Cause and Effect
Concentration
Related Posts: Absorption- Rainbow Roses
For more Science Activities <CLICK HERE>