Science Learning Tray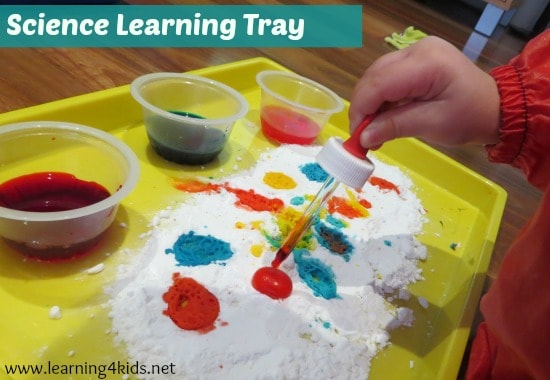 This Science Learning Tray Activity is a bit of fun for children to explore Bi-Carbonate Soda (baking soda) and Coloured Vinegar.
The reaction between these two properties is always exciting to watch and kids will have fun adding different coloured vinegar to the experiment.  It is a great way to encourage scientific thinking and skills.
What you will need?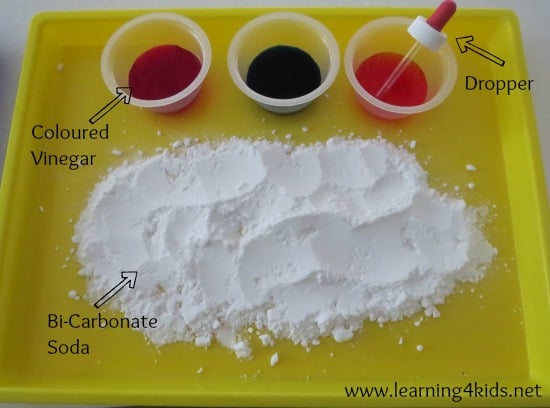 You will need a dropper, white vinegar, bi-carbonate soda, food colouring, containers to hold the different coloured vinegar and an activity tray.
Let's Play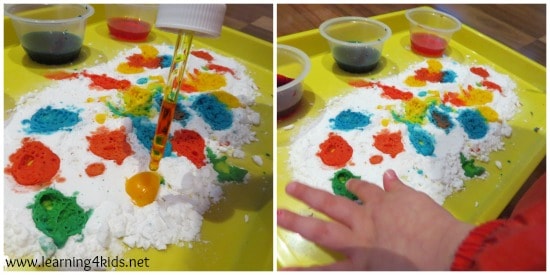 Some Ideas:
Mix different colours together to make new colours.
Touch and feel the mixture, is it soft or is it hard?
Talk about what it looks like, sounds like and smells like.
Use describing words such as fizzing, erupting like a volcano and bubbling.
Let's Learn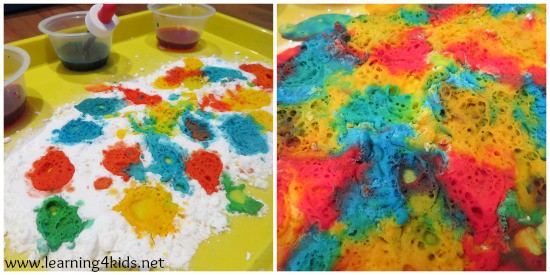 Learning Opportunities
Language development: Using descriptive words to express ideas and opinions.
Make connections with real life experiences.
Promote scientific thinking: predictions, observations, comparison, reasoning, data gathering, experimentation and evaluation
Hand-Eye Coordination and Control
Cause and Effect
Concentration
Find more Learning Tray Activities  <CLICK HERE>
Available in our Online Shop 
Click on the image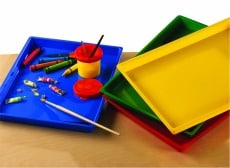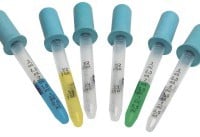 LIKE THIS POST
Come join the many playtimes here on Learning4kids, please enter your email address in the subscription box to receive updates right to your inbox!
5 Responses to "Science Learning Tray"