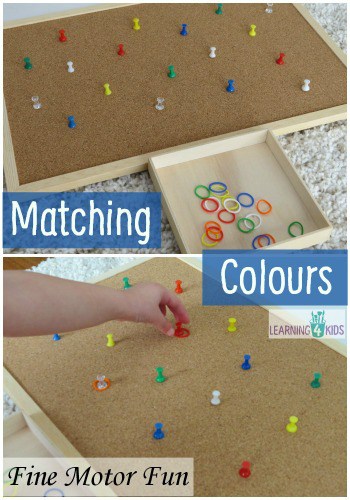 This Sorting and Matching Activity involves matching the small coloured elastic bands (loom bands) and placing them over the matching coloured push pins that have been placed onto a cork board.
It is a great activity to develop fine motor control, coordination, concentration and learning about colours.
Sorting and Matching Colours is simple to set up and will arouse any child's curiosity to play and have fun.
*Please remember safety when using push pins. If your child is not ready to be putting the push pins into the cork board by themselves, complete this part first before giving your child the activity to complete.*
What you will need?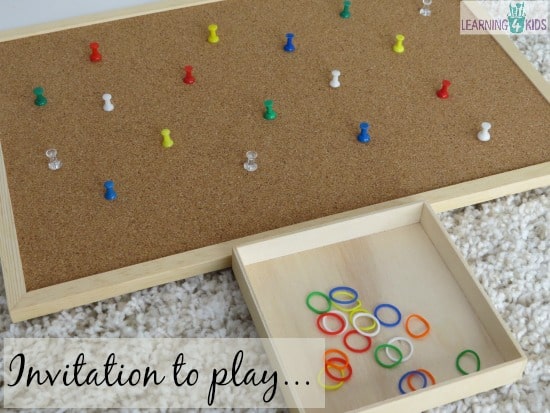 To set up this invitation to play, you will need a cork board, variety of coloured push pins and coloured elastic bands. I have used loom bands for this activity because this is something that my older children love doing at the moment and we have lots of them in different colours. I think large elastic bands would work just the same or could alternatively be placed handing on the cork board over the push pins.
*If you do not have a cork board, play dough would make a great alternative for this activity.
Let's Play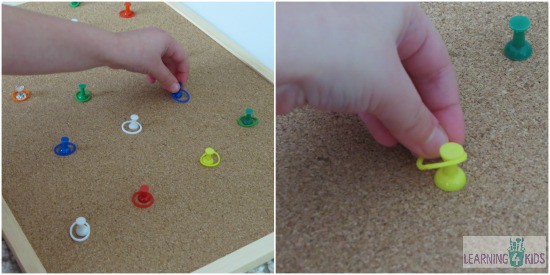 We only had a limited number of coloured push pins for our activity and decided to add the clear coloured push pin. We made the clear push pin for orange elastic bands which added an extra challenge.
Some Ideas
Match the coloured elastic bands to the same coloured push pins.
Talk about the colours and spot items in the room that are the same colour.
With larger elastic bands you could stretch the bands to reach and match up all the coloured push pins together.
Let's Learn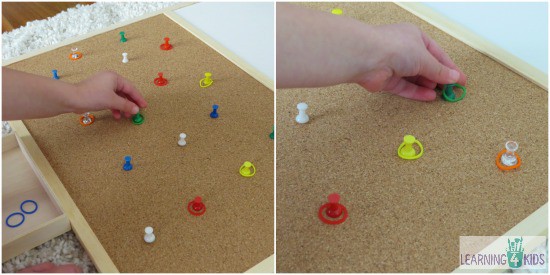 Learning Opportunities
Fine motor control
Hand and eye coordination
Concentration and problem solving
Determination and perseverance to accomplish a task
Colours and patterns
Matching, sorting and classifying
Language development – Colour names
Problem solve and overcome challenge
For more Colour Activities and Ideas <CLICK HERE>
Printable Colour Activities Pack