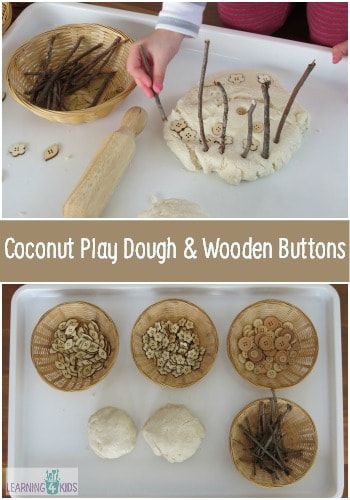 Coconut Play Dough and Wooden Buttons is a great activity for kids to explore their creativity and imagination as they create freely using simple props in an open-ended and unstructured way.
Recently we shared a No Cook Coconut Play Dough Recipe which was beautifully scented and textured. We then used the Coconut Play Dough we set up an invitation to play creatively with wooden buttons and twigs.
What you will need?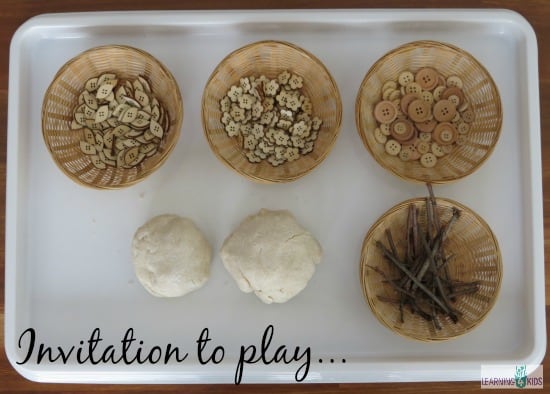 You will need Coconut Play Dough, wooden buttons and twigs. We went on a bit of a walk around the garden for fallen twigs and snapped them into smaller lengths.
An alternative to the wooden buttons, you could use items found around the garden such as leaves, flowers and seeds.
Let's Play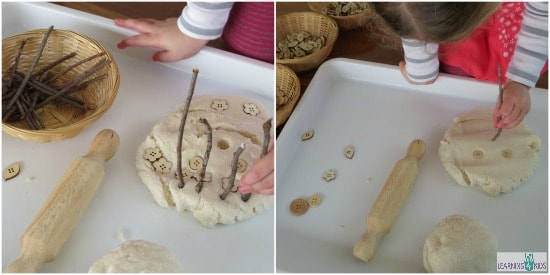 Some ideas: 
Create a garden: use the twigs as a stem, the buttons as leaves and flowers.
Create patterns and order the buttons from smallest to biggest.
Make animal or people characters using the play dough tools and props.
Create play dough faces and use the twigs as a drawing implement.
Let's Learn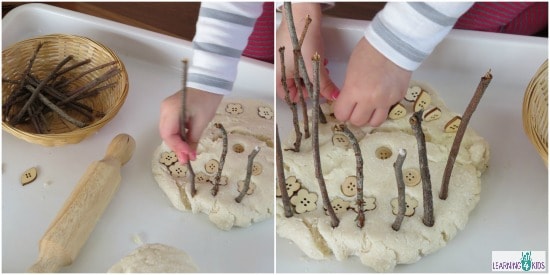 Learning Opportunities:
Creativity
Fine Motor Development
Hand-Eye Coordination and Control
Cause and Effect
Concentration
Spatial awareness – experimenting with shape and space
Language development
Imaginative play
Recognising patterns, colours and scents.
For More Play dough Activities and Ideas <CLICK HERE>