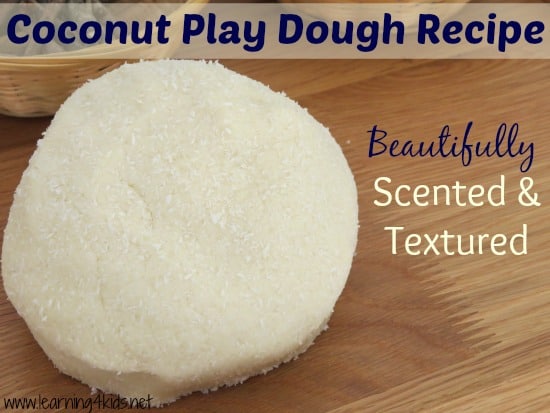 The Coconut Play Dough Recipe is a beautifully scented and textured play dough adding to the sensory experience when playing with play dough.
It is a NO COOK play dough recipe which smells like coconut and is beautifully textured with shredded coconut. I have combined flour and cornflour with this recipe to provide the brilliant bright white colour and super soft texture to the play dough. Children will have hours of fun playing and moulding with this super soft play dough.
What you will need?
1 ½ cups Plain Flour
1 ½ cups Corn Flour (Corn Starch)
3 Tbsp Oil
1 1/3 Cup Boiling Water
1 Cup Salt
2 tsp Cream of Tartar
¼ Cup Shredded Coconut
50ml Coconut Essence (found in the baking isle at the supermarket)
No colouring is required as the corn flour provides a bright white colour.
How to make it?
Pour all dry ingredients, flour, corn flour, salt, and cream of tartar together in a large bowl.
Add coconut essence and oil to dry ingredients.
Boil the kettle and add 1 cup of boiling water to ingredients. Mix well with a wooden spoon until mostly combined.
Then turn out play dough onto a clean surface and knead into a smooth ball. Be careful the play dough will be very hot! Use a little bit of flour if the play dough is sticky.
Store in a plastic zip lock bag or air tight container.
*Step 3 is to be completed by an adult.*
Click here to download and print this recipe: No Cook Coconut Play Dough Recipe
For more Play Dough Recipe Ideas <CLICK HERE>