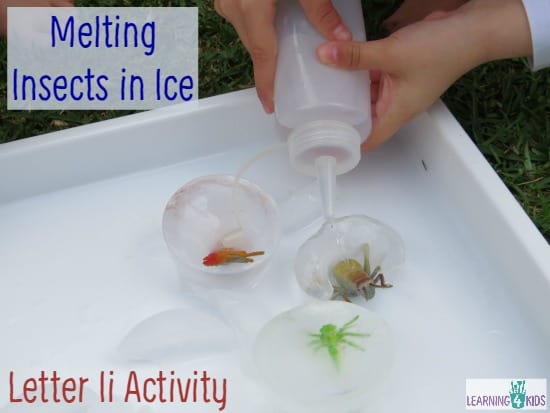 Melting Insects in Ice is fun activity to introduce children and pre-schoolers to the letter I. It is such a fun opportunity to talk about what the letter I looks like and what sound it makes. In this case the I as in Ice and I as in Insect, the 2 different sounds the letter I can make..
Trying to melt the ice the get the insects out also provides an opportunity to talk about the letter, make connections with spoken language and real life experiences.
Melting Insects in Ice is also a great sensory activity using warm and and cold items to explore the senses. The squirter bottles are filled with warm water and used to help melt the ice to getthe insects out.
What you will need?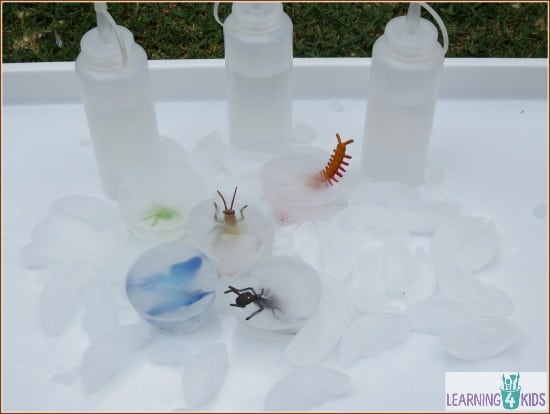 You will need insect figurines, plastic containers, ice cube trays, squirter bottles filled with warm water and a large tub.
We froze the insects in water the day before the activity and also froze 2 ice cube trays with water. We completed this activity outdoors.
Let's Play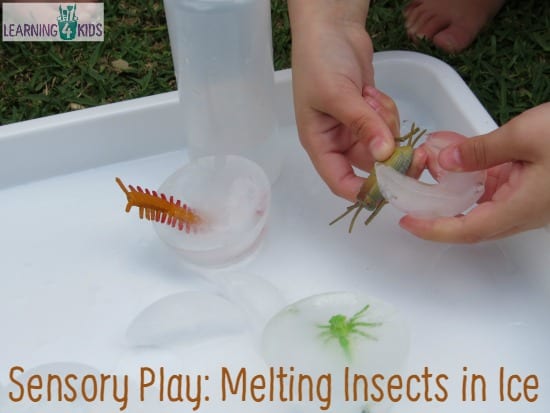 Some Ideas:
The squirter bottles are great for fine motor development and coordination as children need to squeeze and manipulate the water squirter out onto the target they are aiming for.
Talk about the letter I, what sound it makes and other words that begin with this sound.
Talk about the different insects and their names. Where would you find one?
Talk about what the ice and insects feel like – cold, bumpy, smooth and wet. It is so much fun when parts of the insects start sticking out of the ice.
Let's Learn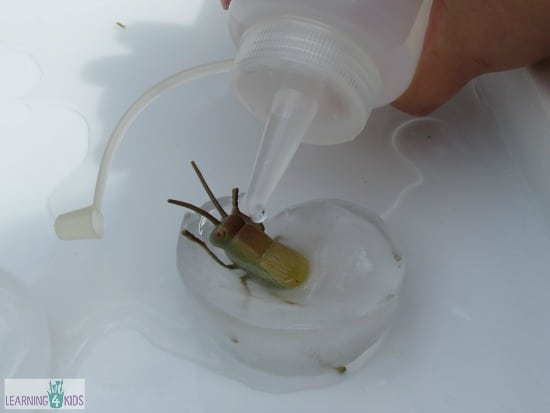 Learning Opportunities
Fine Motor Development
Problem Solving – over coming challenges and finding solutions.
Hand-Eye Coordination and Control
Cause and Effect – warm water melts ice.
Language development – Identify and recognise insects
Encourages and promotes imaginative play and creativity.
Letter recognition
Oral language development – hearing the sound and saying it out loud.
Exploring the senses and discovering new textures
Find more <ALPHABET> and <SENSORY> Play Activities & ideas