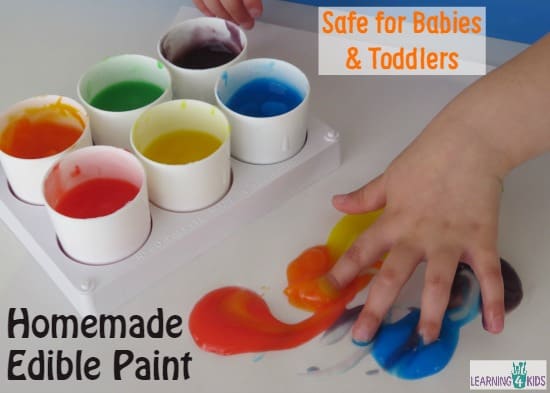 Homemade Edible Finger Paint is perfect for babies aged 6-18 months , toddlers and children who are more likely to place paint covered fingers into their mouths. It is also a great paint for their 'first' painting experiences when you are unsure if bub is going to try and consume the paint.
This Homemade Edible Paint Recipe is super easy to make and uses regular items found in the cupboard. It is safe for children to put into their mouths but bland and not tasty to discourage eating the paint. It is not a sweet or sticky paint and has a wonderful smooth texture….perfect for finger painting sensory play!
What you will need?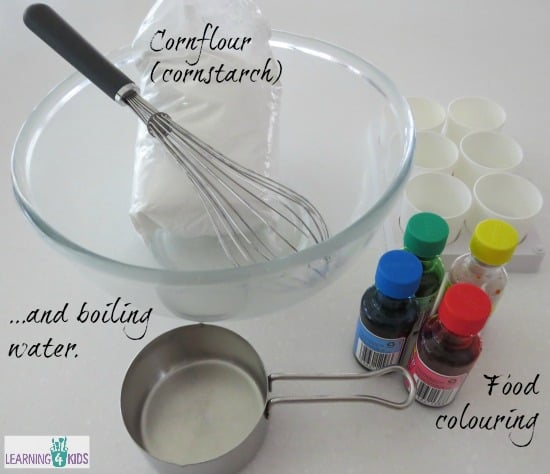 Ingredients
4 Tablespoons of corn flour (corn starch)
Cold water
1 Cup of boiling water
Liquid food colouring
Method:
I have played around with this method a few times and find this process the most successful for me in get a great consistency for the homemade paint.
In a medium saucepan, mix the cornflour with enough cold water to make a paste. (Not too runny).
Pour in 1 cup of boiling water and stir thoroughly so there are no lumps.
Turn on medium heat on the stove and mix. The mixture will start to change and you will notice some clear streaks forming in the mixture. Once you see this, turn off the heat and continue stirring. It will start to thicken and turn into a wonderful, custard-like consistency.
Spoon equal amounts into empty jars, cups or containers and add food colouring. Mixing until completely combined. For each colour, we added 3 drops of yellow, green, red and blue. To make orange, we added 1 drop of red and 2 yellow and to make purple, we added 1 drop of blue and 2 red.
Store in the fridge covered with cling wrap for up to 2 weeks. This paint recipe does not have any preservative in it, so it is important to check that the paint has not expired before giving it to children.
Tip: If the mixture has harden from being in the fridge, adding a little bit of boiling hot water or leave the paint our for a few hours will return to its smooth consistency.
Let's Play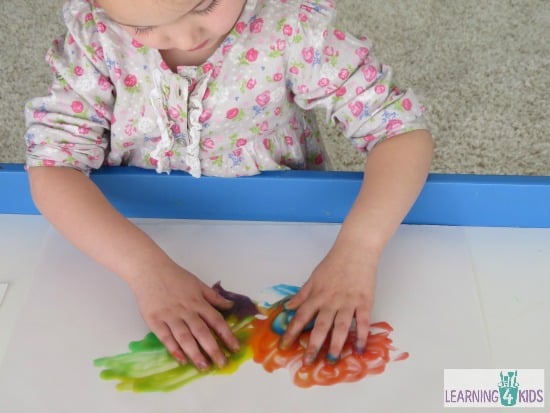 One of the things I really love about this Homemade Finger Paint is that it washes out of clothes easily and is so easy to clean up.
Let's Learn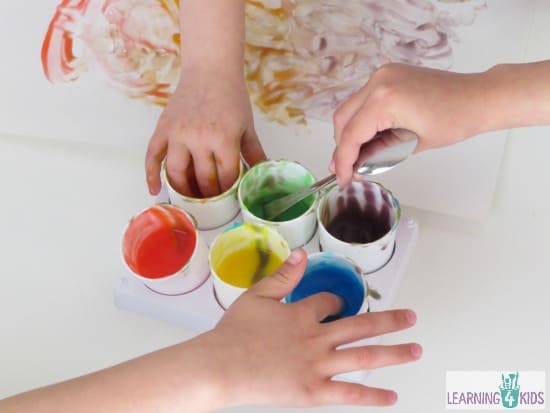 This activity is great for babies, toddlers and children of all ages and abilities as it is open-ended and unstructured. It provides an opportunity to explore the paint safely and freely. Children will enjoy using their fingers to make marks with the paint in their own way.
Learning Opportunities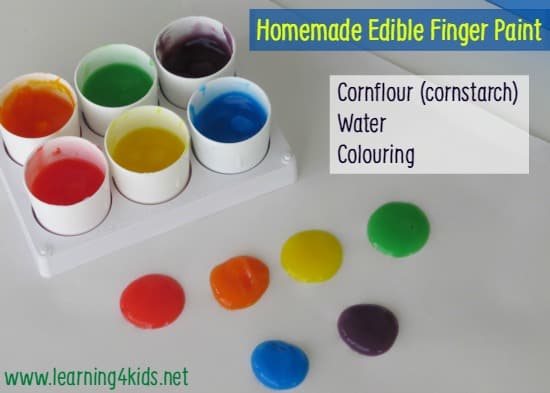 Homemade Edible Finger Paint encourages learning and development in a number of ways:
Creativity and expression
Fine Motor Skills
Hand-Eye Coordination and Control
Cause and Effect
Concentration
Language development
Exploring the senses and discovering new textures