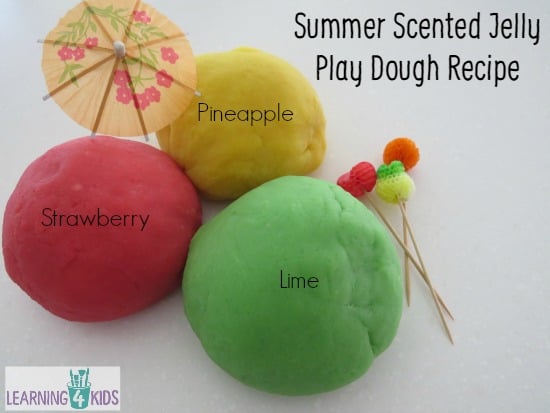 I absolutely love the vibrancy of the colours and scent of our Summer Scented Jelly Play Dough.
Jelly Play Dough is a super easy to make by adding some jelly crystals to a basic play dough recipe creates a smooth, soft and creamy textured play dough.
Depending on what flavour jelly you add to this recipe will depend on the colour and scent of the play dough. For this recipe we added Lime, Pineapple and Strawberry flavoured jelly, which created beautiful fruity tropical scent for our summer play dough theme.
The recipe below makes only 1 scented jelly play dough and will need to be repeated if you are making more flavours.
What you will need?
1 cup plain flour
1 tbsp oil
1 cup warm water
½ cup salt
2 tsp cream of tartar
1 85g Packet Jelly Crystals (Jello)
Food colouring (optional)
Method:
Pour all dry ingredients, flour, salt and cream of tartar together in a saucepan.
Add 85g packet jelly to warm water and stir until mostly dissolved.
Add jelly water and oil to dry ingredients.
I use a whisk before heating as I find this helps remove lumps and blends the ingredients well.
Cook over medium heat constantly stirring with a wooden spoon until it becomes a thick blob.
Turn out onto a clean surface and knead into a smooth ball. Be careful the play dough will be very hot! Use a little bit of flour if the play dough is sticky.
Store in a plastic zip lock bag or air tight container.
You can download and print our Jelly Play Dough Recipe here: Summer Scented Jelly Play Dough Recipe
For more PLAY DOUGH RECIPES <click here>