Printable Homemade Threading Boards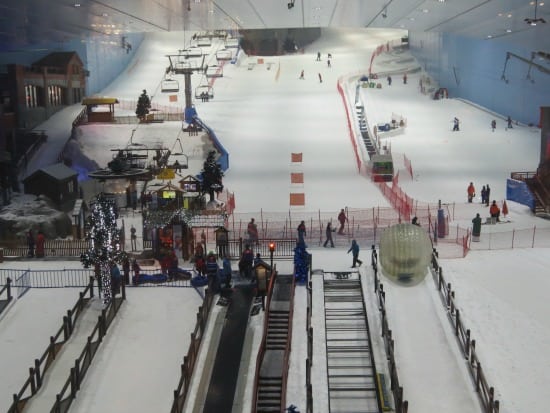 Since I have returned home from Dubai and reflect on this amazing trip, it feels like a complete whirlwind of an adventure.  I still can't believe how much we squeezed into 6 days.  Each and every experience has been completely different and absolutely amazing.  One of the places we visited that was an absolute highlight for me was Ski Dubai.  Ski Dubai is an indoor, man-made ski resort (in the desert) and it was freezing!!  You can ski, snowboard, and do tubing, zorbing, tobogganing and ride the snow bullet.  Ski Dubai is the world's largest snow park and is lying on 3000 square meters of snow and is a definite must do if you ever have the opportunity to visit Dubai.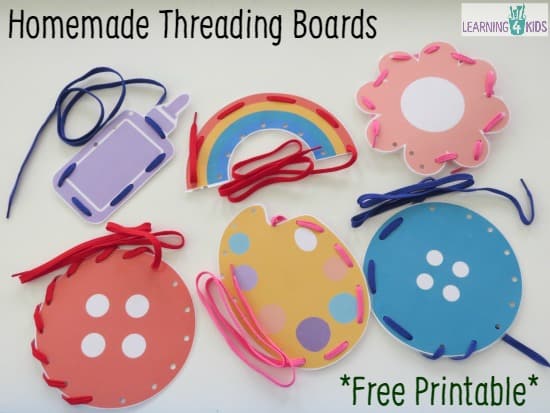 As I headed home and was sitting on the plane (10 and ½ hours), it got me thinking about what kinds of things would be useful for families who are traveling long flights to entertain the kids.  Considering all the restrictions, such as not too messy, needs to be small and light to pack and customs will not allow certain items onto a plane.  Therefore I created these Free Printable Homemade Threading Boards, they are easy to make, small and light to pack, mess free and most importantly will be fun and provide another distraction/activity to entertain the kids on long flights.
[h2 style1]What you will need? [/h2 style1]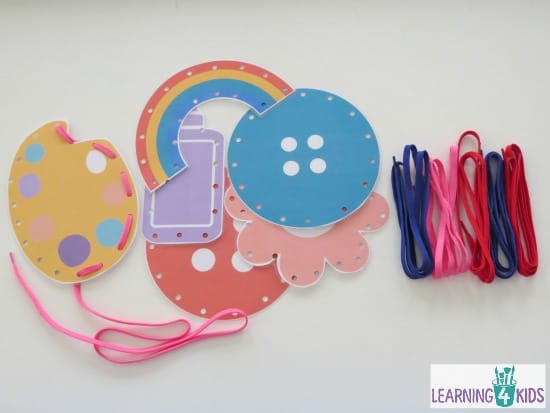 You will need shoe laces, paper, laminating sheets, hole punch and our free printable boards.
Once we printed the Threading Boards, I glued them onto another sheet of paper to provide more strength and durability.  I then cut them out and laminated them.  Once the threading boards were laminated and cut out again, we very carefully used a hole punch to put threading holes into the boards.
Click here to download and print: Printable Threading Shapes
The free printable includes a rainbow, paint palette, glue bottle, 2 buttons and a flower.
Tip:  Store the threading boards and shoe laces in a plastic zip lock bag to keep everything together when travelling.
[h2 border style2]Let's Play [/h2 border style2]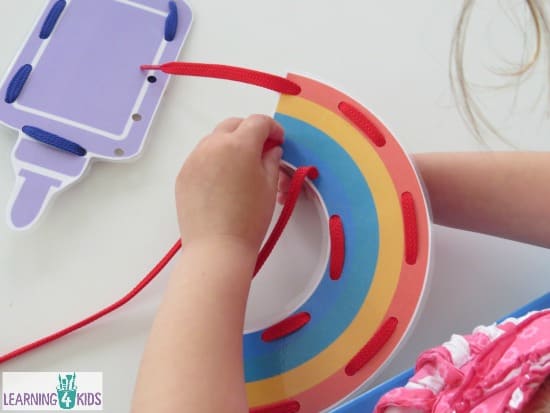 [h2 style1]Some ideas: [/h2 style1]
Try the different threading techniques. Up, side over, down, up, side over down etc.
Another technique to try is around the outside and up through the hole, around and up, etc.
Repeat the wording as your child completes the threading techniques.
Match the colours of the shoe laces to the pictures.
[h2 border style3]Let's Learn [/h2 border style3]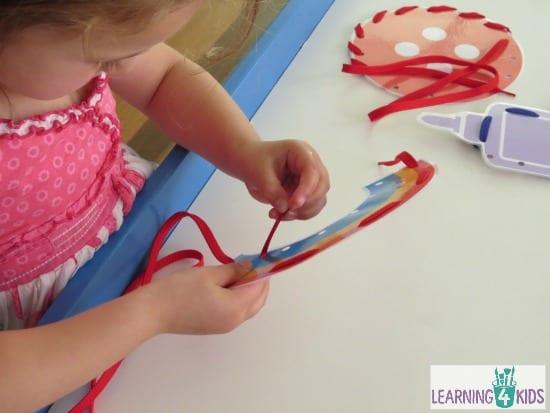 [h2 style1]Learning Opportunities [/h2 style1]
Concentration
Fine Motor Development
Hand-Eye Coordination and Control
Problem solving
Language development
LIKE THIS POST
Come join the many playtimes here on Learning4kids, please enter your email address in the subscription box to receive updates right to your inbox!
3 responses to "Printable Homemade Threading Boards"