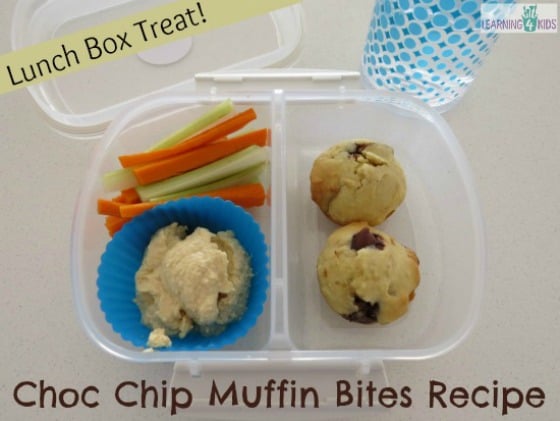 Something that I absolutely love doing, is cooking with the kids…..and they love it too! There is something special about sharing the cooking experience together and enjoying the finished product that you helped make.
These Choc Chip Muffin Bites are so simple to make and are perfect as a small treat for the kid's lunch boxes, afterschool snack, picnics, anything really. We have placed the Choc Chip Muffin Bites into my kid's morning tea lunch box, this is not part of their lunch but part of a mid morning snack break.
The Choc Chip Muffin Bites are soft, fluffy and SUPER yummy. It is really hard to stop at just one! This recipe makes approximately 48 miniature muffin bites or 24 regular cupcakes.
You will need: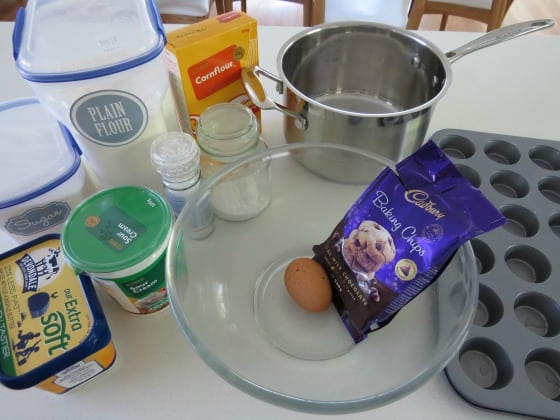 200g chocolate chips
½ cup (100g) melted butter
200ml milk
1 egg
100ml sour cream
½ cup castor sugar
2 1/2 cups plain flour
2 tsp cornflour (cornstarch)
1 tbsp. baking powder
1 Pinch salt
Method: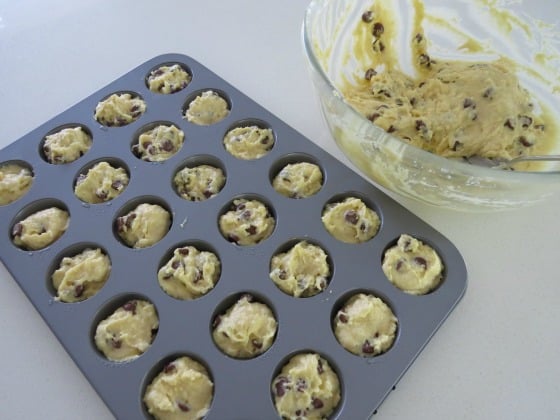 Pre-heat oven 180 degrees Celsius.
Whisk the milk, egg, sour cream and sugar using an electric mixer in a medium size bowl.
Place flour, cornflour, baking powder and salt in a large bowl and mix with a wooden spoon until combined.
Pour in the milk/egg mixture, melted butter and the chocolate pieces and stir until smooth.
Lightly grease miniature cupcake/muffin tray and evenly teaspoon in cake batter.
Bake on the middle shelf of the oven for about 10-15 minutes.
Let it cool in tin for a few minutes, then remove and place on a wire rack to cool completely.
Cooking with Kids – What can they do?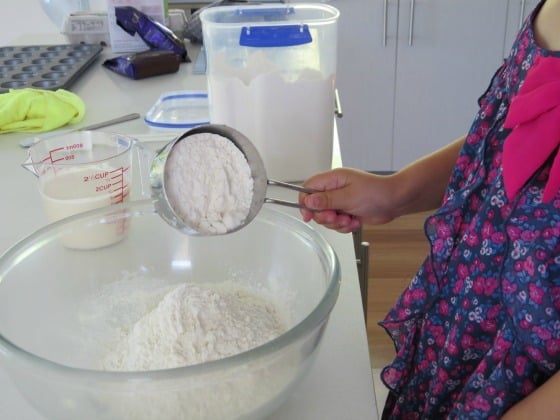 When cooking with kids that involves hot liquids or cooking, it is very important that safety precautions are taken at all times. Even though there are some steps in the process of making Choc Chip Muffin Bites that should be only completed by an adult, there is still so much that kids can do to be more involved in this activity.
Here are a few ideas for involving the kids:
Measure, pour and mix the ingredients together.
Crack open the egg (my daughter loves this part!)
Set a timer and talk about the numbers. Count out loud forwards and backwards.
Point and read out loud (model this to your child) the ingredients and instructions.
Observe and talk about the process and changes that are taking place as you mix and cook.
Help tidy up: wipe benches, help wash up or dry dishes.
Learning Opportunities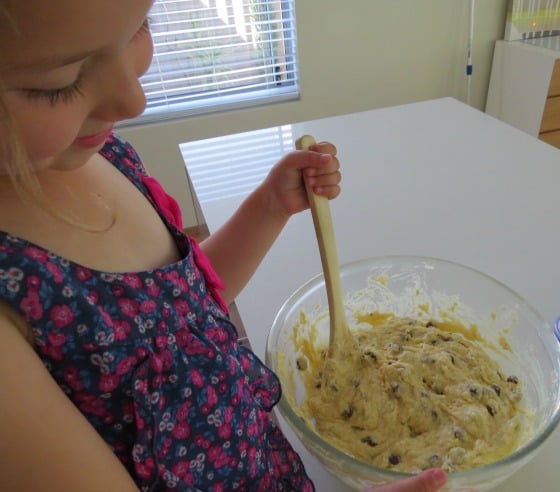 So much learning happens when we cook with our kids: the social interactions, processing information, following directions, problem solving and coordination.
Sensory- hands on feeling and manipulating the ingredients through the senses.
Fine motor skills and hand-eye coordination- watching, doing and coordinating these actions.
Language development – cooking is a social activity requiring speaking and listening, also developing vocabulary.
Self-esteem- a sense of pride and achievement
Mathematics- number recognition and sequencing. Measuring quantities and estimating.
Click here to download and print this recipe: Printable Choc Chip Muffin Bites Recipe
Happy Cooking! xx