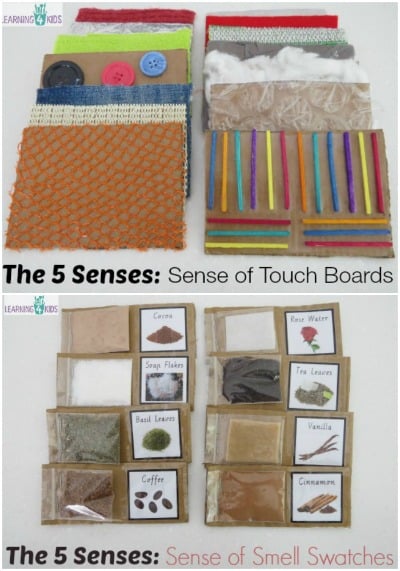 I made these Sense of Smell Swatches and Sense of Touch Boards last year for a early years class I was teaching. They were used as part of our Five Senses Unit. They were a hit! The kids loved to feel and smell the different boards and swatches as it gave them hands-on tactile objects to explore and manipulate.
What will you need?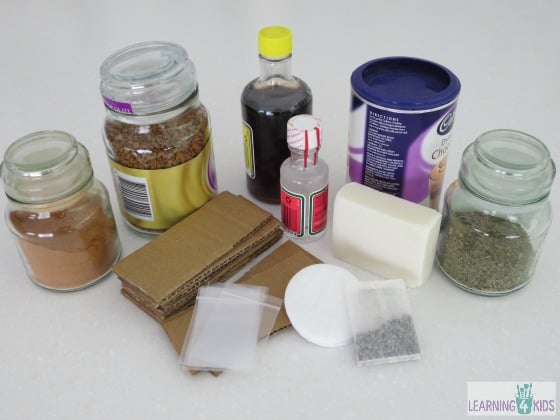 To make the sense of smell swatches, you will need cardboard cut into approximately 5cm wide and 12cm long, sticky tape, stapler, cotton balls/pads and small plastic zip lock bags (approx. 6cm x 4cm). For the different items to smell and place inside the bags, you can find lots of different things from around the home. For our 8 swatches we used, coffee granules, tea leaves, cocoa powder, ground cinnamon, basil leaves, vanilla essence, rose water and soap flakes. We soaked the cotton balls with rose water and vanilla essence.
Once all the items are placed into the plastic zip lock bags, staple them to the cardboard. Using a fine pin, create small holes in the bag to allow some of the fragrance to come through.
Lastly, cut and glue the different labels to match the scent inside the plastic bags.
You can download and print the labels here: Sense of Smell Printable Labels
Sense of Smell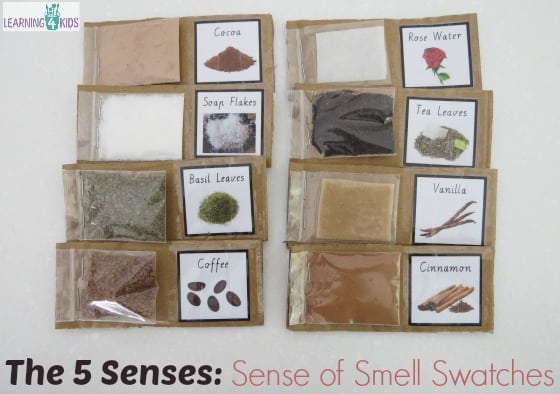 Some Ideas:
Sharing mat session

: As a class we sat in a circle and passed the different swatches around. We talked about the different scents and labelled them as sweet, bitter, strong, nice or yucky. We also talked about why?

Match the scent:

During other lessons, we also set up different stations for each of the five senses for the class to explore in small groups. Each table had an activity for a particular sense and for the sense of smell activity, we scattered the swatches on the table. We also placed two different cups on the table, one filled with dried basil leaves and the other with soap flakes. The children were asked to find the swatches that matched the scent in the cups.
Sense of Touch: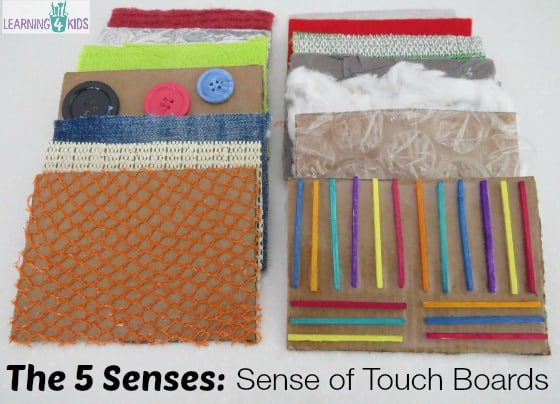 To make these Sense of Touch Boards, we found most of our materials in our scrap materials box for different textures. We used cotton wool balls, match sticks, buttons, plastic bags, aluminium foil, bubble wrap and so much more. We cut all the different materials to fit our cardboard cut-outs, each measuring approximately 12cm x 10cm and glued them on with white PVA craft glue.
Let's Learn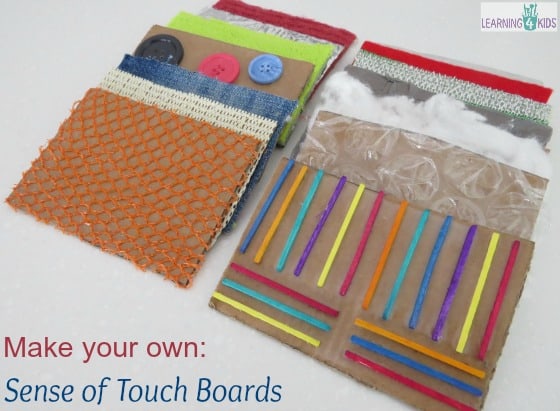 Learning Opportunities:
The outside world shapes children's development through experiences that they have, which include using their five senses—hearing, sight, smell, taste, and touch. Drawing a child's attention to the five senses and discussing them increases understanding of and communication about the world around us.
Children experiment with the scent and texture (and other senses) to learn about the world around them.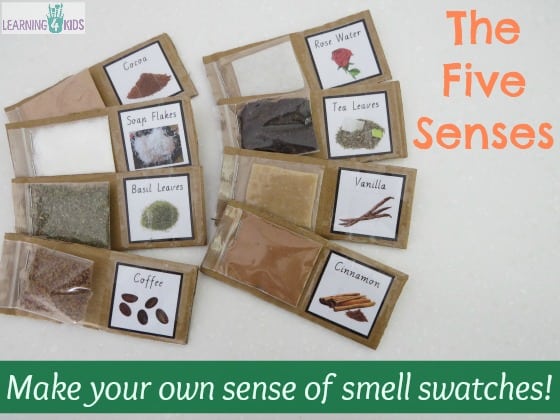 For more SCIENCE Activities and Play Ideas <CLICK HERE>