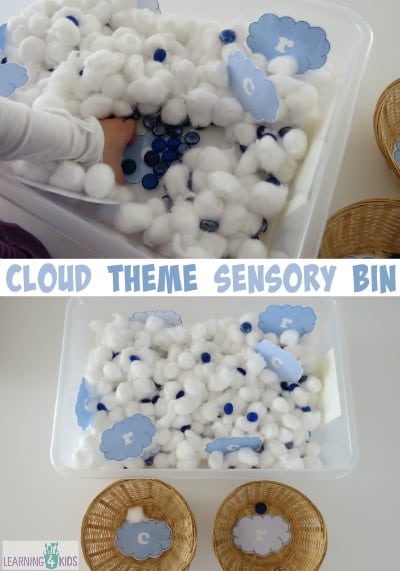 Cloud Theme Sensory Bin is another activity that is part of our cloud series. The sensory bin is made up of cotton wool balls, gem stones and laminated clouds.
The cotton wool balls represent the clouds and the blue gem stones represent rain. The aim of the sensory tub is to search and find the printable cloud letters and sort them into groups "C is for Cloud" and "R is for Rain".
Children will have fun searching for clouds and sorting them into two groups that begin with the letter r and letter c.
What you will need?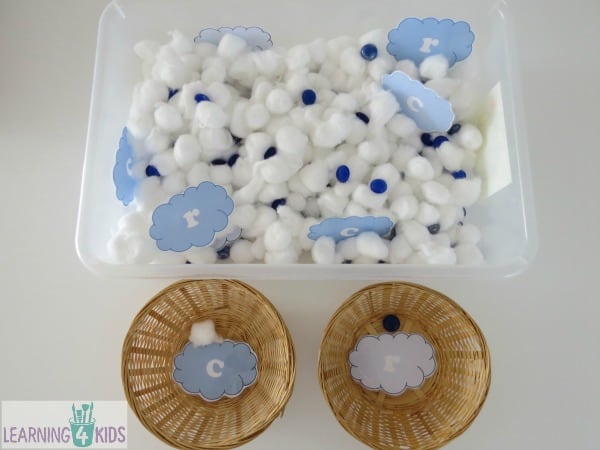 You will need a plastic tub, cotton wool balls, blue gem stones and printable letter C and letter R clouds. You will also need two containers/baskets for sorting the letter C clouds and the letter R clouds. We placed one blue gem (rain) and one cotton wool ball (cloud) in each basket to represent each letter.
Download and print here: Cloud Theme Sensory Bin Printable Clouds
Let's Play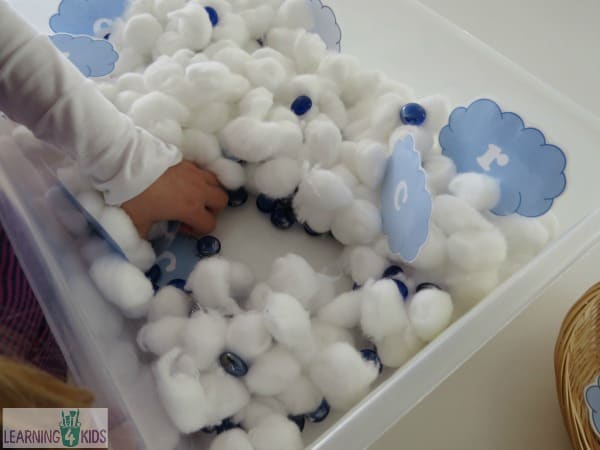 Some Ideas:
Search for the Letter C clouds and Letter R clouds amongst the cotton wool balls and blue gems. Sort the correct clouds into the baskets C is for cloud and R is for rain.
Talk about the sounds the different letters make and find other items in the room that also begin with the letter sound. For example, c is for car, candle and cat. R is for run, rainbow and robot.
You could add other items to the sensory tub to continue the play opportunity. Items such as small blocks, cups, scoops, miniature tongs or tweezers and rainbows.
Let's Learn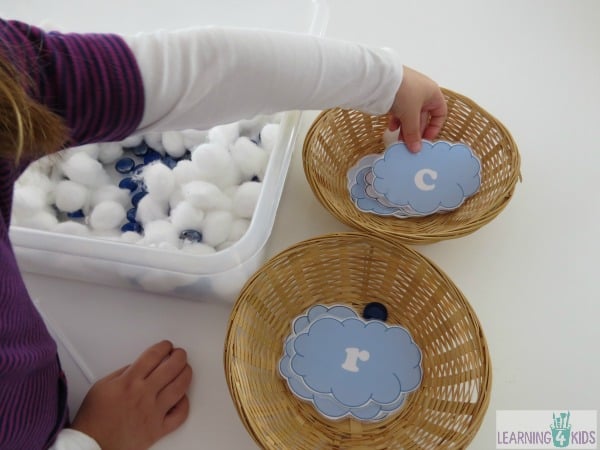 Learning Opportunities
Concentration
Letter recognition
Oral language development – hearing the sound and saying it out loud.
Development of fine motor skills
Eye & hand coordination – watching and doing and coordinating these actions.
Sensory- Development of the sense of touch. Feeling and manipulating objects.
Learning alphabet letter names and letter sounds.
Click here for more CLOUD activities & play ideas
Click here for more SENSORY activities & play ideas