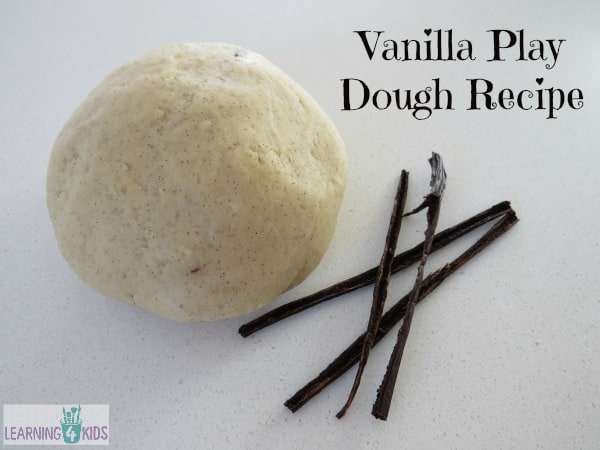 Vanilla Play Dough Recipe is a sweet smelling play dough that heightens the wonderful sensory experience of playing with play dough. This recipe was developed from a basic paly dough recipe with added vanilla extract and vanilla beans. It will provide hours of fun while tantalising the senses.
What you will need?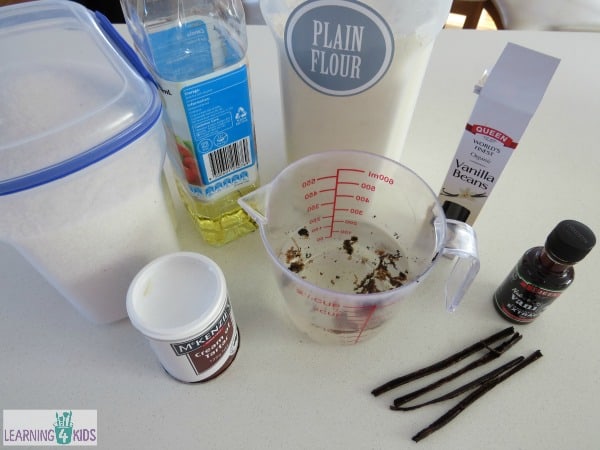 1 cup plain flour
1 tbsp. oil
1 cup water
½ cup salt
2 tbsp. cream of tartar
Vanilla beans (we used two sticks)
2tbsp. vanilla extract or essence
The vanilla beans are optional but are great for adding a 'dotty' effect throughout the play dough. I cut the beans in half through the middle and scrapped out the soft part of the vanilla beans. If you have more time, you could also soak the vanilla beans in hot water to add more colour and scent to the water, removing the vanilla beans when cooking the paly dough.
Method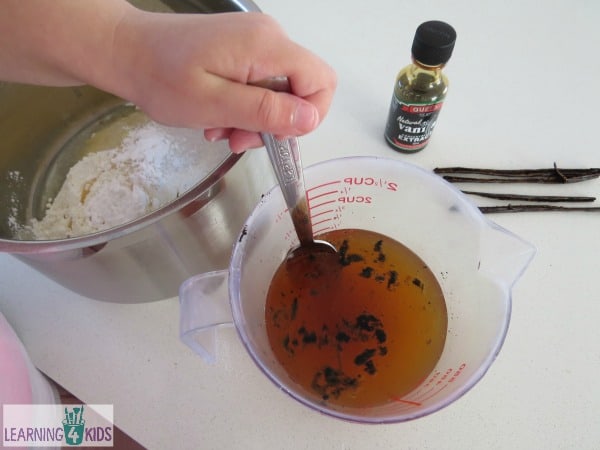 Image shows water mixed with vanilla bean seeds and vanilla extract.
Pour all dry ingredients, flour, salt and cream of tartar together into a saucepan.
Add water, vanilla extract, vanilla beans and oil to dry ingredients.
Mix together using a whisk to remove lumps and blend the ingredients well.
Cook over medium heat constantly stirring until it becomes a thick blob.
Then turn out onto a clean surface and knead into a smooth ball. Be careful the play dough will be very hot! Use a little bit of flour if the play dough is sticky.
Allow the play dough to cool before playing with it.
Store in a plastic zip lock bag or air tight container.
Click here for more Play Dough Recipes
Click her for PLAY DOUGH Activities & Play Ideas