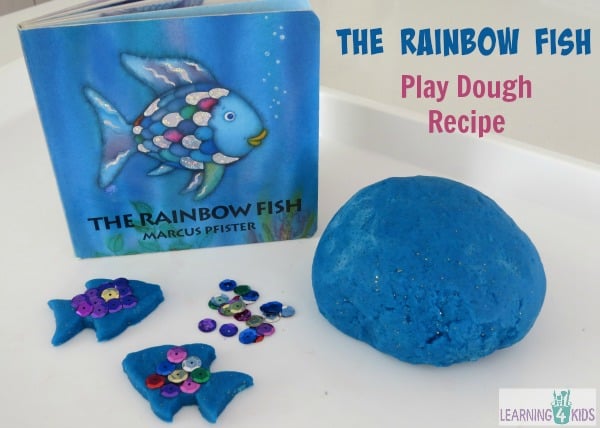 The Rainbow Fish Play Dough Recipe is a brilliant blue play dough matching the beautiful shades of blue in the story The Rainbow Fish by Marcus Pfister and silver glitter to represent the silver sparkles scales.
This play dough recipe has been made using a basic play dough recipe and makes a large portion of play dough that can be shared with up to 6 children.
Haven't got the story book?
Take a look here:
The Rainbow Fish Book by Marcus Pfister (affiliate link)
The Rainbow Fish Big Book by Marcus Pfister (affiliate link)
What you will need?
2 cups plain flour
1 cup salt
4 tsp. cream of tartar
4 tsp. silver or gold glitter
2 cups water
4 tsp. food colouring
2 tbsp. oil
Method
Pour all dry ingredients, flour, salt, glitter and cream of tartar together in a saucepan.
Add water, food colouring and oil to dry ingredients.
I use a whisk before heating as I find this helps remove lumps and blends the ingredients well.
Cook over medium heat constantly stirring until it becomes a thick blob.
Then turn out onto a clean surface and knead into a smooth ball. Be careful the play dough will be very hot!
Use a little bit of flour if the play dough is sticky.
Store in a plastic zip lock bag or air tight container.
Click here for more PLAY DOUGH RECIPES