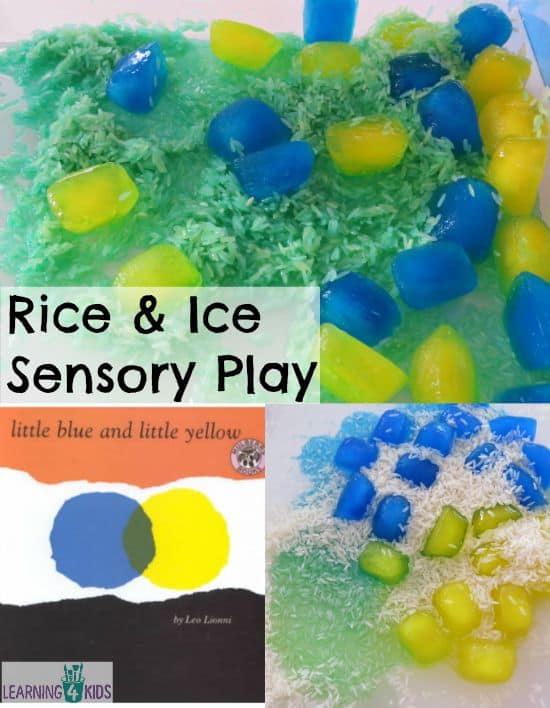 Rice and Ice Sensory Activity is a fun activity that provides an opportunity to play with rhyming words, explore scientific concepts and learn about primary colour mixing with all the benefits of sensory play.
To begin this activity we read the story Little Blue and Little Yellow by Leo Lionni which is a perfect fit for mixing primary colours. We have been learning about mixing primary colours and this Rice and Ice Sensory activity is a great way to continue the learning in a multi-sensory way. Children are able to watch the colour of the rice change as the blue and yellow ice begin to melt and combine to create a secondary colour, green.
What you will need?

You will need the story Little Blue and Little Yellow by Leo Lionni, two ice cube tray, yellow and blue food colouring, water, large tub and 1 cup of dry uncooked rice.
Let's Play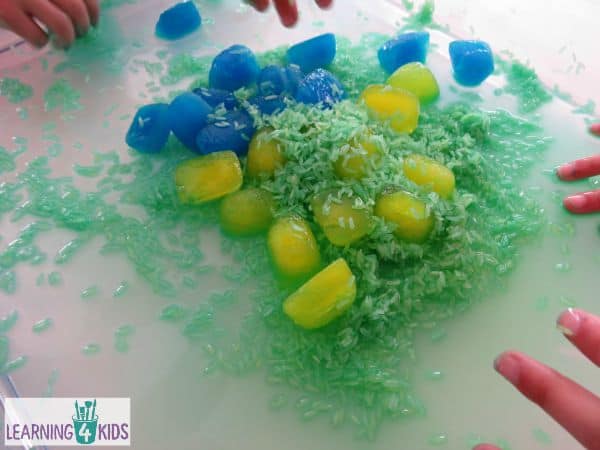 Some Ideas:
Talk about the rhyming words rice and ice: can you think of another word that rhymes with rice and ice? Words such as mice, twice, vice, nice and so on. You may like to try and write these words in the wet rice on the tray.
Talk about the two different coloured ice blocks and make predictions about what will happen. Make connections with what is happening in the sensory tub and the story Little Blue and Little Yellow.
Sort the coloured ice into groups according to colour.
Line all the ice blocks up around the outside of the tray. Try to build and stack with the ice blocks.
Let's Learn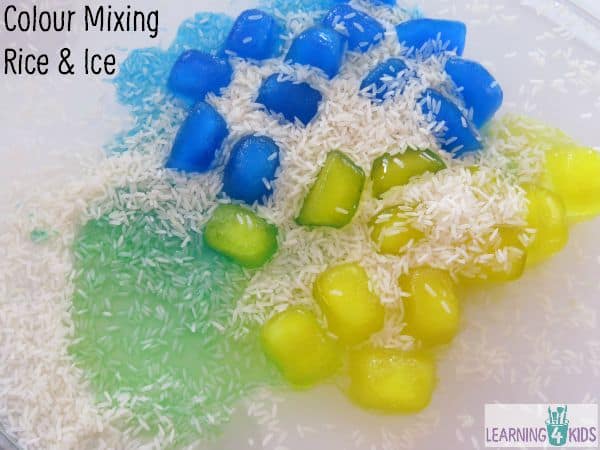 Rice and Ice Sensory tub is a great way to demonstrate the mixing of primary colours, yellow and blue makes green. It also provides an opportunity for children learn about scientific concepts such as absorption and solids and liquids.
Ask questions:
Why is water changing colour?
What is happening to the rice?
What colours can you see? I can see…
Why is the ice getting smaller?
Let's Learn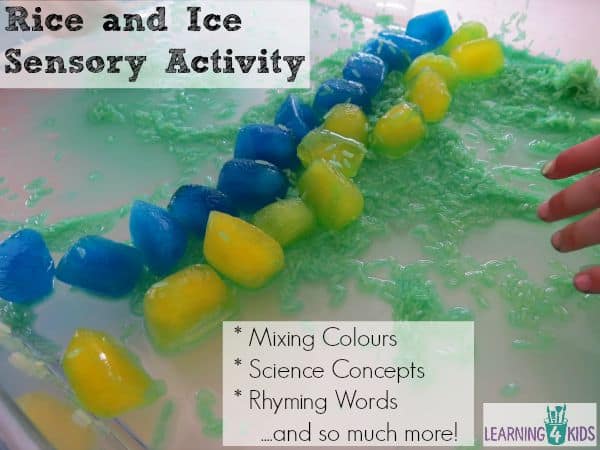 Learning Opportunities
Language development: Using descriptive words to express ideas and opinions.
Phonological awareness: rhyming words
Make connections with real life experiences.
Promote scientific thinking: predictions, observations, comparison, reasoning, data gathering, experimentation and evaluation.
Scientific concepts: absorption, solids and liquids
Hand-Eye Coordination and Control
Cause and Effect
Concentration
Colour recognition – name and recognise colours
Click here for more SENSORY activities & play ideas
Click here for more SCIENCE activities & play ideas