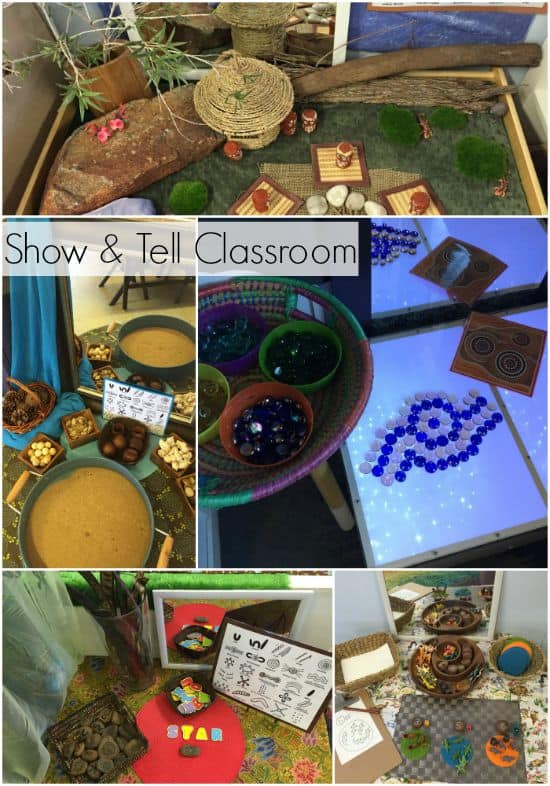 Welcome to Mrs Bosman's Kindergarten Classroom, part of our Show and Tell Classroom series. There are so many inspiring teachers out there doing  amazing things in their classrooms every day.  Show and Tell Classroom is an opportunity to share and celebrate their wonderful work and a place to find inspiration!!
Today we are visiting an Australian Kindergarten classroom. I am so excited and absolutely grateful to be sharing with you today the very inspiring Mrs Bosman's Kindergarten Classroom. Mrs Bosman gives us a tour showcasing her weekly Aboriginal themed activities.
Mrs Bosman also has her very own website called Kindy Corner, be sure to pop over and visit as she has so many inspiring ideas for the classroom!!
Transient Art table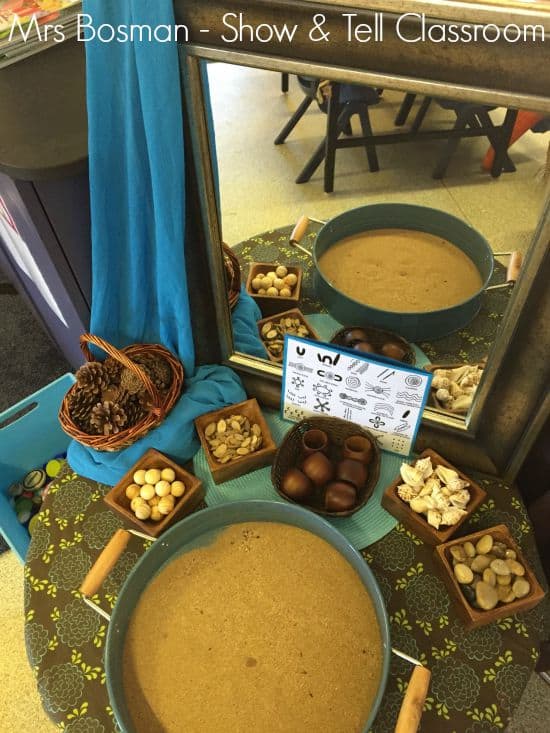 Every week I provide loose parts for the students to create temporary art. This week it will be natural materials with Aboriginal symbols for their provocation.
Camping Role play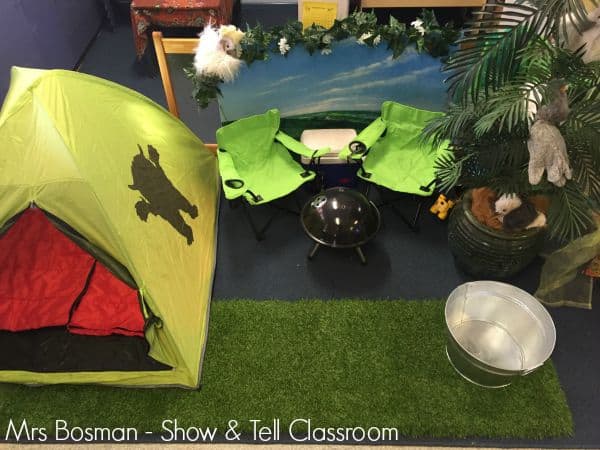 I have set up a 'Bush Camp' experience for our role play this week.
Maths Provocation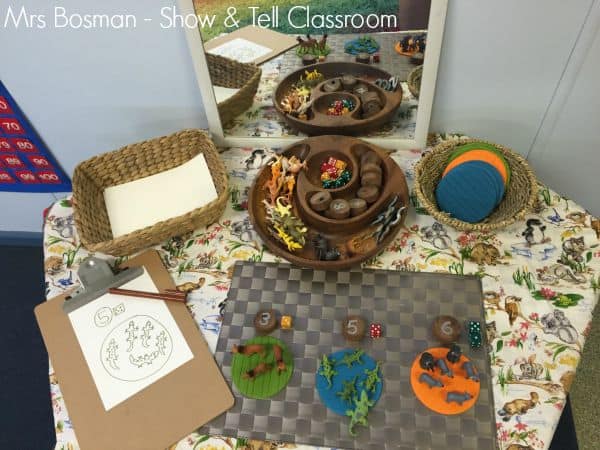 This week we will focus on counting at our maths table. I have been encouraging students to record their explorations.
English – Literacy Table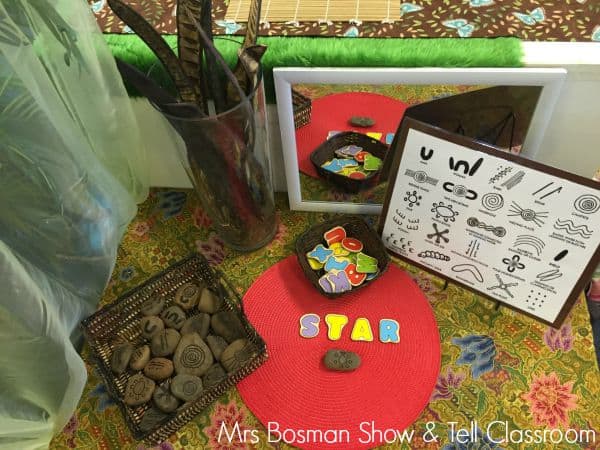 We will be using the Aboriginal story stones on our English table. 'How the Kangaroos got their tails' is our Shared reading book for the week and I have provided small copies around the room for students to use.
Writing Corner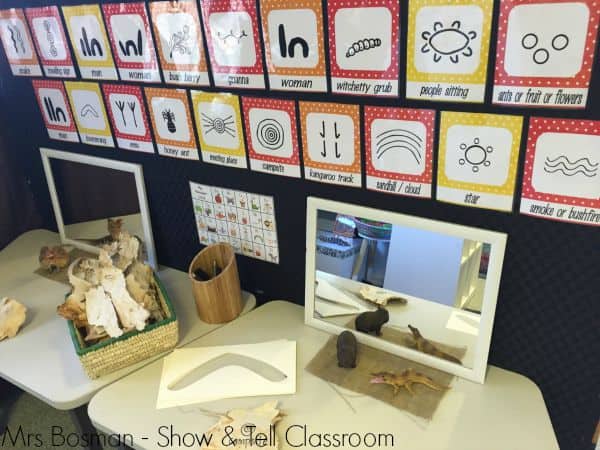 These gorgeous Aboriginal symbol cards were purchased from <here> and I have added some paper bark for mark making. We will be painting boomerangs later in the week but instead of throwing out the negative I have placed them in here for students to write on.
Light table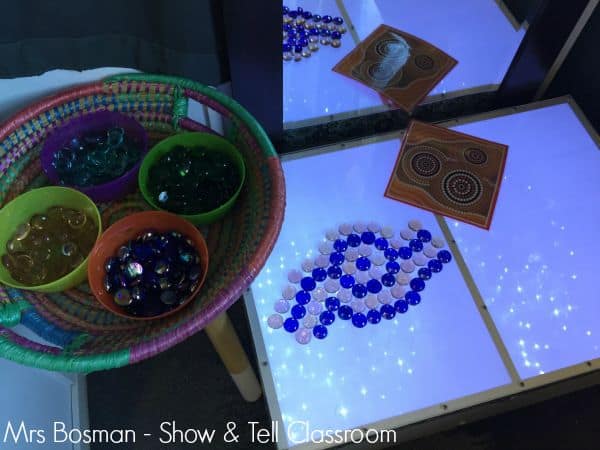 We will be looking at some art works by Aboriginal artist and will have a go at "dot' art on the light table.
Small World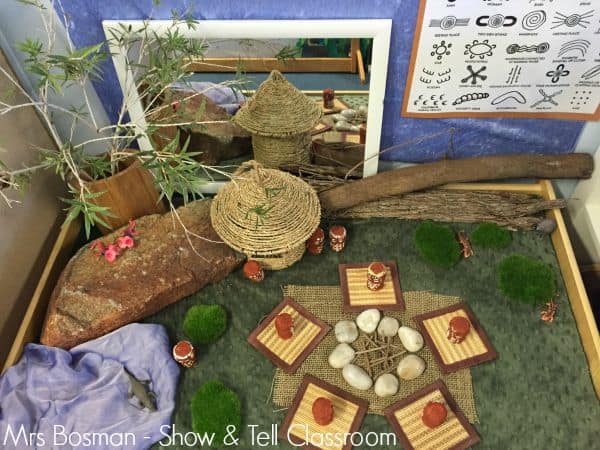 This week I have gotten my small world inspiration from <HERE> . They provide an awesome program for their students and I saw these little cork people on there.
About Mrs Bosman:
I have been teaching for 15 years. I started my career in South Africa and then moved to the UK where I worked for 5 years. The last ten years I have been teaching in a small town in NW Australia. During this time I have taught nearly every year group from Kindy to Year 7 but my true passion lies in the early years. My main reason for uploading my ideas is to share the passion I feel for teaching with others. I have really high expectations for all students and will do everything in my power for them to succeed and a stimulating environment is a good start 🙂
Thank you Mrs Bosman for sharing with us your AMAZING and incredibly INSPIRING classroom.
To view more Show and Tell Classrooms – CLICK HERE
Show and Tell Classroom
If you would like to Show and Tell about your Classroom, please email me: janice@learning4kids.net