Primary Colours Squishy Bag Experiment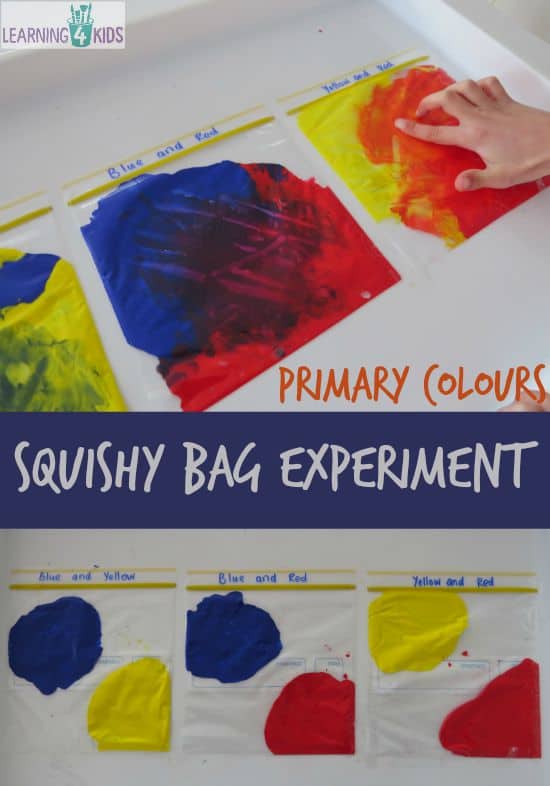 Primary Colours Squishy Bag Experiment is a wonderful sensory experience for children to see how colours mix and form other colours. Children use their hands to blends and squish the different coloured paints together for form new colours.
The three primary colours, red, blue and yellow are the minimum number of colours that can be mixed to make the greatest number of other colours or secondary colours.
Primary Colours Squishy Bag Experiment is a fabulous follow on from the stories Little Blue and Little Yellow by Leo Lionni and Red, Blue, Yellow Shoe by Tana Hoban
What you will need?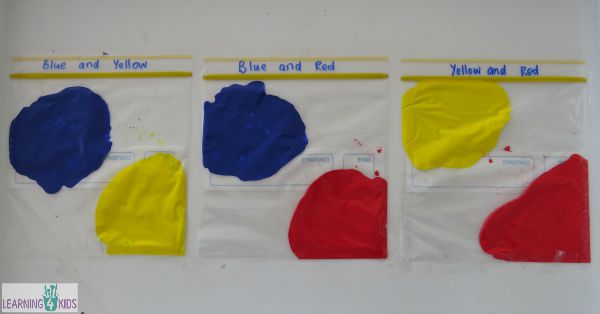 You will need a large tray (or flat surface), red, blue and red paint, clear plastic zip lock lunch bags and sticky tape.
The sticky tape is used to seal and strengthen the openings of the zip lock bag and to also tape the bags onto a flat surface.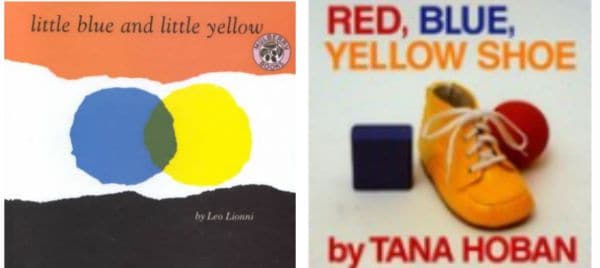 Little Blue and Little Yellow by Leo Lionni
Red, Blue, Yellow Shoe by Tana Hoban
Let's Play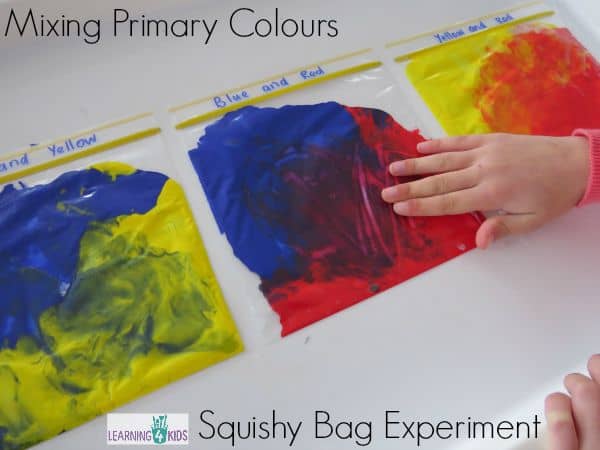 Some Ideas:
Place the two coloured paints for each zip lock bag in the corners opposite each other. One bag with blue and yellow, second bag with red and blue and the third bag with red and yellow.
Use sticky tape to seal and strengthen the squishy bags. If you are concerned the bag may break, you can double bag it for extra strength. I find that by fastening the squishy bags flat on a surface with sticky tape also assists in avoiding the bag breaking.
Read the stories Little Blue and Little Yellow or Red, Blue, Yellow Shoe and talk about the colours and what it happening in the stories.
Gently press and push the paints to the centre of the bag to blend. Using your fingers gently rub the paint to mix and blend.
Watch as the colours blend together. Make predictions and talk about what is happening throughout the process. Use descriptive language.
Label and name each colour throughout and talk about the new colours that they see.
Ask questions, such as, which two colours made green? Name other objects that are green? Can you go and find me something that is green? What do you see? What does the squishy bag feel like?
Let's Learn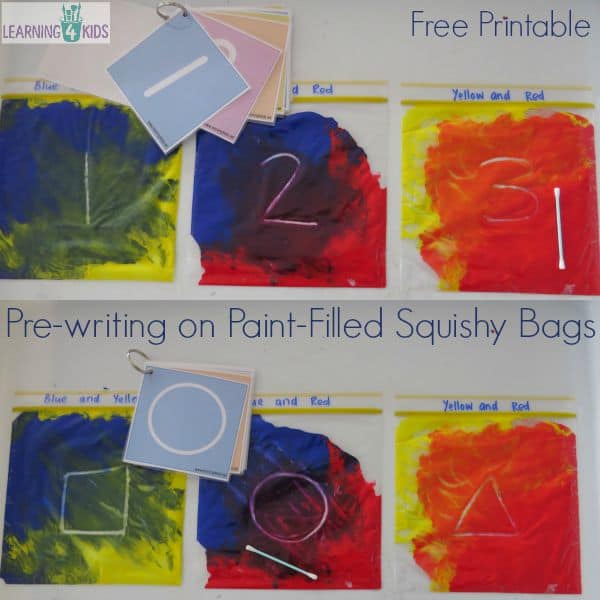 Re-use the squishy bags for a writing activity. Children can write letters, numbers, drawing pictures and shapes using a Cotton Bud (QTip).
Click here to download and print the shapes and number flip books.
Learning Opportunities
Language development: Using descriptive words to express ideas and opinions.
Make connections with real life experiences.
Promote scientific thinking: predictions, observations, comparison, reasoning, experimentation and evaluation
Hand-Eye Coordination and Control
Cause and Effect
Language development – colour mixing, primary and secondary colours.
Colour recognition – name and recognise colours.
More Ideas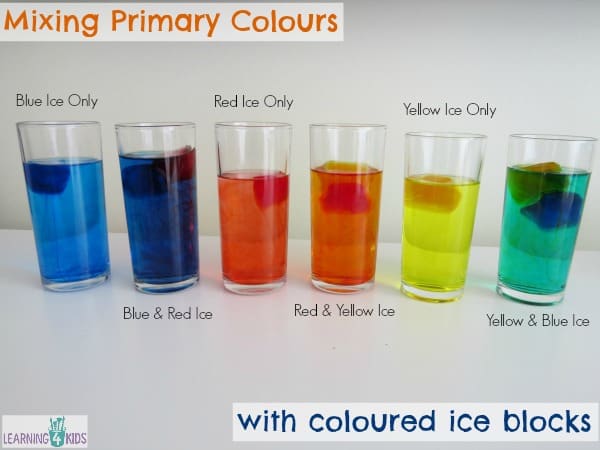 Click here for more PRIMARY COLOUR activities & play ideas
Available in our online shop:
Please click on the product names to view product details.
Colorations Shimmery Washable Watercolours Set of 5
Fluorescent Liquicryl 500ml Set of 7 Colours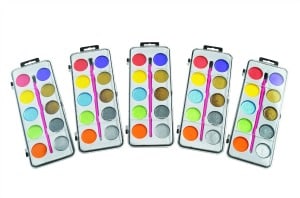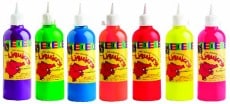 LIKE THIS POST
Come join the many playtimes here on Learning4kids, please enter your email address in the subscription box to receive updates right to your inbox!
3 Responses to "Primary Colours Squishy Bag Experiment"