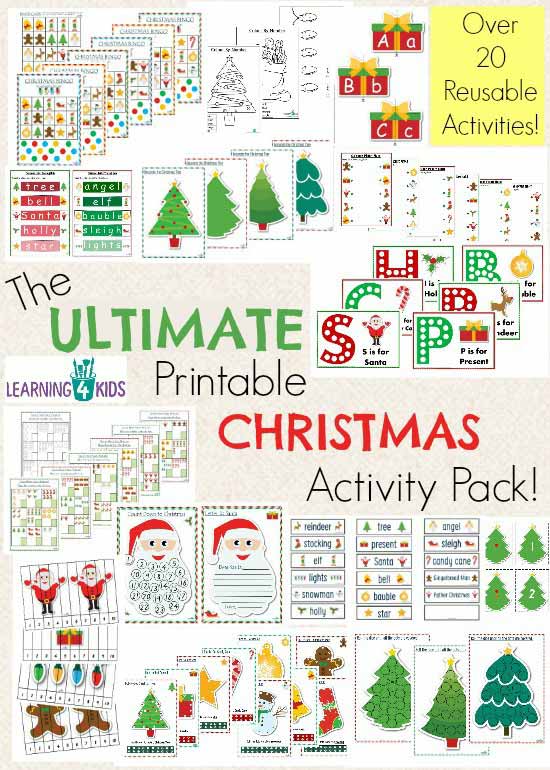 Children will have so much fun with the variety of activities included in the Ultimate Christmas Printable Activity Pack. There are 100 pages with over 20 activities!
Kids love hands-on activities and games and learn so many important skills through playing them. The pack includes a huge range of printable games, colouring in sheets, tactile activities and work sheets that will entertain children at Christmas time. Just print and laminate these templates for a re-usable resource children can learn and play with.
The Ultimate Christmas Printable Activity Pack is a great addition to any early childhood environment or numeracy and literacy program. It can be use independently, in rotational small group activities or in games with a partner.
The 100 pages Printable Christmas Activity Pack includes over 20 printable activities, and is available to purchase in our online shop. Please see below detailed information and photos of everything included in the pack!
Christmas tree Play Dough Mats or Transient Art Mats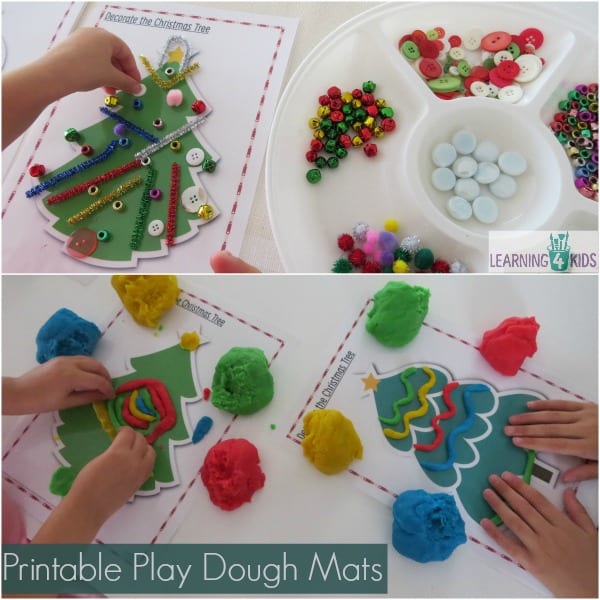 These Printable Christmas Trees can be used as a Play Dough Mat or a Transient Art Mat. They provide children with an opportunity for play creatively and use their imagination as they decorate the trees with play dough or other craft items such as pompoms, tinsel, pipe cleaners, buttons and sequins.
Christmas Words Flash Cards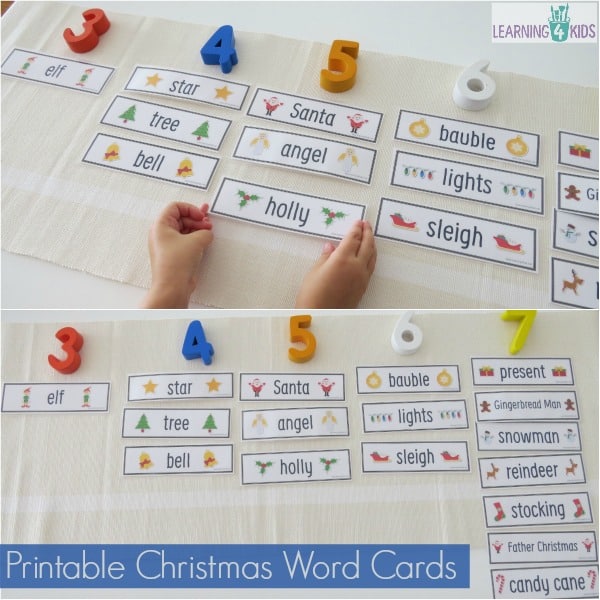 The Christmas Words Flash Cards can be used for writing prompts, learning centres and other activities. They can also be used for sorting into groups by the number of letters or print them twice to create a game of match.
Dot-to-Dot Christmas Pictures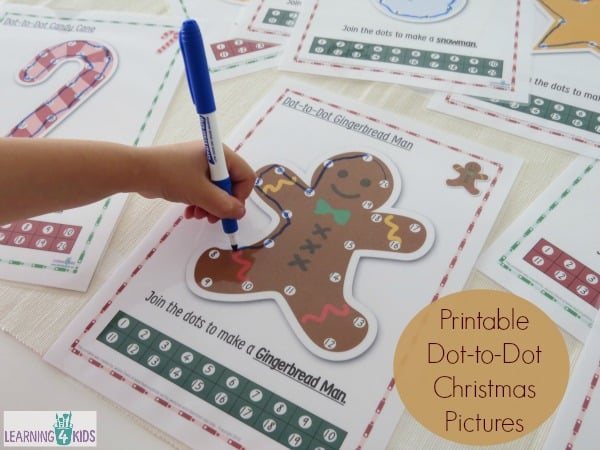 9 pages of Dot-to-Dot Christmas Pictures including a Gingerbread Man, Candy Cane, Snowman, Star, Bauble, bell, stocking, present and a tree.
Use a white board marker, starting on number one, count and join the dots to create the picture. The number grid below the picture can be used as a guide to assist children when counting the numbers and the sequence.
Christmas Bingo Boards and Bingo Cards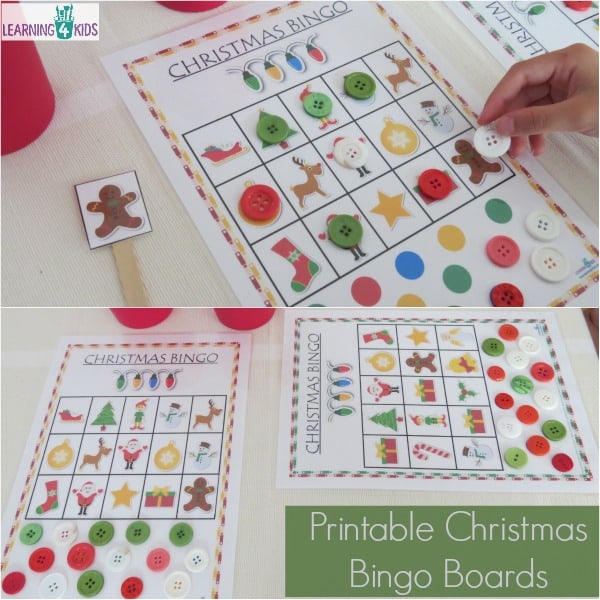 The Ultimate Christmas Printable Activity Pack includes 6 Bingo Colourful Bingo Boards and matching picture cards. We placed the picture cards onto the end of a popsicle stick to use when calling out the next picture.
Cover the dots with 15 tokens and place all the picture cards into a bag or basket. Select 1 card at a time and cover 1 picture at a time. First player to have all picture covered on their board wins.
Advent Calendar – Count Down to Christmas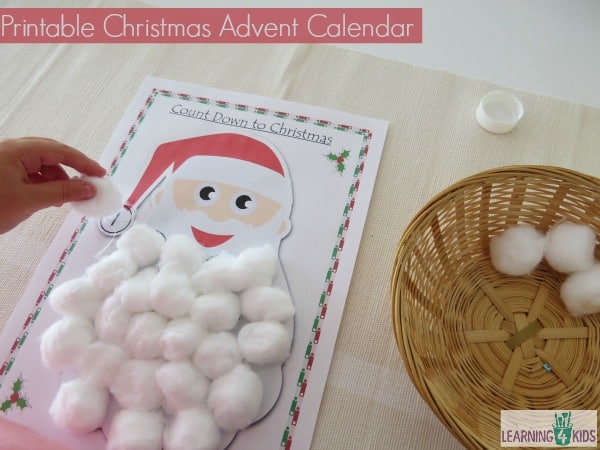 Counting down to Christmas is very exciting! This Printable Advent Calendar involves children gluing cotton wool balls onto the numbered circles on Santa's beard to count down the number of days to Christmas. Start on number 24 on December 1st! Alternatively you could laminate the advent calendar and use Velcro dots to stick on the cotton wool balls.
Christmas Number Puzzles Number 1-10 and 11-20.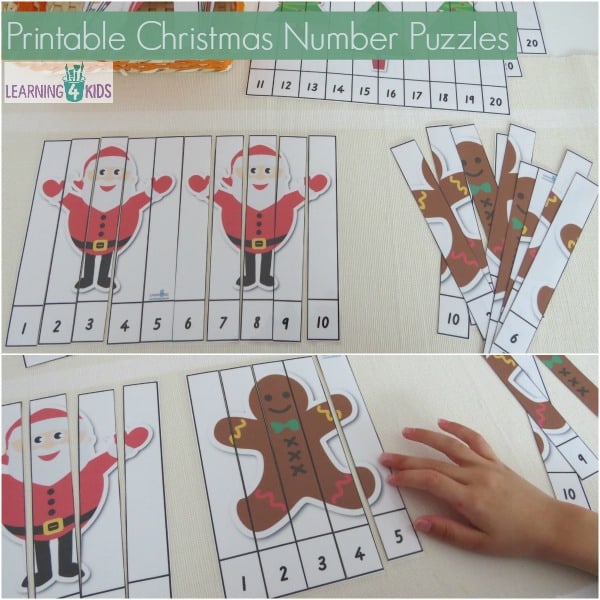 There are 8 Christmas Number Puzzles included in the Ultimate Christmas Printable Activity Pack. 4 of the puzzles are numbers 1-10 and the other 4 are numbered 11-20.
Children order and sequence the puzzles back together by matching the pictures and counting the numbers.
Letter to Santa Template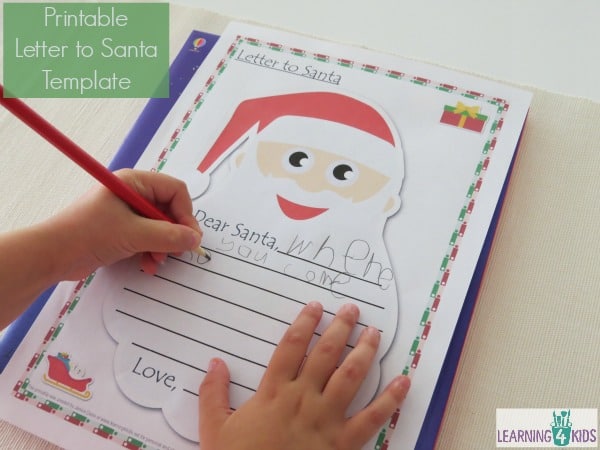 A Printable Letter to Santa Template for children to write a letter to Santa. They may like to ask him a question to see if he will reply.
Uppercase and Lowercase Letters Puzzle Match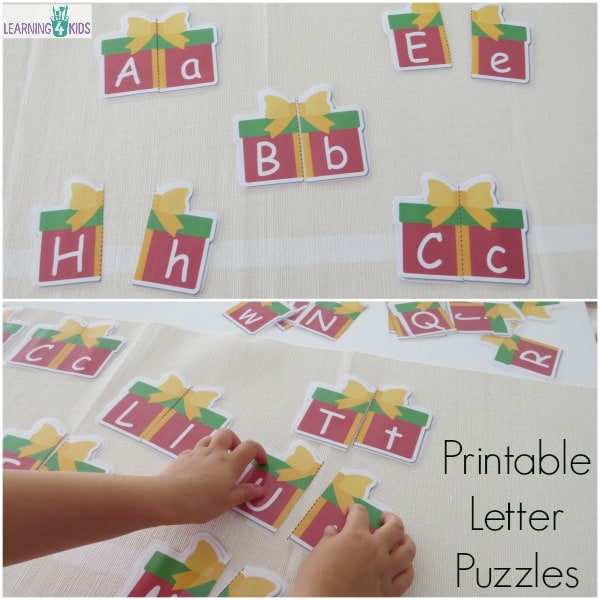 Printable Uppercase and Lowercase Letter Match Puzzles.
Match the lowercase and uppercase letters to put the present puzzle back together. Children may like to try and make some 2 letter words also with the puzzle pieces, such Be, To and Hi.
Roll the Dice Counting Game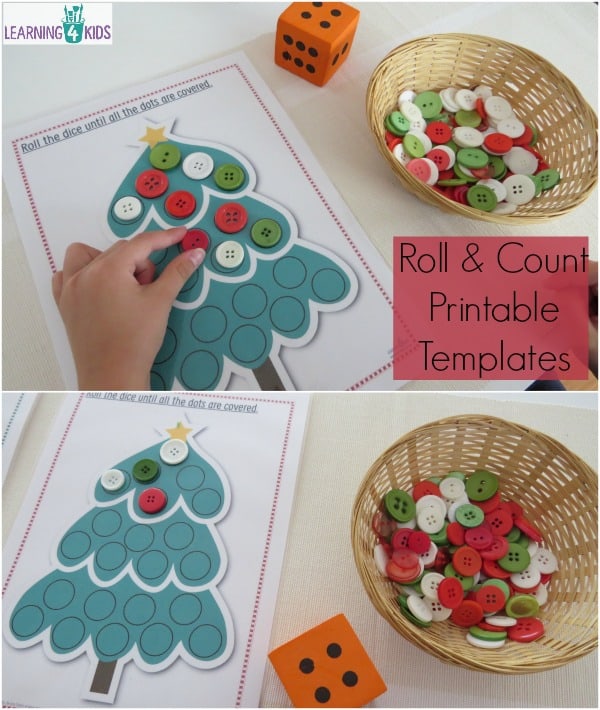 Roll the dice and count how many shown. Place tokens onto the tree of the amount shown on the dice. Different tokens you can use include, pompoms, play dough or buttons.
Count How Many Pictures and printable worksheet.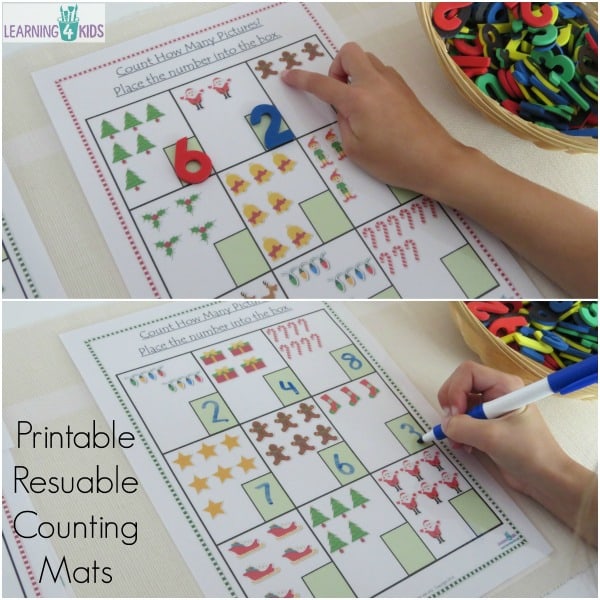 The Ultimate Christmas Printable Activity Pack includes 6 'Count How Many Pictures' reusable mats and also a black line masters worksheet for printing. Children count the number of pictures and write the number in the coloured box provided. You could use magnetic numbers as an alternative to a whiteboard marker.
Letter Peg a Word – Match the Letters Cards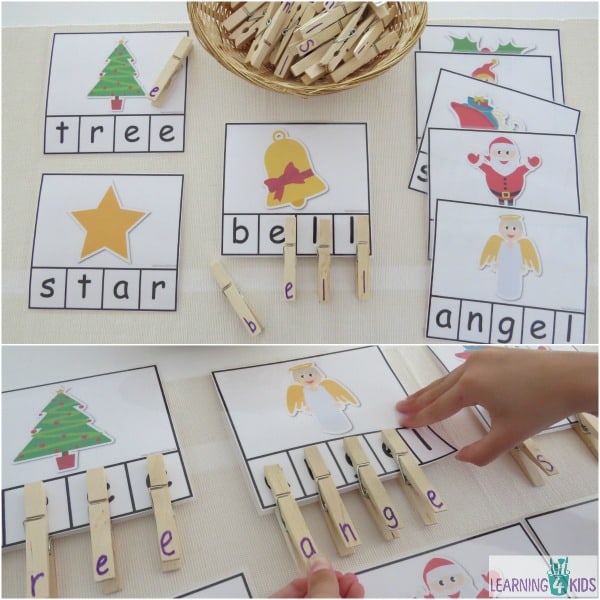 Peg a Christmas Word comes with 8 different pictured cards. All you need to do is print, laminate and write the letters in each word onto a peg for a fun literacy activity. Great for fine motor skills too!
Children create Christmas theme words by matching each letter with a peg with the same letter.
Christmas Letter Tracing Mats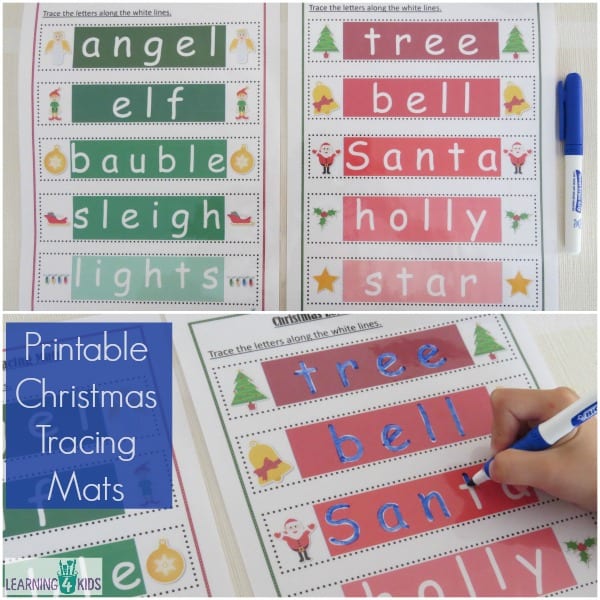 The Christmas Letter Tracing Mats are an opportunity for children to practice writing Christmas themed words with support of letters to trace over and picture support for reading the word. Using a white board marker, trace along the letters to create the Christmas words.
Count and Decorate the Tree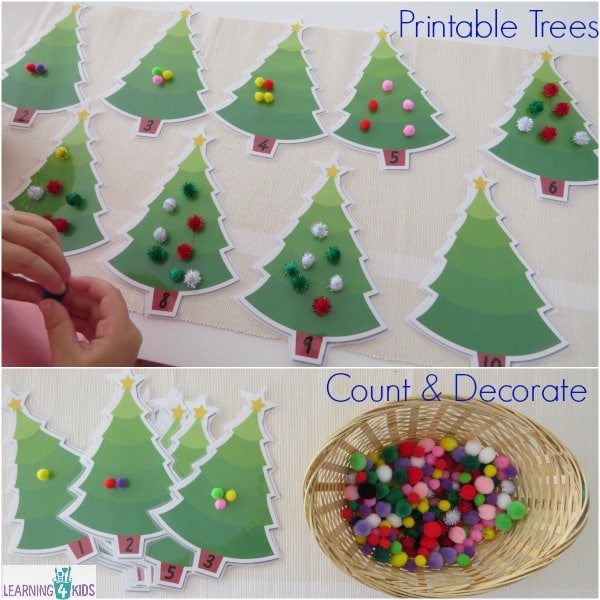 Place all the trees into a line from 1-10. Read the number on each tree and place that many tokens onto the tree. You could use pompoms, sequins or buttons for tokens to decorate the trees.
Christmas Colouring in Pages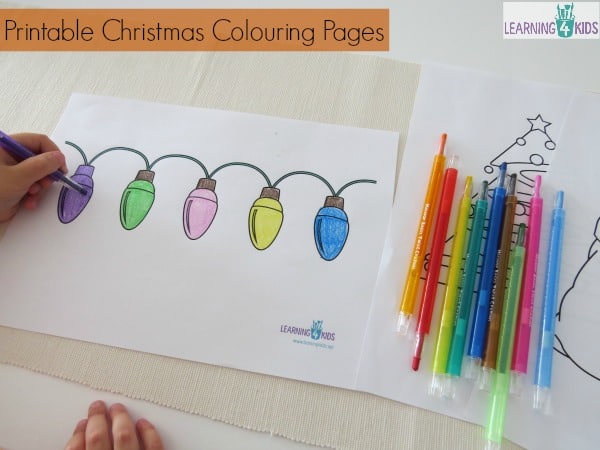 The printable colouring in sheets come with 3 pages including a Christmas tree, Santa's sack filled with toys and Christmas lights.
Colour in the pictures using paint, crayons, pencils or textas and add more drawings to the pictures.
Christmas Picture Match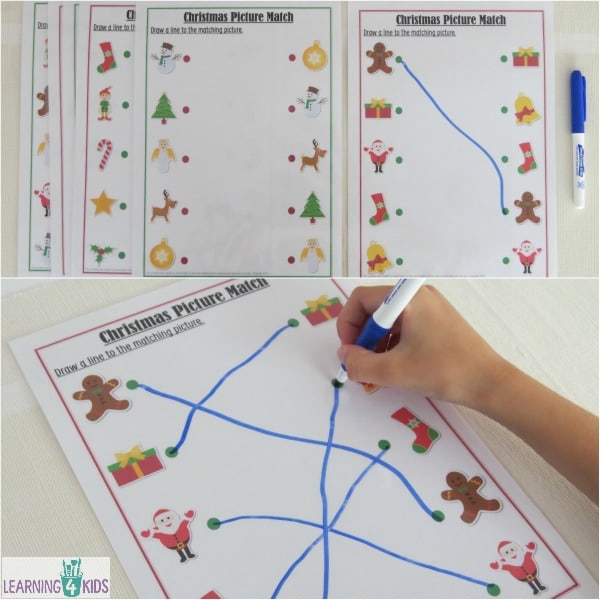 The Christmas Picture Match Mats are a colourful reusable activity for children. Using a white board marker, draw a line to match the pictures. You could also use string to match the Christmas pictures. 6 pages included.
Colour by Number Colouring in Sheets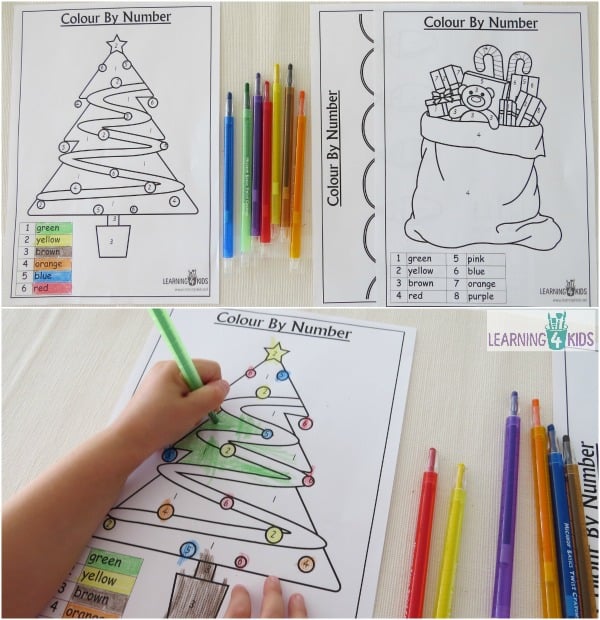 The Activity Pack includes 3 Colour by Number printable worksheets. Children read the number in the box to find what colour to use and colour the sections in the picture labelled with that number.
Number Match Memory Cards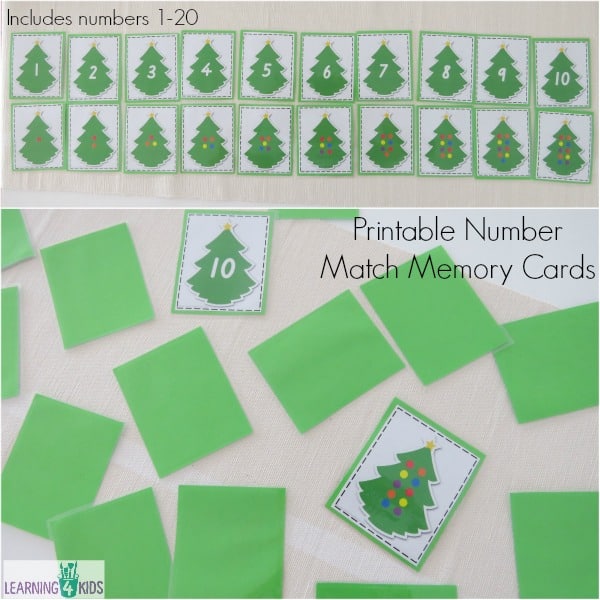 These cards come in numbers 1-20 (40 cards) but you can play with less cards to suit different abilities. Turn the cards over for a game of memory to match the number of dots with the written number.
Roll and Colour by Number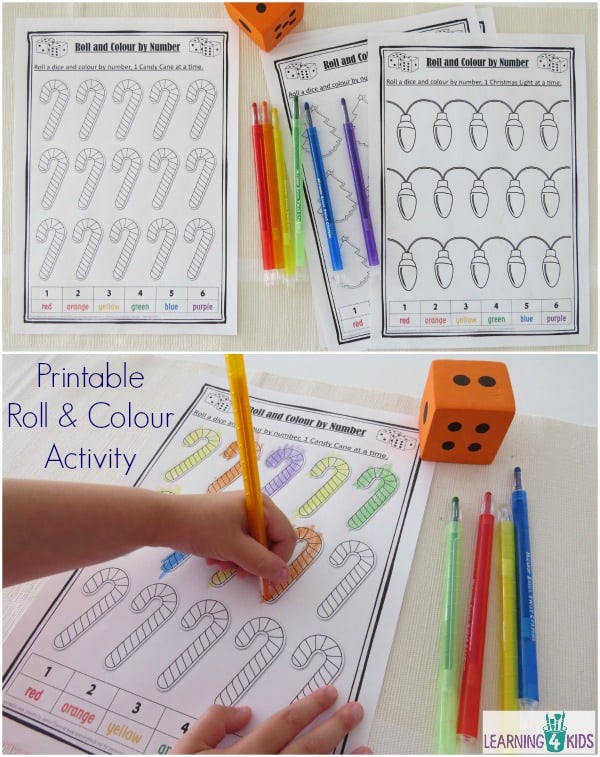 The Roll and Colour by Number Printable Worksheets (4 pages included) involves children rolling a dice, counting the dots on the dice face, matching the number to a colour on the grid and then colouring in one picture at a time with that colour. Roll the dice again to see what colour comes next. So much fun!
Christmas Letter Play Dough or Tactile Mats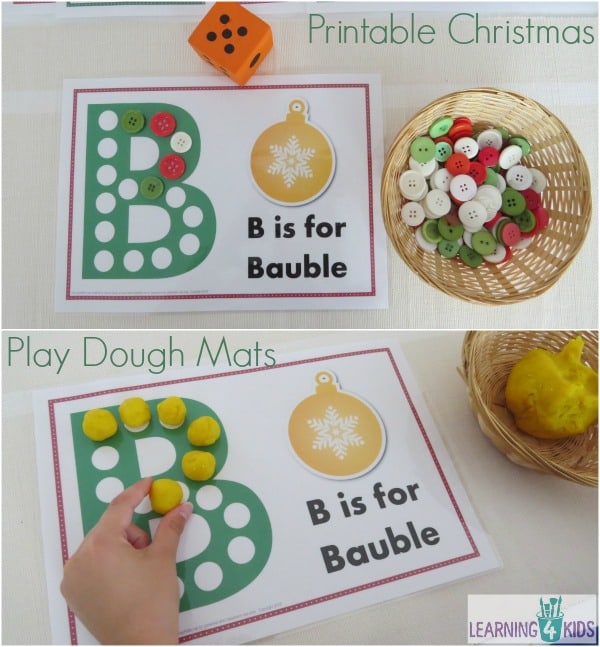 These Christmas Play Dough and Tactile Mats are great for counting activities when used with a dice. Read the word (picture support) and create the letter using play dough or tokens such us buttons and pompoms
Christmas Word Search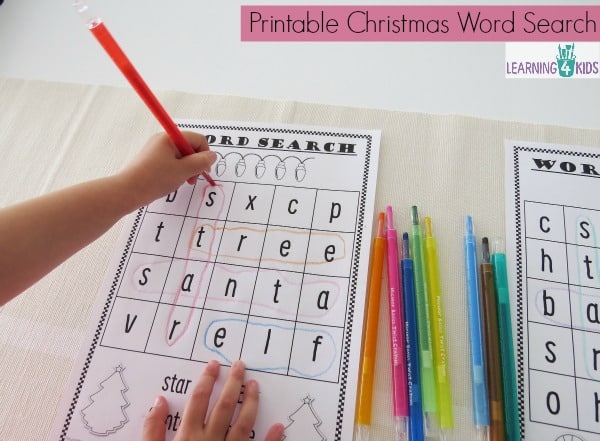 The Ultimate Christmas Printable Activity Pack includes 2 Word Search Worksheets. One word search includes searching for 4 words and the other for 6 words.
Children search for the words in the box and draw a line through it or a circle around it once found. Cross the word off the list.
Available in our online shop:
The ULTIMATE Christmas Printable Activity Pack is available in our online shop.
Click here for more PRINTABLES PRODUCTS