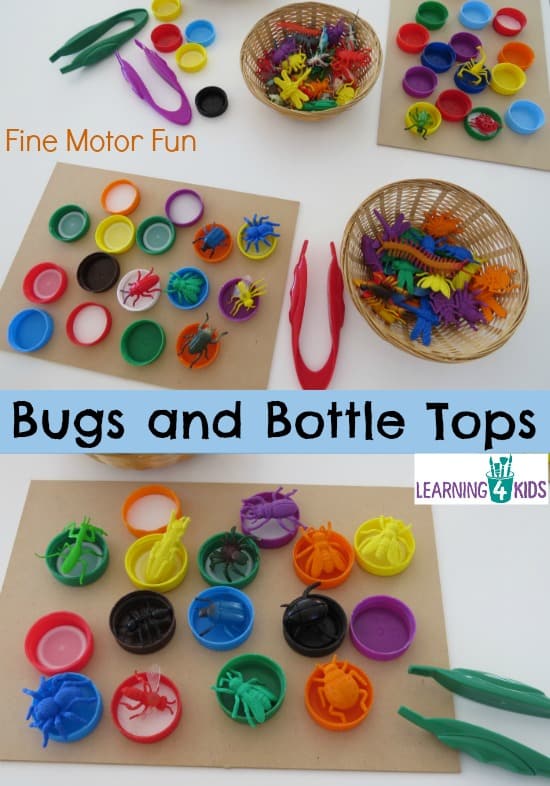 Bugs and Bottle Tops is a simple and fun activity for kids to play with. It is a great opportunity for children to develop their fine motor skills.
The activity can be incorporated into a science topic such as bugs or insects or learning about the letter B learning centre and also an opportunity to sort, classify and match colours.
We have been exploring bugs in our Pre-Primary (5 year olds) science program, sharing books about them, searching for bugs in the playground with magnifying glasses, bringing some bugs into the classroom and observing them. We have also been drawing and labelling them.
The Bugs and Bottle Tops was a small group (2-3 children) activity that was set up in our classroom with purpose of provide an opportunity for developing their fine motor skills and linking it to bug theme we have been covering in science. The class had so much fun with this activity, sorting, matching and classifying the bugs and coloured bottle tops. We also discussed that if these pretend bug counters were real-life bugs, how would we need to pick them up without hurting them. It was so wonderful to see children carefully picking up the bugs by the body and not the legs as these could break off easily.
What you will need?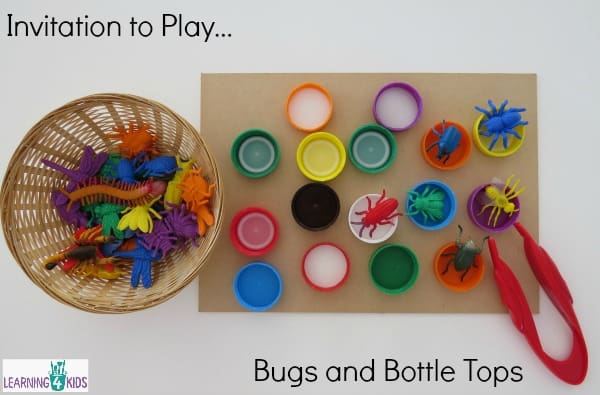 You will need tweezers or min tongs, assortment of bottle tops and bugs or insect counters.
Let's Play Bugs and Bottle Tops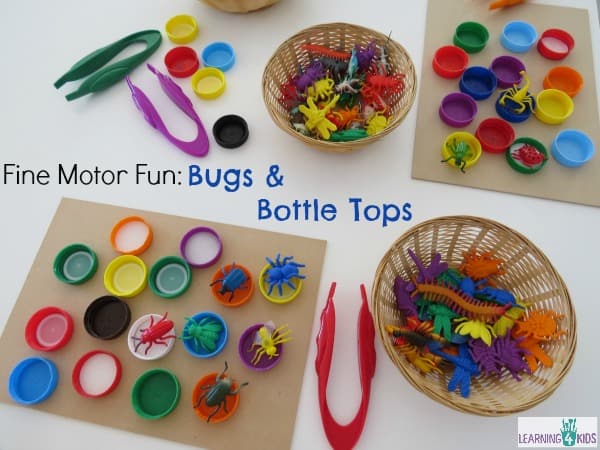 Some Ideas:
Use the tweezers to pick up the bugs and place them into the bottle top.
Turn the bottle tops over and place the different bugs sitting on top rather than inside the bottle top.
Have a variety of bottle top and plastic lids sizes.
Sort and match the bugs to the same colour bottle tops.
Introduce other items that children can place the bugs onto such as blocks.
Problem solving – what can we do with the bugs that are too big to fit into the bottle tops?
Let's Learn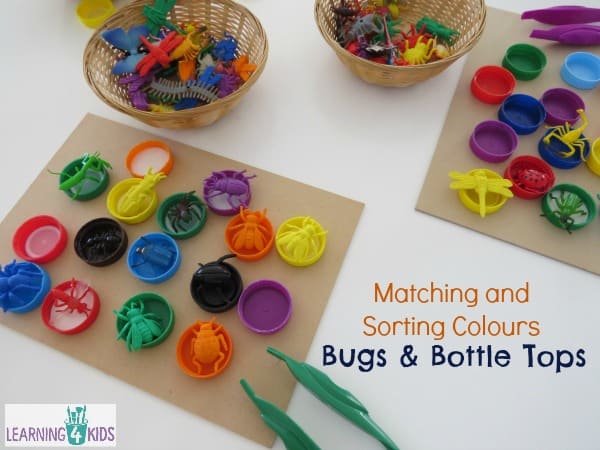 Sorting and matching the different coloured bugs with the same colour bottle top.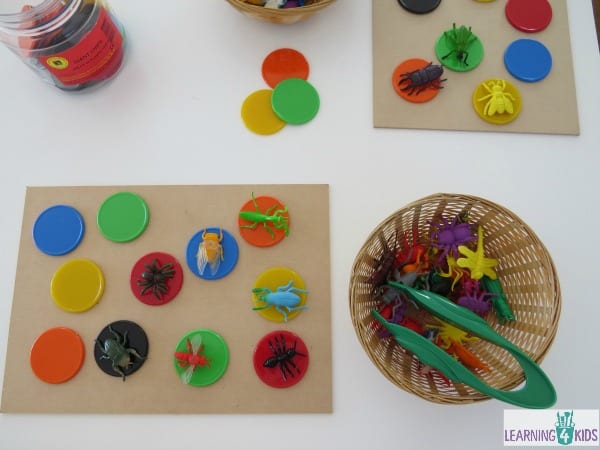 If you do not have bottles, you could also use large counters or tokens, blocks, a muffin or cupcake tin turned upside down and branch circles.
Learning Opportunities
Fine Motor Development – strengthens hands, wrists and fingers.
Hand-Eye Coordination and Control
Concentration
Colour recognition – matching
Sorting, matching and classifying
Language development – names of bugs and colours
Problem solving – overcoming challenges
Click here for more COLOUR activities & play ideas
Click here for more FINE MOTOR activities & play ideas
Other Ideas
Printable Colour Activities Pack