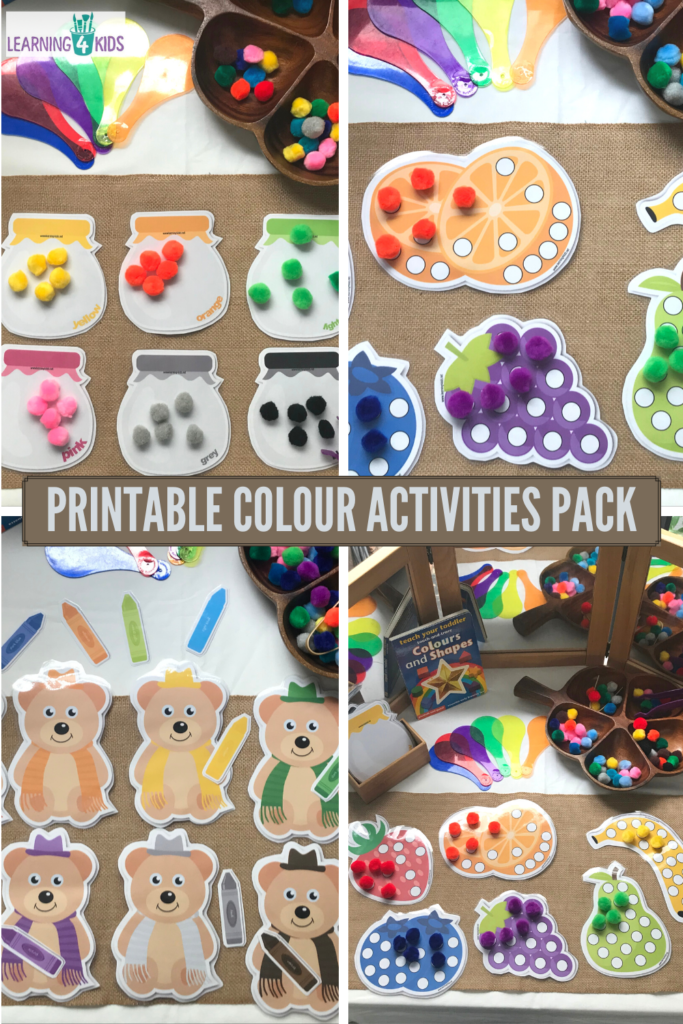 The Colour Matching Activities Pack encourages children to manipulate coloured objects and sort and match them to the coloured printable mats.
The coloured printable mats include 3 different activities, Matching Coloured Fruit, Gum Ball Jars and Coloured Teddy Bears & Crayons. All activities are a useful resource for teaching and consolidating colour recognition, sorting and matching coloured items.
Great for Learning Centres, small group or partner activities.
Useful resource for consolidating colour recognition, classifying, sorting and matching skills.
Hands-on, reusable tool that children can manipulate tactile items.
3 different colour activities that can be modified and adapted, using other coloured items for children to sort and match.
Helps support fine motor development such as pincer grip (picking up small objects) and using miniature tongs.
Bright and Colourful – fun for children.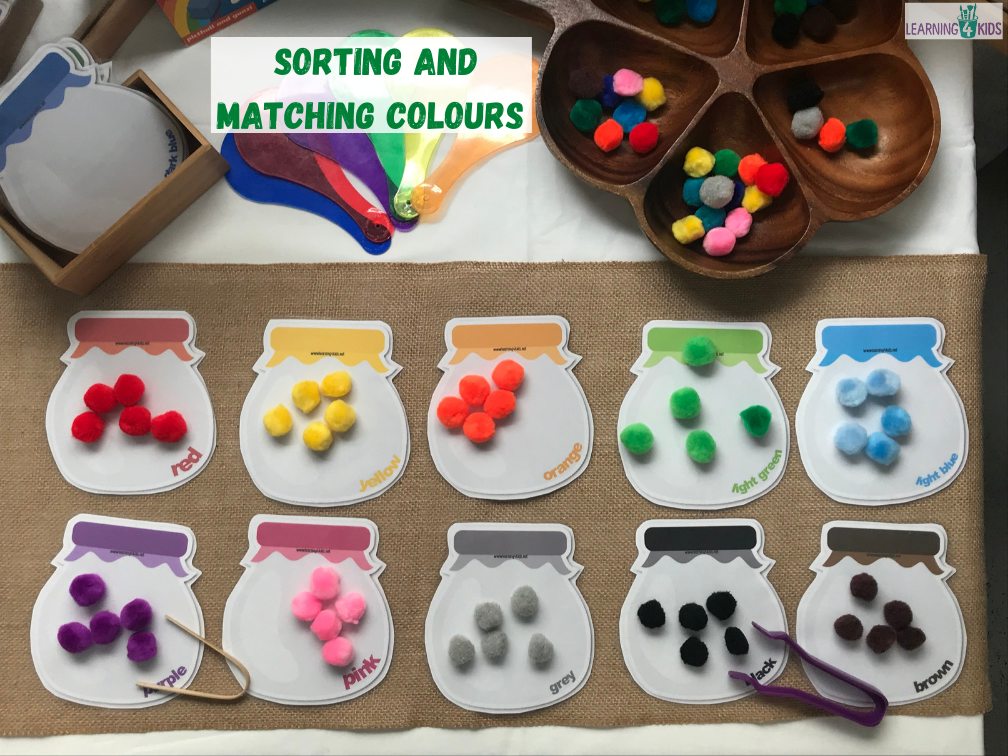 Colour Matching Jars includes 12 jars: red, orange, yellow, light & dark green, light & dark blue, purple, pink, grey, brown and black. An alternative spelling for grey/gray is also provided in the pack.
Colour sorting and matching jars can be played with numerous colourful objects, such as pompoms, small blocks, beads, tokens, buttons, coloured pencils, pipe cleaners.
Set up a Colour Theme Learning Centre for children to visit and return to throughout the day. Include colour sorting and matching activities, colour puzzles, light table with transparent coloured resources, books about colours and rainbows.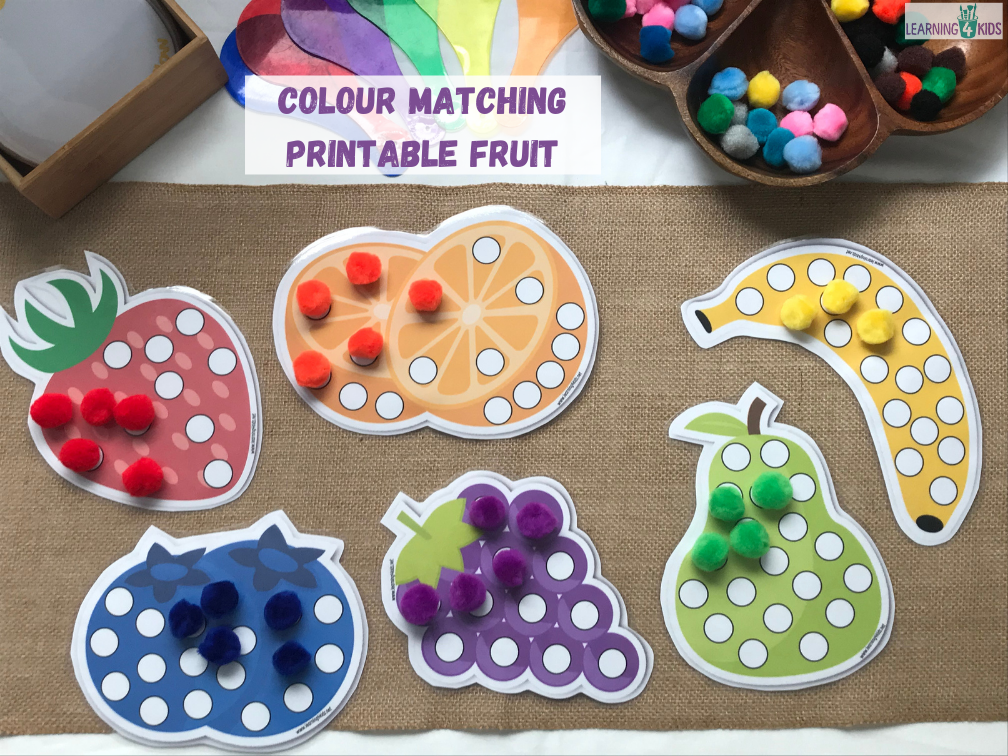 Colour Matching Fruit includes a red strawberry, orange orange, yellow banana, green pear, blue blueberries and purple grapes.
Colour Matching Fruit can be played with numerous colourful objects, such as pompoms, buttons, beads and tokens. Children place the matching coloured pompom (or other object) onto the white circles on the fruit.
Add a set of small tongs for children to manipulate to pick up the pompoms and encourage fine motor strength and development.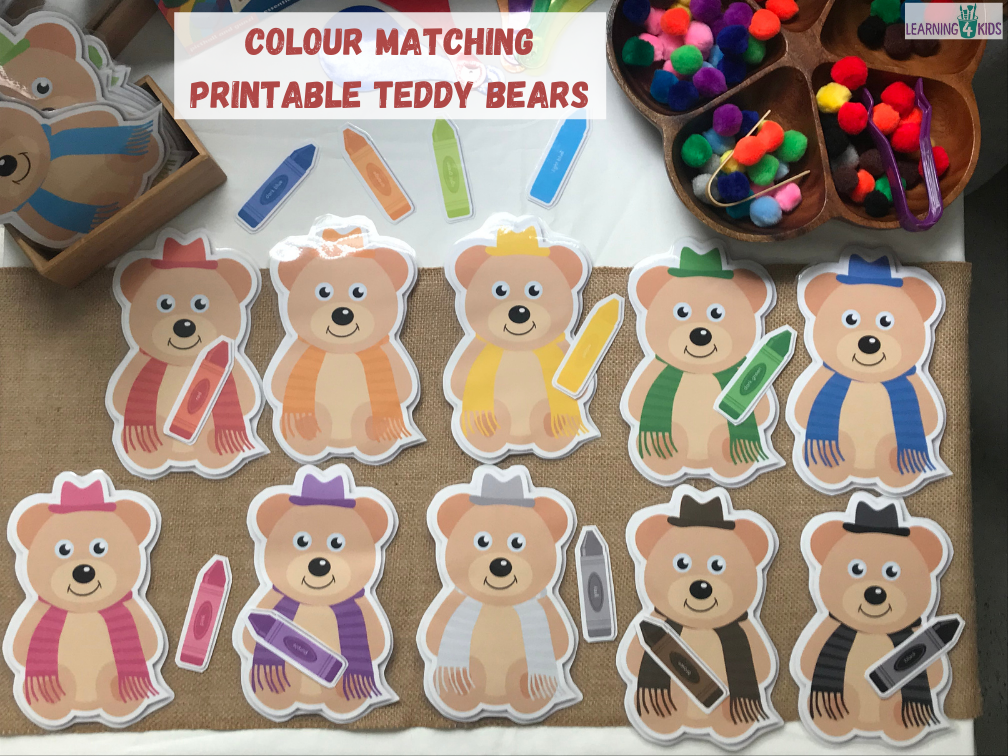 Colour Matching Teddy Bears and Crayons include 12 Teddy Bears & Crayons- red, yellow, orange, light & dark green, light & dark blue, purple, pink, grey, brown and black.
The Colour Matching Teddy Bears & Crayons activity involves sorting and matching the coloured crayons to the same-coloured teddy bear. Children simply place the crayon onto the teddy bear's tummy.
Other ideas that can be used to colour sort and match with the coloured teddy bears include, short pipe cleaners (cut in half), coloured pencils, coloured pop sticks, pompoms, buttons, tokens and small blocks. The ideas are endless.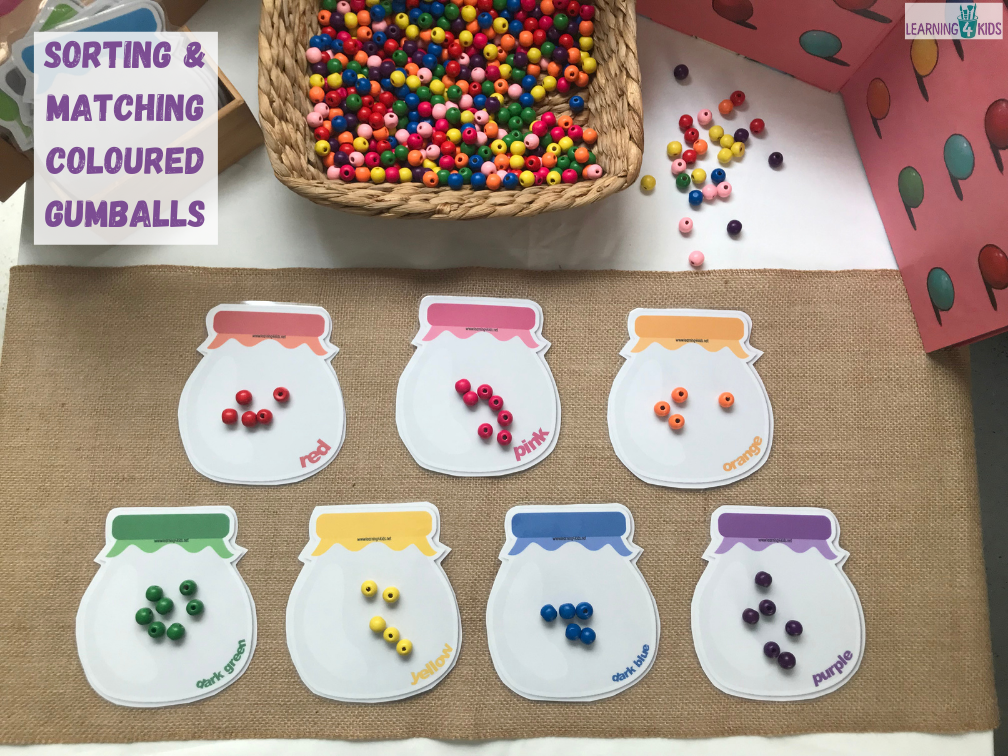 When you purchase the downloadable document for this printable, you will receive 24 pages in 3 separate documents. Colour Matching Fruit, Colour Matching Jars and Colour Matching Teddy Bears & Crayons. Each Printable includes instructions, activity ideas and photos.
The download includes 24 pages:
Copyright & thank you.
Instructions & Ideas
Colour Matching Fruit
Colour Matching Jars
Colour Matching Teddy Bears & Crayons
Included 5 Re-downloads
Please click here to view all our Downloadable Products
All downloads are Copyright protected to Learning4Kids 2021.
Not to be distributed, transferred, or shared in any form. For personal use only.
Thank you for supporting Learning 4 Kids x