When you purchase the downloadable document for this printable, you will receive 10 pages of the Measurement Activity Mats (STANDARD PRINT) including instructions and photos. Print and laminate these templates for a re-usable resource children can learn and play with.
* Maths Centre or Work Station Activities
* Can be used with a variety of hands-on manipulative tools such as play dough, sticks, string and straws.
* Small groups and independent activity
* Bright and Colourful – fun for children
* Multi-cultural children – both boys and girls
* Available in another font – CURSIVE PRINT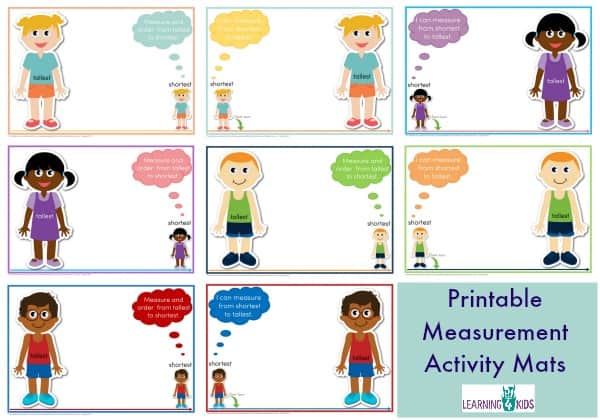 The Measuring Tallest to Shortest Activity Mats are a great addition to any early childhood or junior primary learning environment. The mats provide a hands-on activities opportunity for children to compare objects directly by placing one against the other. Children can play and measure with play dough, leaves, sticks, straws, string and so much more!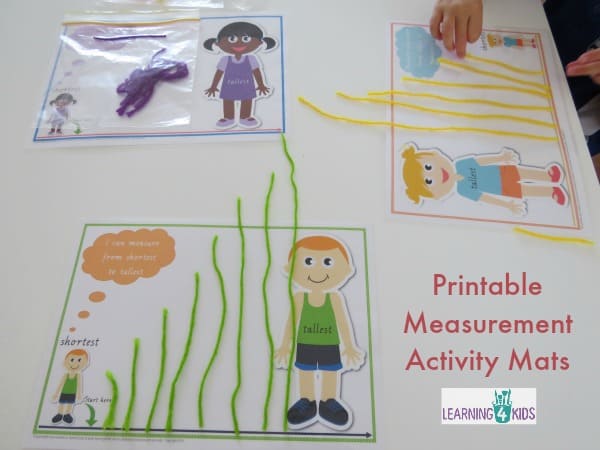 On completion of payment, you will receive a receipt with the link to download the printable document. If you do not receive the receipt, please check your spam folder.
The download includes 10 pages:
1 Page with instructions, ideas and photos.
4 Pages Shortest to Tallest Measuring.
4 Pages Tallest to Shortest Measuring.
Include 3 re-downloads.

This listing is showing images of the printable in STANDARD Print Font. You can also purchase the Measurement Mats in Cursive Print font by clicking here.
Click here to view all our Downloadable Products
All downloads are Copyright protected to Learning4Kids 2015. Not to be distributed, transferred, or shared in any form. For personal use only.