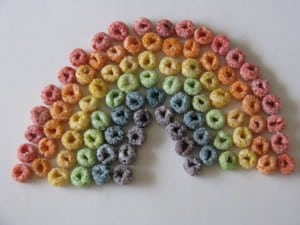 All the colours of the rainbow in a box of breakfast cereal.
Kids will have so much fun creating a rainbow using Froot Loops while sneaking one or two in the mouth.
I had a look at a generic brand and they do not have all the colours required to create a Frooty Loopy Rainbow.
Other Frooty Loopy Ideas:
Create Froot Loop rainbows of different sizes, small, medium and large.
Draw and colour in a rainbow on paper, then glue the froot loops on top in the appropriate parts.